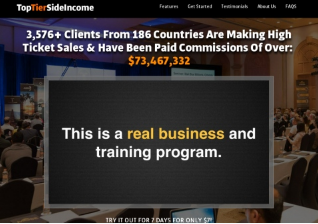 Top Tier Side Income Review
Given the prominence of Top Tier Side Income, most of you must have already come across it in one way or the other especially through their clips where they give their presentation.
These short presentations are intriguing making people want to jump right into it but based on your knowledge and experience you are probably asking yourself is Top Tier Side Income a scam?
To begin with, I salute you for taking this initiative of actually doing your own research about the program.
It does not really matter if you had already signed up and even spent your hard earned money on them.
Its better late than never.
There are many different reviews with different viewpoints, some for it and some against it based on their own understanding.
This Top Tier Side Income Review is sure to give you a very different perspective than the ones you might have already come across so far.
What is Top Tier Side Income?
Top Teir Side Income is basically a scam that has been doing rounds on the internet for a while now.
To get the truth you need to get to its beginning, or its source.
My Online Business Education abbreviated (MOBE) is the company behind Top Tier Side Income whose founder is Matt Lloyd.
This company majors on marketing and entrepreneurial training for small business owners, entrepreneurs or its affiliates whose aim is to expand their business.
Recommended Training to Start an Online Business without Breaking the Bank
How Does it work?
Top Tier side Income is basically a site that offers tools, training, services as well as resources for the purpose of growing their business.
You may probably be asking yourself where you fit in this category since your goal is to simply make money online.
This is a valid question and you are just about to get a valid answer.
Being a member of Top Tier Side Income and MOBE simply means you are lead into learning how to market their programs as well as products.
How?
Simple, through their series of training where you are involved in an MLM kind of marketing whereby introducing someone who purchases what they sell earns you a commission.
But there is the big catch.
Is it a scam?
The answer YES.
Why?
Basically Top Tier side Income is a sales network kind of program and not a standalone program.
It is more of a sales pitch that is meant to lead you to spend your money through their main program called 21-step system.
All you will end up making is a loss.
The signs Signs
Promises you fortune for not much of an effort.
Every step in the program requires you pay something.
No verifiable proof of members who have actually earned.
Top Tier Side income is similar to the following scams, 7 Figure Nest Egg, and My 10K Model
Can you make money with Top Tier Side Income?
The simple answer is NO. Let me tell you why, Top Tier side Income's 21-step system and price structure is simply a shady marketing scheme.
Paying the $7 sign up fee is your first loss.
Second you are required to upgrade to platinum member at a fee of $29,997.
MOBE wins, your loss.
Their $49,850 referral commission you are promised is not attainable, plain and simple.
This is because with MOBE you have to buy their products for you to earn commissions from them therefore you will have to buy so much more through their upsells. MOBE wins, your loss.
Conclusion
Top Tier Side Income and MOBE have one goal in mind, lure you into marketing their products and on top of that take your money.
Plain and simple scam.
If you're looking for a legitimate training that is affordable and honest
Then you may want to check out our #1 Rated Online Business Training for Newbies
To your success,
Kirk