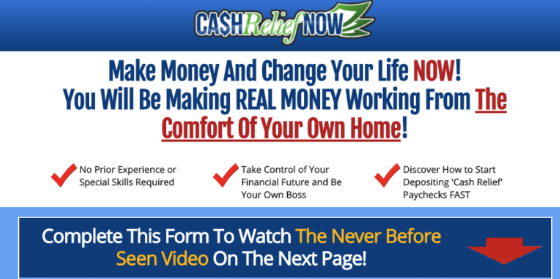 What is Cash Relief Now About?
In the simplest of terms, it is an affiliate site that gives you money each time you make a sell.
However, it's not that simple – and apart from the many fees that you would have to pay to join, it just doesn't make any sense in the longer run.
We will answer as to cash relief now a scam or legit below.
How Does It Work?
After you pay the fee and join, you will be able to sell their products to make money.
However, you won't get that privilege straight away – instead, like a bad affiliate program, you would have to buy many of these products yourself from other affiliate marketers of the program – so that they make some sells.
Is It a Scam?
Part of the reason why people tend to fall for such scams are the endorsements and positive reviews given by blogs online that purport to be genuine but are actually helping the scammers.
Fake Reviews
Reviews should be genuine in order to be useful. It can often be hard to tell a real review from a fake one for a layman. In the digital age, people who develop these scams have become aware of the fact that consumers today tend to research a little bit.
Most people do a simple Google search. Hence they put up multiple blogs that show positive reviews of their service and encourage people to participate.
This gives confidence to a prospective investor and he is lured in. Certain blogs have developed notoriety for doing this.
Fake Promises
If you are careful about such blogs, you can save yourself from getting hoodwinked.Whenever any website promises you rewards that seem too good to be true, they probably are.
When you visit the website, it declares in bold letters 'Sign up now to start making money every day'.
This proves that websites like Cash Relief now are only aiming to get your e-mail address quickly.
Once they have that, they will continue sending offers about other scams which seem too good to be true.
Not only will this unnecessarily spam your inbox, but it also increases the chances of you becoming a victim to such a scam.
Time is Running Out
If a website warns you that your 'time is running out' or there is only 'one spot available', do not hurry to register. Try to check the validity of this statement.
If the website always displays this kind of message that portrays urgency, it is trying to trick you.
Can You Make Money?
You sure can, if you can make some sells.
However, it's not that simple, and you probably even won't get to that stage when you can sell Cash Relief products if you haven't spent hundreds of dollars before.
Conclusion
Do not trust random blogs on the Internet for reviews of such sites that require you to invest money.
Only believe accredited sites or a site that is known for busting such scams.
This way you will be safer. It may seem like a cumbersome task to seek out a genuine review, but it is better to be safe than sorry.
Legit Online Business Opportunity
If you are looking for a great business opportunity that will actually make you money
I invite to take a look at my #1 recommendation to make money online.
Do you have any questions about Cash Relief now or any experiences?
Please share with us your thoughts in the comments section!
Have a awesome day,
Kirk