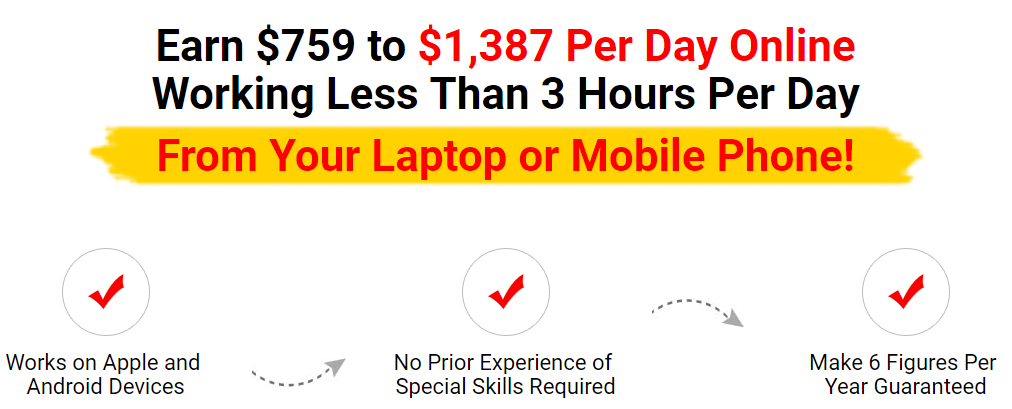 What is Home Wealth Business?
If you are looking for a quick way to make a buck, you may be looking through sites like Home Wealth Business.
This business opportunity is ideal for people who can't wait to give their own money away so that they can take advantage of a dream chance to get rich.
With an offer that says that the newbie can make $87 dollars an hour or $500 dollars a day.
Either way, it appears to be a great deal that most people cannot turn away from.
Even though the offer that is made sounds too good to be true, it is. In fact, according to various website owners, these claims are too good to be real.
How does it work?
How does this new business opportunity to work? Well, similar to other affiliate programs, Home wealth business works pretty much the same or very similar.
Based on the set-up of this type of program, these affiliate marketing programs are expected to work since one of the main goals is to recruit people who want to join in on MOBE and its affiliate programs.
Is Home Wealth Business a Scam?
Before people get started, they want to know if this program is a scam.
Unfortunately, with all of the information that has been posted, this is considered to be a fly by night opportunities that others in the business should not try to pursue.
This is because this same design is currently being used on many different websites with different names.
Therefore, instead of a company giving this information up, they more than likely to rebrand it so that can distance themselves from false claims.
The Scam Signs
If you really want to spot a scam, it is not difficult to do. In fact, here are some signs of a scam that can easily be picked up.
Here are a few to review:
Social buttons are fake
Even though these buttons are located at the bottom of the screen, they will not direct you to a social media site. Instead, scams sites will only direct you to pictures as well as other videoes that post other products that the person is selling.

 Fake as Seen on TV claims
The guy on the video claims that Home Wealth Business has been seen on TV, but chances are you and I has never seen it on TV or even on the Radio.
That's a clear lie and obviously just a poor attempt to fool you into thinking that this program is legit since it has been featured on TV.
Can You Make Money with Home Wealth Business?
– With this offer, the odds of making money is lesser than many have expected.
This is because before money is made, a new site replaces it with a new name and similar claims, and they can also be shut down at will.
Conclusion
Is home wealth business a scam?
Based on information published on Home Wealth Business review sites, this is a scam that people can publish over and over again without taking the appropriate actions.
Therefore, the claim of people actually making money from this venture is simply not true.
Legit Alternative?
If you're looking for a legit opportunity where you can start a real online business I invite to take a look at My Top Pick to be able start making money online. It's THE BEST training that I KNOW of to teach you step by step how to make a living online!
Have a awesome day,
Kirk