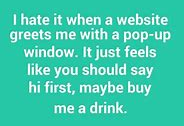 A lot of people dislike the idea of visiting a site where there are lots and lots of ads. But whether we like it or not, pop-ups are a part of our internet life. We see them often, and we have to deal with them whether we want or not. But there are some ways to block these, as you can see below.
Google Chrome
If you use Chrome, you will notice that it's easy to learn how to get rid of pop-ups. The benefit that comes from this is that the entire process is quick and easy. You are always in control, and the overall experience is a great one too, which is always nice.
Enter the Chrome settings
Select Advanced/Content Settings
In the Pop Ups section select blocked.
That's all you have to do. The entire process is so quick and easy that you will have no problem getting the results you want. It makes a lot of sense and that's why you should totally give it a shot if you use this browser.
Firefox
The good thing here is that you can learn how to get rid of pop-ups even if you don't have Chrome. Firefox is just as good here.
Enter the Options menu
Select Privacy and Security
Select the Permissions
Here you will have to block pop-ups. It's a small checkbox you have to press.
You will notice that the pop-ups are blocked very fast and you don't even need to do this multiple times. It's definitely handy and the best part is that you can easily adjust and adapt this adequately, which is exactly what you want from stuff like this.
Microsoft Edge
If you use Microsoft Edge, you will see that there are Advanced Settings in here as well. The idea here is that you will have a small slider. Edge is a bit different when compared to the other tools, and this is why you have to adapt and adjust it a little bit. Make sure that you click the Block Pop Ups option and that's all there is to it. Once it turns blue, you will know that it will work for you.
Adblock
The good thing about this is that you just have to go to getadblock.com and install it for the preferred platform. The issue with Adblock is that it blocks ads very well, however it may take some time to learn how to get rid of pop-ups. So it will not do this automatically, which is not exactly a bad thing if you think about it. But it will be a good idea to at least try it out for yourself to see how it works.
At least it can provide some great results but it won't always give you the satisfaction of eliminating those pop-ups super fast. You do have to take your time and adjust to this, and in the end the value can indeed pay off.
AdGuard
Another good tool that helps you learn how to get rid of pop-ups is AdGuard. What this does is it automatically starts eliminating ads as well as pop-ups. The benefit is that you can use it on all major devices without issue. The downside is that it's a paid too, but they do have a lifetime option if you believe that suits your needs.
One thing is certain, you are always in control and you will have no problem adjusting or adapting to this at any time. That alone makes AdGuard a very good application.
Not only that, but the protection is automatic and you also have parental control, special settings regarding pop-ups and so on. That goes to show just how impressive and distinct the entire experience can really be in the end.
Should you use these tools to remove pop-ups?
As you can see, pop-ups are pretty bad for any web user. So it makes a lot of sense to remove them from your browsing life. That being said, there are tons of challenges you have to encounter when you have pop-ups in your browser. For example, these can bring in viruses and those on their own will be a huge issue.
Not only that, but once your browser is infected, you can end up with lots of issues such as hackers grabbing and using your personal data. That's the last thing you want from something like this, which is why you need to start removing pop-ups with these tools.
Plus, learning how to get rid of pop-ups is super easy. Usually, you have an extension or tool that can help you remove all of those in no time. In addition, you will see that removing pop-ups will be a great opportunity for you to keep your browser clean and free of any virus infections.
That being said, it can take a little bit to adjust and adapt to the entire experience, as you can imagine. But for the most part, learning how to get rid of pop-ups is all about knowing what sites to open and what to avoid.
It's a good idea to stay away from any sites that are known to be full of advertisements, as those also tend to have pop-ups. And while you are there, you may also want to avoid websites that just don't have any type of protective layers like HTTPS for example.
These are the sites that can have tons of pop-ups, so you might as well want to avoid those as much as you can. If you hate pop-ups, learning how to get rid of pop-ups with these tools makes a lot of sense. And it's super easy to do too, it's not that hard to adjust and adapt everything. But you can rest assured that once you do, the outcome will be more than ok!
Thanks for visiting my article on How to get rid of pop-ups. I hope I was able to give you the answers you were looking for.
If you have any questions please leave them in the comments section below.
Have a great day,
Kirk