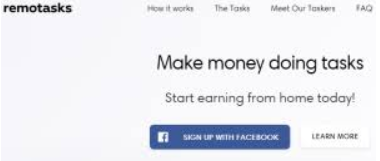 A couple of weeks ago, I ran into an old friend, he was looking a little unkempt but I was glad to see him anyway. We got chatting and I asked him what he is doing now. According to him, he saw one advert that told him to fire his boss and be his own boss. So he did. Did he regret that decision? He sure did. It turned out he fell for one of these old scams online that make it look like you could earn thousands of dollars online every day without doing anything.
Anyway, I let him know that money does not grow on trees on the internet. If you want to work from home earning online, you must be ready to work. If you want my advice, don't fire your boss yet until you start making significant income from your online business. I introduced my old friend to this website to read reviews and he was so glad. Right now, he is doing well for himself.
However, he isn't into Remotasks which is an online program I will be reviewing today. In this article, you will read my honest and unbiased review of Remotasks. You will know everything there is to know about this program. At the end of this article, you will be able to decide if this program is for you.
Name: Remotasks
Website: www.remotasks.com
Price: Free to join
Recommended?: Not Really

What is Remotasks?
If you have ever heard about crowdsourcing platform, Remotasks is one of them. This platform claims you can make money by completing a number of simple tasks such as image annotation, audio transcription, data collection, categorization, and many more.
This site works in a similar way like Clickworker and Amazon Mechanical Turk. Remotasks claims that they have their headquarters in the United States. However, you can join this platform from anywhere in the world as far as you can understand simple English.
How Does Remotasks Work?
If you have ever joined any micro job site before, then you will have an idea of how this platform works. Before you can join this website, you will need to register. However, I wasn't worried about registering since the registration is free, so I have nothing to lose.
Wait! I need to mention you can only register with your Facebook account. I can't say for certain the reason why they required you to use your Facebook account. However, you shouldn't be worried about it so much. So many legit companies do the same. Maybe they want to know that you are legit. So if you are good with using the same email you use to open your Facebook account to open Remotasks account, you can go ahead and create your account.
Once you are done, you will be required to take a test. You cannot proceed until you take the test and pass it. You don't have to worry about the exam. It is very basic. You can easily ace it if you can speak English very well. It is usually audio transcriptions or something in that category. Make sure you listen well and follow the instructions. Once you pass the exams, you are now ready to become a full member of Remotasks. You can now join the platform fully and start completing tasks in order to earn money as they promised.
Tasks You Can Do in Remotasks
Remotasks claims you can earn from a number of ways. Some of these tasks available on their website at the time of writing this review include:
Image annotation
Categorization
Comparison
Audio transcription
Data collection
OCR/Image transcription
Drawing boxes around cars
Moderating content
Identifying spam
Categorizing T-shirts
According to them, they work with multiple companies from small startups to public companies. These companies have trusted them with completing these tasks. Remotasks claims that you are just being paid to do the tasks these their partner companies give to them. I also believe they may be selling users' data.

How Much Can You Make On Remotasks?
Just as I expected, you are not going to drive Nissan GTR, Bugatti, or Ferrari soon with your Remotasks earning. What you make here is incredibly low. The company pays an hourly rate.
On average, you can make between $1 and $2 for tasks such as audio transcription. I don't need to be a brain surgeon to tell you that this is incredibly low. Earning $2 per hour is not what anyone should settle for. However, there is a potential this rate can be higher depending on the task you were asked to do. You are able to withdraw your earnings through PayPal. Please note that you must reach a minimum payment threshold of $5 before you can request for payment.
Is Remotasks a Scam?
To be honest with you, I will shed tears if Remotasks is a scam. It is scary enough that someone will settle for a task that pays a max of $2 per hour and to think about getting scammed of the measly $2 is just incomprehensible. Anyway, if you are really brave enough to settle for $2 per hour, you can count on getting paid via PayPal once you reach your $5 minimum payment threshold.

You don't need to worry about this Remotasks being a scam. Instead, worry about how little the payment is. I checked out the website for you. Everything seems legit. They are transparent, open, and kind enough to provide all the information you need. To be honest, I like the way they are open about their service – it is highly recommendable. Moreover, it is a feature I have not seen in a long time. Nonetheless, what you will make here is very low. When I say low, I mean the payment is really very little. It is not a good way to earn money online. Remotasks is 100% legit program but I wouldn't recommend them because the payment is just way too low.
Is There Any Alternative?
If you are like me and you are not willing to settle for a measly $2 per hour, what about making money while you sleep? I'm not promising you will get a magical genie printing money while you sleep. No, that only happens in movies.
I mean you can build a passive income stream. Over the years, a lot of people have been able to build their affiliate marketing business from scratch using this program known as Wealthy Affiliate. I think it is right for you. If you are willing to put in the time and learn how affiliate marketing works, you are going to make it big with this program. Trust me.
Click here to check it out.
Thank's for visiting my Remotasks review. If you have any questions please leave them in the comments section below.
To your success,
Kirk