Website ATM promises that you can earn $500/day. According to the guys who created this program, it is one of the easiest ways you can become rich online without doing a lot of work. Of course, this won't be the first program to promise fast riches online.
I came across Website ATM a couple of weeks ago when I was researching another program. Immediately, something about the name struck me as odd. When someone names a program "Website ATM", it means he wants to give you an impression that you can make a lot of money from such a program. Of course, I have been in online marketing for over 10 years. I know for sure that you cannot earn online if you are not willing to work.
Here is the thing: Website ATM promises that you can start earning instantly once you sign up. One thing I know for sure is that there is no such thing online. No one gives away money for free. So why should the guys behind Website ATM claim you can start making money immediately you sign up? Does that mean that they are giving away money for free or does it mean that the program is a complete scam?
Fortunately, you won't have to guess. Following so many requests, I have decided to do a thorough, complete, honest, and unbiased review of Website ATM. In this article, you will read everything you need to know about Website ATM. Before the end, you will know whether this program actually works or not and whether it is a scam or not. Keep on reading to find out more.
Name: Website ATM
Type: Affiliate Marketing
Founder: Nick Harvey (Fake name)
Price: $47 + Upsells
Recommended: 0/5
What is Website ATM?
Website ATM was created by a man named Nick Harvey. According to him, this program was supposed to be a push-button website builder. However, it is an instant cash machine.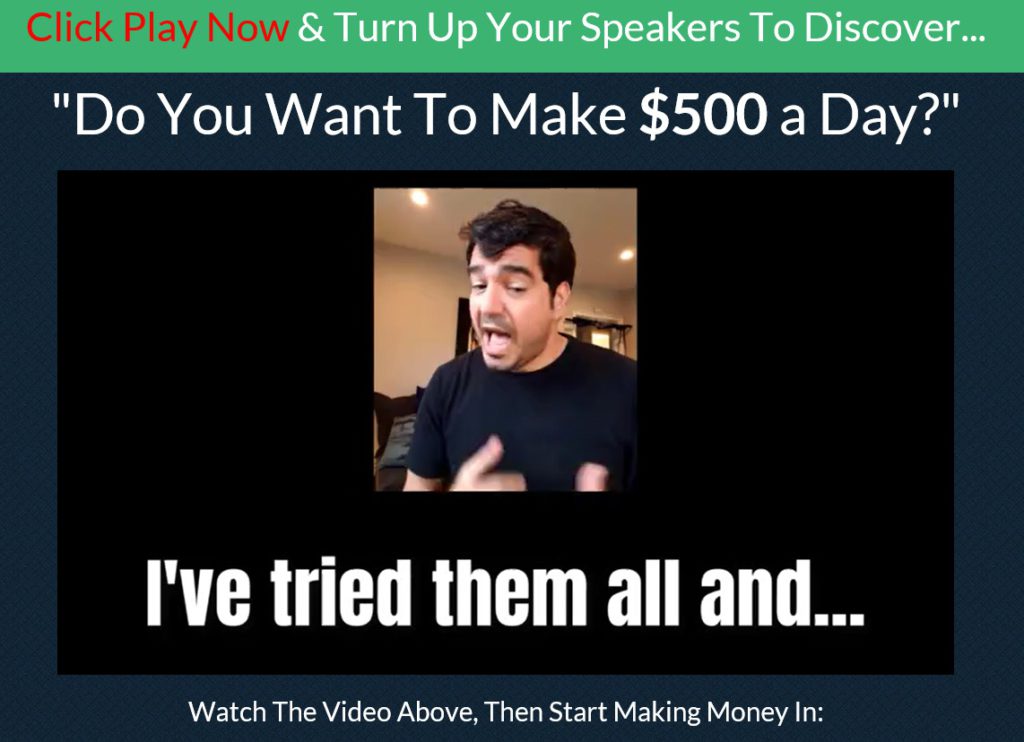 Nick claims that this program is like having an ATM right in your pocket. You will never run out of money once you sign up for the program. In fact, he asks you to keep the program a secret so that the authorities and other marketers will not take it down. Nick also promised to take the program down once the number of Website ATM buyers reaches 300 and then he will ensure he cap the daily earning at just $500.
It sounds too good to be true right? Certainly, this is not the first time you will see such a program that makes a lot of promises. Interestingly, all you need to start earning such $500 per day is only $47 investment… but before you start celebrating that you've struck gold, this program isn't a dream come true and I will tell you why in the following sections.
How Does Website ATM Machine Works?
Going through their sales video, it is very easy to notice that Website ATM is just a get-rich-quick scam. I have exposed tons of such programs already on my website. You can check other reviews on this blog.
When you sign up for Website ATM, they will give you access to a template website. Yet, in their sales video, they described this template website as a "Done-For-You website that will help you make $500 per day" on autopilot. However, what they will not tell you is that you will be getting a template that everyone else is using.
It gets worse. Website ATM claims you only need $47 to sign up for their program. Paying $47 to start making $500/day is no brainer. However, what you are not told is that there are upsells that will cost you over $2,997 before you can be able to get your hands on their template DFY website. Even after getting access to the website, there is no way you can earn with it because other people are making use of the same website. This website is also hosted on their server. They have access to your data and they charge ridiculously high hosting fee for it.
Besides, apart from telling you that they will give you access to the DFY website, Website ATM did not reveal how you can make money with these websites. Of course, this is totally strange to me. Perhaps, they reserved the information for those who will be gullible enough to buy their upsell worth over $2000.
Ugly Truth About Website ATM!
Refurbished and Renamed Failed Program
I did a little digging and discovered some shocking and ugly truth about this website. If you are familiar with this website called "Money Sucking Website System (MSW)", you will know right away that Website ATM is the exact clone of the program. MSW promised people quick riches. However, when it failed to deliver its promises, it got massive negative reviews. Thus, the owners bailed and then changed the name to "Website ATM". You don't even need to look too far to discover that the program is the same as the failed MSW system.
When Money Sucking Website System debuted years ago, we noticed right away that the two guys "Willy Handcock and Nick Harvey" who created the program are using fake names. The same Nick Harvey is making another appearance now posing as the author of Website ATM. You will even notice he lifted the same family photo in MSW and used it for his Website ATM. These guys are simply using a fake name to mask their real name. If a program is genuine, there won't be any need to use a fake or pen name. Absolutely no need for it.
After paying over $2000 in upsells, what you will actually get is a template website that is used by hundreds of other people. Google frown at such websites. They will instantly ban you and you will have no chance of earning. Besides, these websites are hosted on their servers. You cannot transfer it to another host. You are stuck with them and they can charge you as high as they want. Interestingly, if you want to create such website yourself, you don't even need to spend more than $100.
There is no way it is possible that you will earn $500/day with this program. With duplicated websites, you have almost zero chance of earning anything from this program. In fact, you will be lucky to escape losing more money to them after paying the initial $500. Most of what they promised on their video is misleading. They just want to impress you so that you can buy their upsells.
The guys that created this product try to sell it as an affiliate marketing opportunity. Affiliate marketing is good. However, you cannot earn money from affiliate marketing by making use of a duplicated website. Instead, you will need to create your own website. Everything has to be original if you want a chance to earn. I will talk more about affiliate marketing at the end of this review.
Is Website ATM a Scam?
You guessed it! Yes, Website ATM is a scam. It has so many misleading claims. It gives a newbie a false impression that he can earn at least $500/day doing nothing. Unfortunately, this is not true. Besides, Website ATM is a clone of another failed scam. I strongly believe that this program was created with the intention to enrich the owners of the program and not you. If you want my advice, I will recommend you avoid it.
How Do I Make Money Online?
I know you are wondering what do I get from all giving you my honest and unbiased review? Well, apart from the joy and satisfaction I get from helping my blog readers avoid scam online, I also make money online just by telling you about these programs.
You see, I work a few hours per day online. I have a regular job too. However, I make money from this blog passively. This means I earn when I'm away or sleeping. Of course, you too can do this if you are willing to put in a few hours of work per day. I will show you how you can earn money from affiliate marketing.
Do you want to know how it works? It is easy! Join my Wealthy Affiliate group today! I will become your mentor. Besides, you will get all the tools you need to succeed online from Wealthy Affiliate once you sign up. You can even sign up for free and enjoy the free trial.