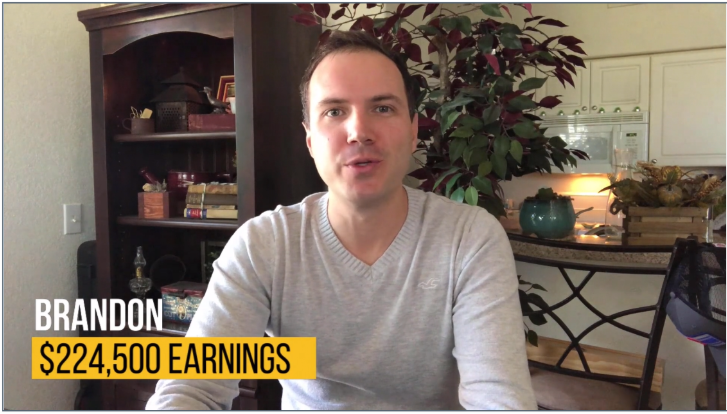 Digital Income System claims it can provide you with a Done-For-You solution to make $500 – $12,500 commissions within one month. According to the company, they want to tear down the barrier that has prevented you and everyone else from making money online. The moment I came across Digital Income System, I had this feeling of Deja vu. Then, I remembered "Digital Altitude" and how "Digital Income System" has a striking resemblance to the program. This system also has a lot of things in common with typical MLM pyramid scams.
The question now is: Is Digital Income System a scam? A lot of times, most of these programs make huge promises that can easily deceive a newbie. In some cases, they overhype the program and give false hopes to newbies. If you have been looking for a way to make money online, you made a great choice reading this honest and unbiased review of Digital Income System before you join them.
No doubt, the only way you can avoid all these fly-by-night programs online is reading great reviews like the one I constantly publish on my website. I have been into online marketing for over 10 years now. I have used almost half of that period to expose some of the scams newbies experience when they are looking for a genuine way to make money online. Due to numerous requests, I have decided to review Digital Income System today. In this review, you will see everything you want to know about this system. Keep on reading to find out more.
Name: Digital Income System
Type: MLM
Founder: Hidden
Price: $1000 to $25,000
Recommended: 0/5
What is Digital Income System?
Digital Income System is a high ticket MLM affiliate program launched in April 2019. According to the people behind the program, you can earn between $1000 and $25,000 following the system recommended in the program.
The owners described it as:
"An integrated, all-in-one marketing solution for generating stable online income through the use of done-for-you traffic, marketing automation, and sales force crowd sharing".
 Digital Income System claims that you don't need any coding or selling skills to start profiting from the program. In another one of their claims, Digital Income System was created to "tear down the common barriers that stop most people from achieving success online".
Digital Income System made a lot of claims that are familiar to almost every internet user of today. They claimed that you don't need any skills to start earning as much as $25,000 in commission. Additionally, they even claim that their program has nothing to do with networking marketing. The only way we can be sure that their claim is real is by investigating how it works and searching for real results and proofs. Below, I will expose how Digital Income System works based on the actual proofs I have gathered during my investigative research of this program.
How Does Digital Income System Works?
I have seen programs like Digital Income System before. For instance, think of Digital Altitude and MOBE – they all made so many claims until you get in and see they either overhyped the system or it is an outright scam. A couple of years ago, Digital Altitude and MOBE scammed so many people that the Federal Trade Commission had to step in and shut down both programs.
Back to Digital Income System, one of the claims they made on their sales video is that their system has nothing to do with networking marketing. Yet, the first thing you will discover once you pay for this program is that it is all about recruiting people. In fact, you have zero chance of earning if you can't recruit other people into the system.
To join Digital Income System, you will first need to watch the video on their website. After the video, you will now request that they call you back and submit your phone number. You will receive a call from their so-called coaches who will now offer you different levels where you can join the program just like a typical MLM. Thus, how much you pay for joining the program will depend on the level you joined. There are 5 membership levels which include:
Entrepreneur Level: Cost: $1,000. Recruitment commission: $500
Director Level: Cost: $3000. Recruitment commission: $1500
Professional Level: Cost: $5000. Recruitment commission: $2500
Ambassador Level: Cost: $12,000. Recruitment commission: $6000
Executive Level: Cost: $25000. Recruitment commission: $12500
Note that the recruitment commission is simply how much you will earn when a referral signed up for the same level under you. This means every level qualifies you to 50% commission from everyone that you refer to the program.

As you can see, the whole program depends entirely on your ability to recruit people into the system.
How Can You Make Money With Digital Income System?
The only way you can make money with Digital Income System is if you know people who are willing to pay over $1000 to $25000 to join a high ticket affiliate program. I know for sure that not a lot of people can boast of being able to invest that amount of money into an online business.
You have zero chance of earning if you don't get people to sign up through your affiliate link. Let's say you sign up at the lowest level which cost $1000, you will need to bring at least two people on the same level to pay $1000 each and then you get $500 each to be able to recover your initial investment. Your profit will start from the third person you bring into the system. As you can see, it is a very hard task for even the savviest affiliate marketer.
I know for sure that not a lot of newbie can be able to bring in people with the ability to invest $1000 or more into such a program. So let me say it again: you cannot earn money in this program if you don't have a rich friend or acquaintances to refer to the program.
Ugly Truth About Digital Income System
When you want to join Digital Income System, the first thing they will tell you is that you will earn $500 to $12,500 with no selling, no talking, no recruiting, and no MLM. Shockingly, that is the exact opposite of what you will experience.
Digital Income System is all about selling, talking, recruiting, and of course, MLM. You will have to talk to your friends to join the program. To earn money here, you will have to recruit as you do in every other MLM system. The people behind this program tried to cover it up with lies so they can suck gullible people into the program. Their lies are already enough reason to jettison the program.
Just like Digital Altitude that failed a couple of years ago, Digital Income System made no mention of the owner of this system. This is a strategy that is consistent with so many scam online programs that I have reviewed on my website. People hide their names or use fake names when they know their program is not genuine.
If I were you, I will be very suspicious about doing business with a program that has no known owner.
Digital Income System claims they have products. Unfortunately, what they have in their system is a bunch of products they gathered from all over the internet. If you decide to get such products on your owner, for instance, autoresponder, you won't pay anything close to $1000. It is very dangerous to deal with a company with no real valuable product. There is no doubt it is a ticking bomb.
You Don't Own The Business
When you join this network, you will spend your own money and time working and recruiting people for them. The business is not yours. It can crash any day and they can take your money and run away. Instead of taking such risk, it makes more sense you invest your time and money on building your own business.
It is Not True Affiliate Marketing
They described this system as affiliate marketing but it is not. In reality, what you are dealing with it is just multi-level marketing where you recruit people to repeat what you are doing. Affiliate marketing is all about selling products to people who need it for a commission.
Pros of Digital Income System
You can earn a lot if you can recruit
Cons of Digital Income System
It is a multi-level marketing
It is full of lies
Lacks transparency
No known owner
Done-For-You system sucks
No real product
It will crash, just a matter of time
Is Digital Income System A Scam?
Technically, you can make money with Digital Income System. However, the only way this can happen is if you know how to sell high-ticket affiliate program. To be honest with you, 99% of people who make money online cannot sell high-ticket affiliate program.
Besides, the program does not teach you how to build your own business. All you do with this program is to recruit people. That is not how to build a business online. Digital Income System is an MLM, it is not a scam but it will crash at some point. It is only a matter of time. My recommendation will be to avoid this program.
What is Best Alternative to Digital Income System?
I get it! You are almost frustrated searching for a real way to make money online. Almost everything online today looks like a scam or a complete waste of time. Trust me, I know exactly what you are passing through because I have experienced it when I was getting started.
After wasting money and time looking for what looks, I decided that I'm done. Instead, I started leveraging free resources like free mentorship, YouTube videos, and more. It was a bit stressful for me. However, someone later introduced me to a system called "Wealthy Affiliate". This system brings everything I have been searching online in one place.
Wealthy Affiliate allows you to build a business that you are in complete control of. It provides you with all the resources you need as well as coaching you need to succeed online. Today, Wealthy Affiliate has over 1.8 million members and a lot of them have succeeded in building a passive income from home.
I will recommend that you join Wealthy Affiliate. This program could change your life if you are willing to put in work. Besides, I will always be here to coach and mentor you until you succeed.