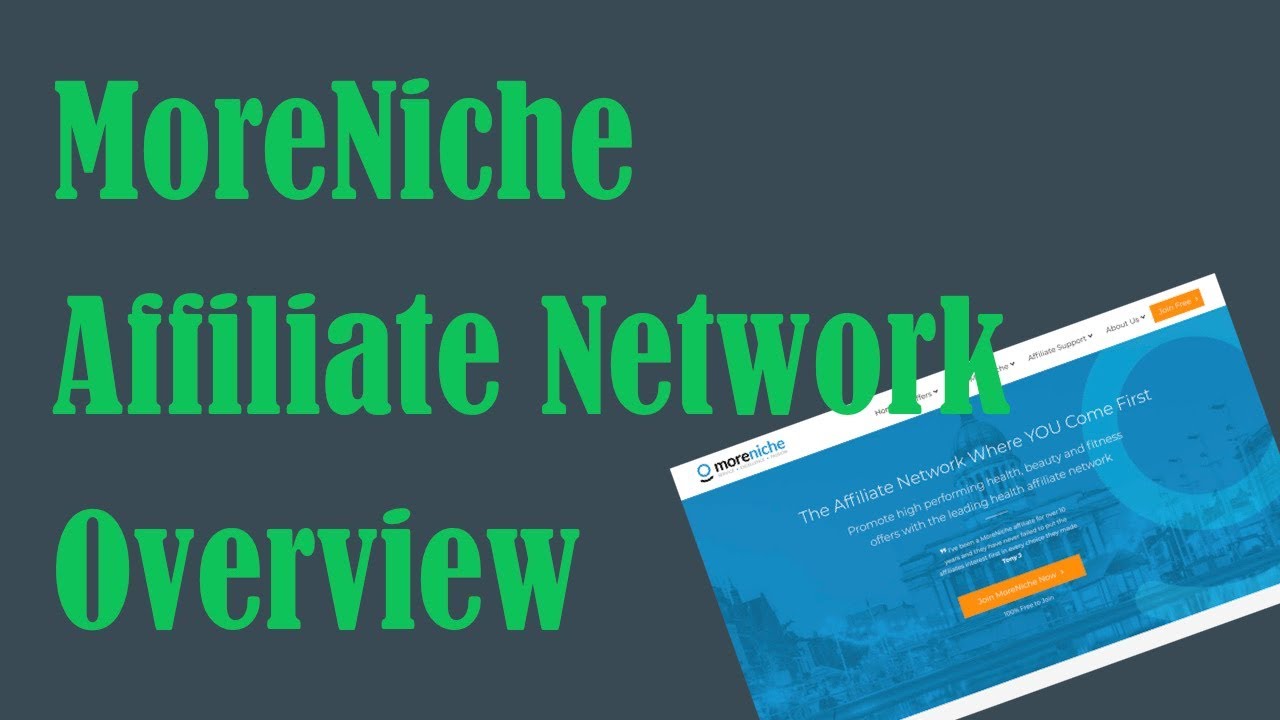 MoreNiche Affiliate Network is an affiliate marketing network you need to know if you operate in health and beauty niche. Affiliate marketing is very diverse. The ultimate goal is still to connect the producer and the consumer and make money from the commission. However, to succeed in affiliate marketing, you will have to choose a specific niche and become an expert in such a niche. It is hard to succeed when you are "jack of all trades".
Even most affiliate marketing platforms tend to specialize in a specific niche. Take, for instance, some affiliate marketing platforms I have already reviewed here on my platform specializes in finance, while others such as JVZoo specializes in "Make Money Online" products. ClickBank and Commission Junction are different. The two almost specialize in every type of offer.
Nevertheless, it makes sense if you choose an affiliate marketing platform that is known for a particular type of offer. This is the reason why we are going to talk about MoreNiche Affiliate Network today. Since most of my followers wanted to know how health and beauty affiliate marketing works, a look at the operation and legality of MoreNiche affiliate network may reveal some useful information.
Name: MoreNiche
Type: Affiliate Network
Founded: 1999
Price: Free
Recommended: Yes
What is the MoreNiche Affiliate Network?
MoreNiche Affiliate Network is one of the leading health and well-being affiliate networks. According to the information on the website, MoreNiche provides exclusive and proven brands with some of the highest customer satisfaction records in their respective industries.
MoreNiche was founded in 1999 making them one of the longest-serving affiliate marketing network online. The company was registered in the United Kingdom. However, they have an office in New York, United States. MoreNiche claims that it pays its affiliates a commission rate that is above the industry average commission level. Nevertheless, the network is known for paying bi-weekly, providing chargeback protection, good affiliate support, and lots of encouragement, especially to the MoreNiche top affiliates.
How Does MoreNiche Affiliate Network Works?
Like I've already mentioned above, MoreNiche is a leading health and beauty affiliate network. You can join them only if you are interested in promoting such offers. Joining MoreNiche is just like joining every other affiliate network. Fortunately, it is easier to get approved on MoreNiche than on other networks such as LinkConnector. You can sign up for MoreNiche. However, you need to ensure that you have a website and some form of identification before your account will get approved.
MoreNiche without a doubt works with some of the biggest brands in the health and beauty industry. This is good news to affiliates because it means you will earn more commissions. The categories of products you can choose from include weight loss, bodybuilding, men sexuality, acne, teeth whitening, slimming, as well as other beauty products. Some of the popular products they have on offer right now include:
SizeGenetics
CrazyBulk
Bauer Nutrition
Incredibly, you can earn between 40% and 50% in commission when you sell any of these products. These commissions are way over the industry standard. This means you can earn lots of money just by joining them.
When it comes to payment of affiliates, I love the way MoreNiche works. You get paid twice per month as far as you reach the minimum payment threshold. You get paid first between 1 and 15th day of the month and the second time between 16 and the last day of the month. However, you need to have at least $100 in your account to qualify for a payout. You can receive your payout through Payoneer, Skrill, Bitcoin, Paxum, UK Bank Transfer, and International Wire transfer which can take up to 7 business days.
What I Like About MoreNiche (Pros)
Easy to sign up and get approved
They care a lot about their affiliates
They pay twice per month
Reasonable minimum payout threshold
Lots of helpful tools for new affiliates
What I Don't Like About MoreNiche (Cons)
You can only promote health and beauty-related products
No PayPal option the last time I checked
Is MoreNiche a Scam?
Certainly Not! MoreNiche is a legit affiliate network with a long history. You will certainly love it there because they provide lots of support for their affiliates. If you have a blog that talks about health or beauty or related products, I will recommend that you join the MoreNiche Affiliate Network.
Join MoreNiche Affiliate Network on Wealthy Affiliate
If you still don't have a website, and if you find it hard to get started on your own and get your online business off the ground, I recommend that you don't miss out on this FREE Wealthy Affiliate step-by-step training, that takes you from picking your niche to creating your website and earning your first commissions, all for absolutely free! It's unbelievable, but it's true. You get to make two free websites with them. This is how I started out, and many of my friends, and we're all running highly successful websites now in various niches.