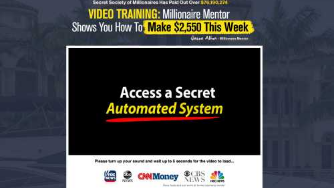 What is Secret Society of Millionaires?
The Secret Society of Millionaires is a system that claims to be a remarkably effortless method to make millions online with only the use of a website. Actually, the system promises to assist you to make $2,550 in the first week after you begin using it.
The system leads folks to believe that they boast an automated secret that'll be handy at helping you rake in thousands of dollars real time with everything done for you. You'll not need to deal with customer service or your own products. What's more is that you'll never have to bug your friends and family.
According to the system, you'll not even need to work hard in order to achieve financial success.
The Secret Society of Millionaires promises an effective system that'll assist you to create that life you've always desired. The system opines that after using it, you'll never have to work for somebody else.
My #1 Opportunity to start a Real Online Business (Free to Try)
How does it work?
Well, the Secret Society of Millionaires is simply just a website. There's no official 'secret society' that you'll have access to. All you need to do is join the golden MOBE (My Online Business Education, LTD) business opportunity. The website was created by one of the company's affiliate in order to recruit people.
MOBE is a high ticket 2 tiered MLM program which utilizes a licensing business model. You'll have to 'pay before you play.'
For you to make commissions from all this, you must purchase their digital marketing packages for those you wish to earn from. The 5 levels in the package will cost you from roughly $2.5k – $30k.
Is Secret Society of Millionaires a scam?
Well, many people, myself included I consider the Secret Society of Millionaires a scam.
The scam signs
One of the major indicators that the Secret Society of Millionaires is a scam is because they're highly misleading. There's no one who'll be making such amounts of money within their first two weeks.
Secondly, the system is made to look so easy. The fact that you don't have to work hard in order to make substantial commissions is in itself a major sign that the system is a scam. The reality in this life is usually the complete opposite.
Numerous members who have invested in the system have lost thousands from joining.
Can you make money?
Despite the website promoting a genuine business model in form of MOBE, I'm still not convinced that you can make money with Secret Society of Millionaires. To make real money, one must really work hard at whatever he or she undertakes to do. This is unlike what's promised on the website.
Final Review
Secret Society of Millionaires is among the countless fraudulent schemes present on the internet today.
The truth is that you can't be a millionaire without working hard.
Anyone who tells you anything contrary to that is certainly lying.
Rather than chasing shiny objects of no work and fast money, work hard and start building a real business today.
I invite you to check out my #1 recommendation here.                                                                                                              
Please feel free to leave me a comment below or get in touch with me via my profile inside of Wealthy Affiliate.
Have a great day,
Kirk