Online Jobs Now Review  
Name: Online Jobs Now
Creator: Kelly Simmons
Website: http://onlinejobsnow.org/
Business Model: Link Posting
Overall Rating: 1 out of 10
My Top Rated Opportunity: wealthyaffiliate.com Free Starter Membership
What is Online Jobs Now
Online Jobs Now is a website that claims they have a system that if you follow you will be able to make money for your future. All you need is a few basic things to get started. A quick registration process, internet connection, computer and then you will be on your way to a brighter, clearer future and a happier you. Below is an actual screen shot of the site.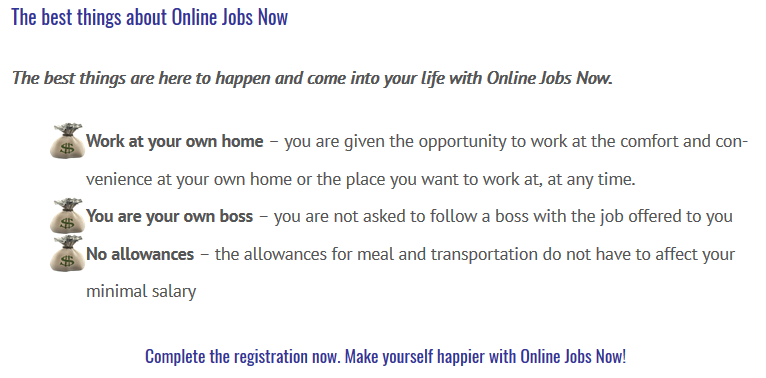 So Who is Kelly Simmons? The Creator of this program.
Kelly claims to be a successful work from home mom. She is the creator of several of these type of work from opportunities, or let me say the face of these programs. Many say she doesn't even exist at all but I have not been able to verify this.
The name Kelly Simmons has been the face of a few scams that I know of so when her name is connected in any way at all I see a big red flag right away.

Is Online Jobs Now a Scam?
When I do reviews I try to be honest and give every program an equal assessment. After being an online internet marketer for over 7 years now I have seen and reviewed many online business opportunities. Only a few have I given as low a rating as Online Jobs Now.
I would highly recommend staying away from this program but I am not going to get way out over my skies and call it a outright scam.
What I will say is that there is a few red flags and some misleading statements that I want to address. Like this one about they only have a few limited positions left which is total bologny.
Or this one claiming you could be making money in 5 minutes working from the comfort of your own home.
Then they try to mislead you into believing that they have been featured on major news networks like CNN,FOX, etc.

They try to make it look like this is going to be so easy with statements like this one "make 15 dollars per link you post" this is not going to happen and they know it. Making money online can be done but you have to apply yourself and it just doesn't happen over night.
My Final Thoughts
In my opinion Online Jobs Now is way over hyped and not an opportunity that I could recommend to anyone looking to make an income or even just a little bit of extra cash online. There is so many other legit, honest, and proven opportunities with a good track record out there.
If you do decide to give Online Jobs Now a try, please come back and let me know how you made out okay? You can also get in tough with me via my profile inside of Wealthy Affiliate.
To you success,
Kirk