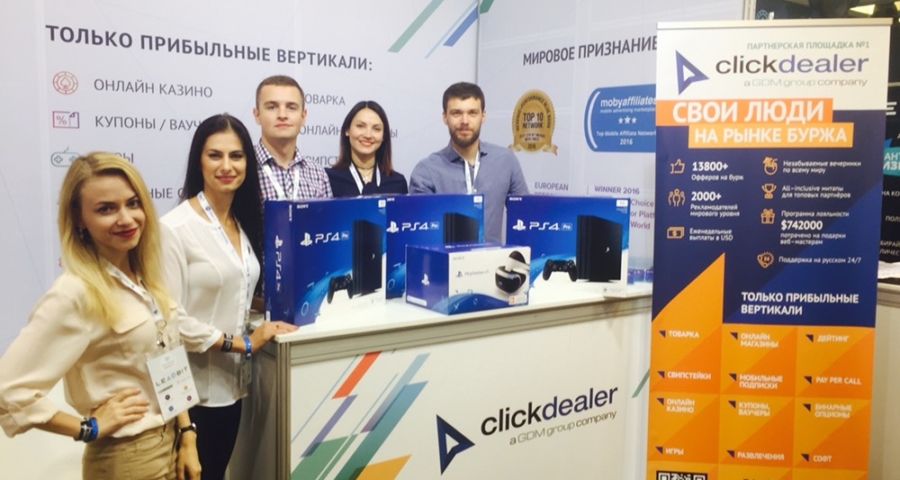 Making money in global performance marketing is not easy. In fact, it is like a gamble. You could invest a lot of money and end up not making a cent from your investment. This is why it is important that when you decide to work with a global performance marketing company, you should make sure they are legit and they have features that will favor you.

In recent months, I have gotten tons of requests to review ClickDealer by affiliate marketers who are looking to expand their source of income. If you have been in the world of affiliate marketing, it is likely that you may have come across ClickDealer before but you have no clue who they are or what they do. It doesn't matter. Today, I will reveal everything that you need to know about ClickDealer. You will learn about who they are, what they do, and I will even tell you whether ClickDealer is a scam or legit company. You have to read until the end of this article to find out. I will also reveal more juicy info about this company within the article.
Name: ClickDealer
Type: Affiliate Marketing, Global Marketing Agency
Founded: 2012
Country: Netherlands
Minimum payouts: $500
What is ClickDealer?
ClickDealer described themselves as the "new kind of global affiliate network that makes performance marketing accessible, convenient, and human". Basically, the company is a global marketing agency that works with hundreds of brands to provide them a platform to find affiliates to promote their program.
ClickDealer started out in 2012 as an affiliate marketing platform but has been growing and evolving since then. Today, there are some who described the platform as one of the leaders in the online marketing space for lead generation. However, one thing that is certain is that the company is a well-known operator in global performance marketing. No doubt, ClickDealer is a recognized industry expert whenever you mention performance marketing. They have been able to attract and work with some of the leading brands as well as top affiliates.
If you are looking for a way to add an extra source of income to your current income sources, ClickDealer may be what you are looking for. Keep on reading to find out more.
You can join ClickDealer as an affiliate or as an advertiser. However, this review of ClickDealer is going to focus mainly on how ClickDealer works for affiliates.
How Does ClickDealer Work?
Affiliates
ClickDealer works like almost every other CPA platform when it comes to registering on the platform. You can only join them when you have some experience in online marketing.


Of course, it is easy to get this experience if you are already a Wealthy Affiliate member. To join ClickDealer, you have to submit your application and then be able to impress your affiliate manager. You also need to have a website that is professionally designed with no adult contents or spamware.
While looking through the operation of ClickDealer, I was impressed that they have some features that are not available on other platforms. Take, for instance, the platform runs on the CAKE platform which is easily integrated with almost all modern tracking tools.
Currently, ClickDealer has over 4000 campaigns that span over 180 countries. This makes it easier for a typical affiliate to promote different types of offers to various geography and demography. Besides, the company provides various types of offers which include CPA, CPS, CPL, CPC, and even CPS. As you can see, you are not limited when it comes to the type of offer you can promote.
When it comes to payment, you will need to make at least $500 to be eligible to receive payment. Honestly, I found this a bit high. Some affiliate platforms have $50 minimum payout threshold.
I guess the reason why ClickDealer has such high payout threshold is because they want to keep their affiliates active. Nevertheless, the platform has NET 30, NET 7, and Bi-Weekly payment periods. You will get your earnings through PayPal, Payoneer, Cheque, WebMoney, Paxum, or through Wire transfer.
What I Like About ClickDealer (Pros)
Timely payment
Tons of offers to promote
High Commission
Global Reach
Over 5000+ exclusive offers
Dedicated support
Multiple payment solutions
Dedicated affiliate manager and support
Loyalty program, workshops, and even parties for affiliates
What I Don't Like About ClickDealer (Cons)
High payout threshold
Very selective when it comes to accepting new affiliates
No live chat support feature
Is ClickDealer A Scam?
One thing I love about ClickDealer is a timely payout. Once you are eligible for payout, you will always get your earning on time. If there is a delay, it is likely going to be from the payment platform and not from ClickDealer. They also have a lot of good offers you can promote.
Besides, once you are accepted into this platform, you will be assigned an affiliate manager who you can always talk to whenever you are experiencing any problem. With all these features, ClickDealer is definitely not a scam. In fact, it is one of the best CPA affiliate networks you can find online today.B
Thanks for visiting my ClickDealer review. If you have any questions leave the min the comment section below.
To your success,
Kirk