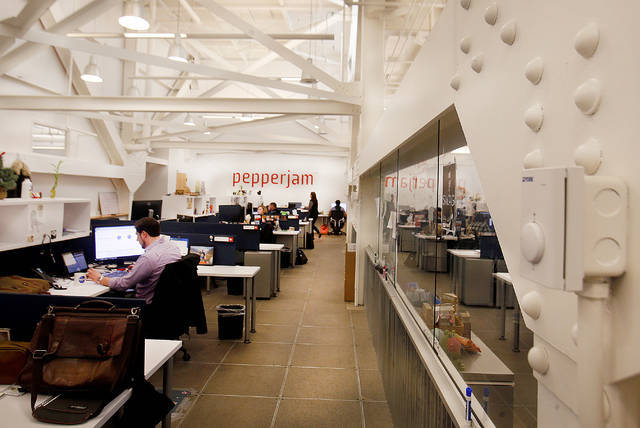 Pepperjam Network claims that they are "redefining affiliate marketing". Over the last couple of months, a lot of people especially newbie affiliate marketers have come to me to know how real this statement is.


Affiliate marketing has exploded in the last couple of years. Similarly, the number of affiliate platforms have also increased tremendously. I remember when it used to be just ClickBank and Commission Junction. Nowadays, you have a lot of new affiliate marketing platforms like Pepperjam Network coming up every day with so many claims. With so many scam stories online, a lot of people are being cautious about joining these affiliate marketing platforms.
Of course, a new platform can always be better than the old ones. If you are having doubts about Pepperjam Network, you will learn the real facts about them today in this honest and unbiased review of Pepperjam affiliate network. At the end of this review, you will be able to decide if Pepperjam is for you or if you need other affiliate platforms. Keep on reading to find out more.
Who Is Pepperjam?
Pepperjam is an affiliate marketing network that started out as a service that sells jam 20 years ago. However, the company has grown to become an Inc. 500 company with a lot of advertisers and affiliates on their platform. Pepperjam now operates an affiliate marketing lifecycle platform known as Ascend. According to the company, they are one of the pioneers of affiliate marketing. In 2007 alone, Pepperjam was able to grow their company by 550.2%.
Like most top affiliate marketing platforms I have reviewed in the past, Pepperjam is based in the United States. The company prides themselves on their ability to keep an open line of communication and on their transparent mode of operations. Nonetheless, there has been a diverse opinion about whether this is a good affiliate marketing platform or not. One way to find out if Pepperjam is a good or not is by taking a look at their operation. Below, you can find out exactly how this network operates.
How Does Pepperjam Works?
For affiliates, Pepperjam works basically like every other affiliate platforms you may have used before. They don't charge any money before you can join the platform. However, their only requirement is that you need to have some experience. Without an initial experience in affiliate marketing, it will be difficult to have your account approved. They also require that you have your own website.
If you are a complete newbie without any experience in affiliate marketing, the easiest way to get it is to sign up for free for Wealthy Affiliate.
After signing up for Pepperjam, it takes 24 hours to process your account and get approved or denied based on your performance during the application stage. Once you are approved, you can start choosing offers that you want to promote. You will also get a personal account manager. You don't need to worry too much about the signup process. Per my investigation, I discovered that Pepperjam has fairly easy signup process compared to Commission Junction or Peerfly.
Affiliate Payout
Pepperjam has one of the lowest payout thresholds I've ever seen. This is very good for affiliates. You only need to earn $25 for you to be eligible for a withdrawal. I have seen some networks that require you earn up to $500 or even $1000 before you can withdraw. So you can see, it is extremely easy to withdraw your earnings.
Pepperjam works with PayPal. You get your earnings sent directly to your PayPal account. When it comes to affiliate payout, another big plus is that you can withdraw your earning twice per month. A lot of other big affiliate networks do not have this feature.
What Do I Think About Pepperjam Network?
Pepperjam Network has a big reputation for its transparency. So far, I've not seen any other affiliate network that places so much emphasis on transparency except Pepperjam. They even have an event they call "Publisher Day" where all their publishers come together to celebrate with one another. During this event, you will have an incredible opportunity to meet with your account manager if you are a publisher. You will also have the chance to meet with advertisers.
Pepperjam even developed a highly sophisticated tracking tool they encourage publishers to use to avoid losing money to advertisers. This says a lot about how transparent this platform is.
What I Like About Pepperjam Network (Cons)
Very transparent
Easy sign-up process
Personal account manager
Low payout threshold
Personalized attention
Highly-developed tracking and reporting methods
Easy link generation
More than 1500 advertisers
A variety of affiliate marketing options
Bi-monthly payout
On-time payout
Cons
Not so many payout options
Bland user interface
Is Pepperjam Network a Scam?
If you have followed this review until this point, you already know what my answer is going to be. Indeed, it will be very difficult for a company as transparent as Pepperjam to be a scam. No doubt, Pepperjam Network is a 100% legit company. H
Where To Get The Best Affiliate Training?
The only Affiliate Training I am recommending is Wealthy Affiliate. I have been a member for over 3 years now and love everything about it. The community is amazing.
Click Here to learn more about Wealthy Affiliates FREE Membership.
Thanks for visiting my Pepperjam Affiliate Network review. If you have any questions please leave them in the comment section below.
To your success,
Kirk