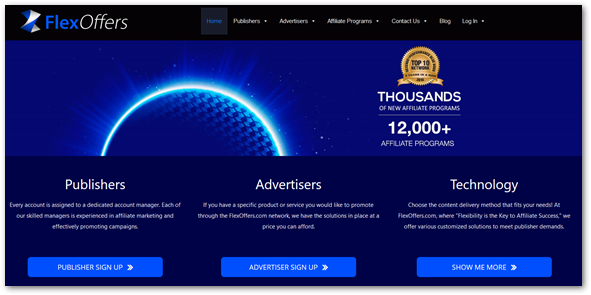 Perhaps, one of the greatest challenges of getting started in affiliate marketing is choosing a good platform. FlexOffers is one of the biggest affiliate marketing platforms around. However, not everybody knows about them or even how they operate.
Personally, I know top affiliates earning 7-figure income monthly who never made use of FlexOffers. Similarly, I know some affiliates earning handsomely every month on FlexOffers. However, there is a secret they are keeping from you which I intend to reveal at the end of this article.
When it comes to choosing a digital marketing platform, there is no "one cap fits all". You will have to choose what works for you. Let's say you want to work with ClickBank or Commission Junction, that doesn't mean that other platforms such as FlexOffers are a scam. One advice I usually give new affiliates is to make their research and choose a platform that suits their need perfectly.
FlexOffers even has some features that you will not see in other platforms like ClickBank. Some affiliates dropped ClickBank for FlexOffers because of these features I will mention later in this article. Whether you are still getting started or you are already an established affiliate, FlexOffers may be the right place for you. The only way to find out is to read this honest and unbiased review of FlexOffers to the end. You can then decide if this platform is for you or not.
Name: FlexOffers
Type: Affiliate Marketing
Founded: 2008 (Miami, FL 33132)
Payment Terms: Monthly, Weekly
What is FlexOffers?
FlexOffers is an affiliate marketing network that is based in Miami, United States. The company was founded in 2008 and has since become very popular among advertisers and publishers. Many publishers love FlexOffers because it provides both weekly and monthly payment.
Currently, FlexOffers has over 12,000 advertisers, making them one of the digital marketing platforms with a huge number of advertisers. Perhaps, one reason that could explain FlexOffers success in recent years is that they offer affiliates 50% of the revenue generated through new partners they bring to the network. As a FlexOffers affiliate, you will have a chance to earn money through CPA and CPS commission types and even get your payment within one week.
How Does FlexOffers Work?
Advertisers
FlexOffers connects advertisers with high-quality and experienced affiliates to promote their product. As an advertiser, you can add an existing affiliate program or create a new affiliate program with FlexOffers. Perhaps, the greatest benefit of joining this platform as an advertiser is that you will have thousands of experienced affiliates who are willing to promote your product for a commission. FlexOffers attract publishers by offering them:
Tracking links
Publisher payments
Sales and conversion tracking
Compliance monitoring
Reporting
Publisher pre-screening and recruiting
Publisher application processing

Affiliates
If you are looking for high-quality products that you want to promote, FlexOffers may be the right place for you. The company offers majorly CPA type of affiliate product which you can promote to your audience using video marketing, email marketing, blogging, podcasting, and even offline marketing.
When you join FlexOffers, you can choose between CPA Offers or CPS offers. The choice is yours. You can make money with any type of offer you choose. What matters is the experience and the strategy you are using. You can also look at the various advertisers to know the one that has the right type of offer for you. Basically, I will recommend choosing an advertiser with a product similar to or related to the one you are already familiar with.
FlexOffers is a good place for affiliates to make money. It is possible you can make as much as $40 for each lead you generate on this platform. Let's say for an offer paying $40 for one lead and you get 30 leads, that is $1200. It is possible to make over $20,000 per month on this platform.
What I Like About FlexOffers (Pros)
The company has over 12,000 advertisers
More than 500+ premium advertisers
Weekly payments
Dedicated affiliate managers to publishers
Earn up to 50% on every product you promote
Enhanced tech services
Real-Time tracking and reporting
Content management
Traffic reports
Compliance monitoring
Ticket supporting system
Excellent customer service
What I Don't Like About FlexOffers (Cons)
What's Secret I Should Know About FlexOffers?
Everyone talks about how you easy you can make a lot of money on FlexOffers as an affiliate. However, one thing you should know in life is that every opportunity comes with risks and some level of difficulty. Don't expect to start making a whole lot of money using this platform right away unless you are an experienced affiliate marketer.
If you are just getting started with affiliate marketing I would highly recommend that you take a look at what I consider the industries top affiliate marketing training platform Wealthy Affiliate. This is the same platform that I and many other top affiliate marketers have used to learn how to build a successful affiliate business.
Fortunately, Wealthy Affiliate teaches you exactly what you need to promote this type of offer and then give you the exact tools you will need to become successful. Besides, you will be supported by a community of high-earning premium affiliates who will always answer your questions and give you advice whenever you need it.
One of the things that I really love about WA is that they have two membership levels to choose from. I always recommend anyone that might be interested in joining the WA training platform to start out with the FREE membership.
This way they can see everything WA has to offer and decide as they are going through the training which membership level is going to be right for them. If you would like to learn more about Wealthy Affiliate just check out the link below.
Click here to see how Wealthy Affiliate Works
Thanks for visiting my review of Flexoffers. If you have any questions please leave them in the comments section below and I would be glad to anwer them for you.
To your success,
Kirk