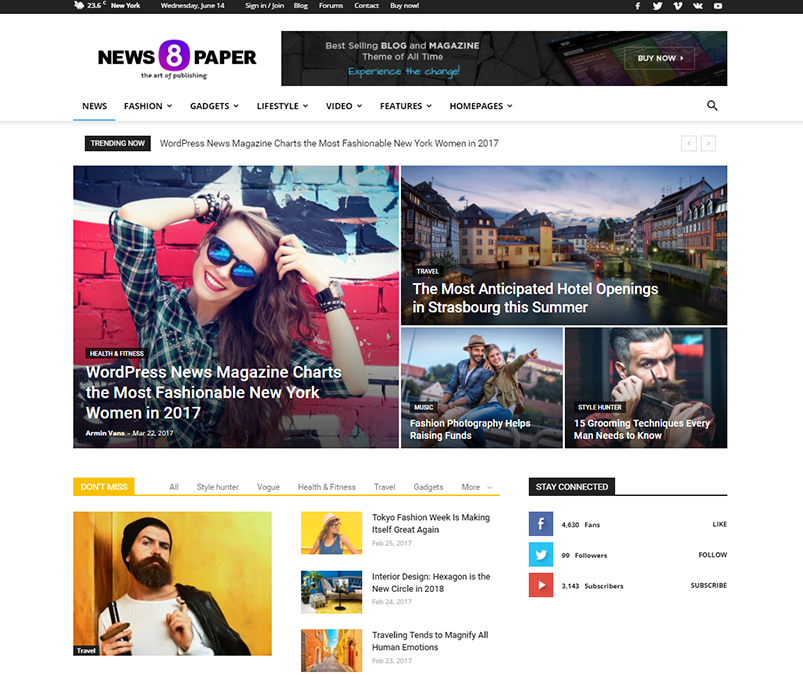 As an internet marketer, I usually create a lot of websites for various purposes. Since most of my websites are created with WordPress, this means I need a good theme to make them stand out. But the problem is that finding a good theme to use for various purposes is hard. At least, that was the case for me until I stumbled on Newspaper 8 WordPressTheme.
Perhaps, one of the hardest parts of creating a WordPress-based website is finding just the right theme. Personally, I had to go through over 100 themes before making up my mind on a theme to use. No doubt, this can be extremely challenging. To help make this task a bit easier for you, I've decided to write an honest and unbiased review of this new WordPress theme known as Newspaper 8. Keep on reading to find out why this theme may be what you need to make your website stand out.
What is Newspaper 8 WordPress Theme?
Newspaper 8 is a modern and very responsive WordPress theme created by tagDiv and sold on Envato Market platform as a premium theme. It is designed for creating blogs, news sites, and online magazines. This theme comes loaded with features that will make your website looks beautiful and absolutely professional without hiring a website designer.
Newspaper 8 became one of the most popular themes on Envato Market within a few weeks and has so far gotten over 5000 premium buyers. According to the Envato Market, Newspaper theme by tagDiv is the most popular as well as the best-selling WordPress news theme of all time on ThemeForest.
There are so many reasons why a lot of people are crazy about this theme. If you are wondering if Newspaper 8 theme worth your investment, this article will tell you everything you need to know. You can see the design, features, and functionalities of this theme below.
Design
Perhaps, the reason why the Newspaper 8 theme is so much loved is because of its clean and professional design. When you install this theme on your website, you will stand out as a professional in your industry. The best part is that it was designed to be used across every industry such as news, review, affiliate marketing, portfolio website, and even for e-commerce.
With Newspaper 8, how your website appears is completely up to you. You are not forced to stick with just one design. Instead, the theme allows you to choose the design you want and even how your content will be displayed on various devices such as desktop, tablets, and smartphones.
Newspaper 8 comes with 54 amazing pre-made demo designs and a gallery that includes over 420 already built design templates. They call this gallery "tagDiv Cloud Library". Overall, Newspaper 8 theme comes with the retina-ready and responsive design.
Like I mentioned above, I really like a theme that allows me to customize it any way I like. You can customize this theme from scratch even if you don't have experience as a website designer.
Functionality
A good WordPress theme is known for its functionality. To make it easier for you to set up the Newspaper 8 theme the way you like, the people behind it created what they call "Newspaper Theme Panel". This gives you the ability to access all the options, demos, plugins, settings, and even your website monitoring system at the same place.
To ensure you don't waste time on creating your website, Newspaper 8 comes with an intuitive page builder called "tagDiv Composer". This page builder allows you to design blogs and websites with this theme. The best part is that you will see any change you implement live. The tagDiv Composer plugin comes with a library of 22 new content elements that you can use to improve your website and make it stand out. When you buy the theme, you will get access to 8 premium plugins that include: tagDiv AMP, tagDiv Cloud Library, tagDiv Composer, tagDiv Social Counter, and then tagDiv Newsletter.
Post Features
You can make each post stand out, that's the beauty of this WordPress theme. Newspaper 8 theme support different posts such as normal text post, video post, audio posts, and post templates. It also supports review system posts which makes it excellent for anyone who wants to create an affiliate marketing blog. With every post, you have the options to add a social share, smart list, post view counter, custom image gallery, and custom image lightbox.
Ads
Newspaper 8 supports ads. You can place your ads by the right-sidebar or within posts. It also comes with AdSense support making it perfect for blogging. If you want to add background image ad or custom ads, this theme will give you exactly what you want.
Smart List Builder
One of the modern ways website owners are using to draw attention to their website is to publish lists and collections of the most interesting articles and posts. Fortunately, this functionality comes with the Newspaper theme. You can easily make the use of the tagDiv library to browse the library of pre-built templates that you can use.
SEO
A theme is not complete if it does not help you to improve your SEO. Fortunately, you can optimize every post on the Newspaper theme to help you get a high ranking on Google. Moreover, the theme is very responsive which also helps your website rank higher on search engines.
Performance
Finally, I took a look at the performance of the Newspaper 8 theme and was satisfied with the high performance of this theme. The theme is AMP ready and raises the standards on page loading speed as well as on mobile optimization. This is made possible via a specially crafted tagDiv AMP plugin. I can guarantee you that you can increase the page loading speed of your website with this theme.

Who is Newspaper 8 Theme For?
Newspaper 8 theme can be used for various purposes. If you have a WordPress blog, you can certainly use this theme. It is designed for:
Bloggers
Affiliate marketers
News magazines
Portfolio website
Review website
Fashion and Entertainment
Food blog
Pros
Can be used for any type of website
High-performance
Comes loaded with a great selection of third-party plugins
Lots of high-quality website demos
Regular updates
SEO-ready
Ease of use
Cons
Too many features (which are not so bad)
How Can I Buy Newspaper 8 Theme?
Newspaper 8 theme is already available on the ThemeForest marketplace. Fortunately, it is affordable considering the features that come with it. You can buy this theme for just $59 on the ThemeForest marketplace.
Buying the theme comes with 6 months of support. However, I recommend you select the option that allows you to get an extra 12 months of support by paying an additional $17.63. With this option, you can have the theme creators help you if something goes wrong.
Final Thought
Newspaper 8 theme is a great theme and will definitely serve you well. It is easy to set up even for a beginner. If you are not sure how to set it up, there is documentation that comes with it which will allow you to learn the installation and design process.
There is also a great YouTube video you can use to learn the design process. I will definitely recommend this theme for anyone who wants to create a professional stunning website without paying for a website designer.
Thanks for visiting my review of Newspaper 8 Theme. If you have any questions please leave them in the comments section below.
Kirk