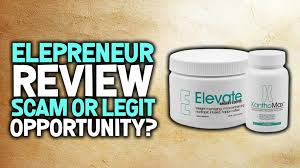 Did someone introduce you to Elepreneurs? It sounds like a simple idea – pay money to join, get others to buy the product, make passive income. To be honest, it is not that simple. Earlier this year, a visitor to my blog wrote me to an Elepreneurs Review. I finally had time to investigate how this program works. Thus, I have made a comprehensive review of Elepreneurs. If you are looking for genuine and unbiased information about Elepreneurs and Elevacity, you will certainly find it in this article.
At first look, you will notice instantly that Elepreneurs has an MLM structure, which is a big problem for me. This reason is simple, every MLM fails, it is just a matter of time. On the website, the company claimed to have made over $135,000,000 and paid more than $60 million to subscribers in 2019. Apart from just stating this on its website, there is no way I can verify this figure out rightly. I could also not verify other claims the company made on its website.
On the website, Elepreneurs claims to offer a completely virtual business including a phone app, web system, automated free sampling program, and many more. The company also claims to sell coffee. To be honest, it can be very confusing. This is why I have decided to break it down for you. Please make sure you read this article until the end. You will definitely learn a lot.
Name: Elepreneurs
Type: MLM
Founder: Rob Oblon
Price: $49/year (Additional $250 – $500 for Enrollment Kit)
Website: elevacity.com
Rating: 2/10

What is Elepreneurs?
Elepreneurs, which sounds like entrepreneur, may get you thinking that it is a business which shows you how to start your own business from home. Unfortunately, this is not the case. Instead, it is an MLM company which was founded by a man known as Rob Oblon in 2017.
Like most MLM companies, Elepreneurs does not have any product of its own. Instead, you are required to sell a product from another company called Elevacity which was founded by the same owner (Rob Oblon) in 2016. Elevacity is a company that manufactures and distributes skin care products and wellness supplements. The company also sell other healthcare products such as sleep patch, energy patch, and even hangover patch.
Interestingly, Elepreneurs and even Elevacity are not the first business founded by Rob Oblon. He is also the brain behind a travel agency called Travopoly. According to the information I was able to find online, most of his companies have performed not above average at best.
How Does Elepreneurs Works?
To get a good idea whether you should join Elepreneurs or not, it is very important that you understand how it works. Thus, make sure that you do not skip this part of the article.
Anyone can join Elepreneurs. However, you can only be accepted if you base in the United States. This is because the company sells physical products which they need to ship to your address after you sign up. However, signup isn't free. You will need to pay $49 annual fee. This fee renews every year you remain a member of Elepreneurs.
Paying $49 isn't enough. You are still required to purchase their product before you can start making money on the platform. These products are called Enrollment Packs and it comes from Elepreneurs parent company – Elevacity. There are 3 different packs you can choose from and they include:
Happy- $249
Happier -$499
Happiest -$999
The company makes its revenue when you order this Enrollment Pack. It is up to you to recover your cost by selling these products.
Apart from selling Elevacity products, you are also expected to recruit others into the network. When it comes to Elepreneurs' compensation plan, there are 12 different ranks. You climb the ranks as you recruit more members into the network. As an Elepreneurs distributor, you will earn a bronze rank when you earn 2500 Group Volume per month. You will get a 20% match on the sale generated by the two affiliates for each affiliate you recruit. If you do not want to recruit, you can also make money by selling the products directly to consumers. Don't count on this. Most people are actually not interested in these products except for those who want to make money.


Ugly Truth About Elepreneurs and Elevacity
Elepreneurs sounds like a standup company. However, it is not exactly as it seems. In fact, you may find it hard figuring out what is wrong with this platform especially if you are a newbie in the world of online marketing. Thus, in this section, you will learn some of the red flags of Elepreneurs.
Expensive To Join
To join Elepreneurs, you will need to pay $49 instantly. Note that this is an annual fee. This means you will pay it every year as far as you remain a member on the platform. But paying this fee won't give you an opportunity to make any money on the platform. You will need to pay at least $249 or $999 to get what they call Enrollment Pack which you can resell and make money. Interestingly, you get no help to sell this product. There is no guarantee you will sell off these products. You may get stuck with them and Elepreneurs don't care.
Low Success Rate
There is just a slim chance that you will get others to join the platform so you can recover your investment. You need to be very good at recruiting. Most people aren't interested in buying Elepreneurs/Elevacity products. This simply means you have almost zero chance of earning money on the platform when you cannot recruit people on the platform.
Every Pyramid Scheme Fails
Like I have always warned, every pyramid scheme/MLM fails, it is just a matter of time. While it may be true that Elevacity has been around for 4 years, they are on the way down. The company only has a handful of subscribers at the moment. It may crash the moment you sign up. You need to be very careful.
Is Elepreneurs a Scam?
Elepreneurs teeters on the corner of being illegal. Some of the practices on the platform aren't exactly legal. Take, for instance, the monthly auto shipment is widely considered a fraud. The company charges you to generate revenue for itself. Moreover, the company puts more focus on recruitment.
Whether it has been around for 4 years or 4 months, every MLM business is a bad idea. I would highly recommend that you avoid Elepreneurs. Instead, look below for my recommendation on a business you can start and build a sustainable passive income from home.
Alternative Genuine Business You Can Start Today
Stop wasting your time on pyramid schemes and other "easy" businesses that do not work. Those businesses exist only to give you false hope and take your hard-earned money. Listen! If you want to make money online, you have to be ready to put in some work. If you can work on your business for at least 2 hours per day, I guarantee that you can build a sustainable passive income online over time.
One way to start is affiliate marketing. Anyone can start affiliate marketing from the comfort of his/her own home. All you need is determination and the ability to work on your business consistently for at least the first 3 to 5 months. If you can sustain your business during this period, then there is a damn good chance that you will succeed.
To make it easier for you, I recommend that you check out this program called "Wealthy Affiliate" that I used to build my own business. Tons of other successful online marketers like me also used Wealthy Affiliate to learn and master affiliate marketing.