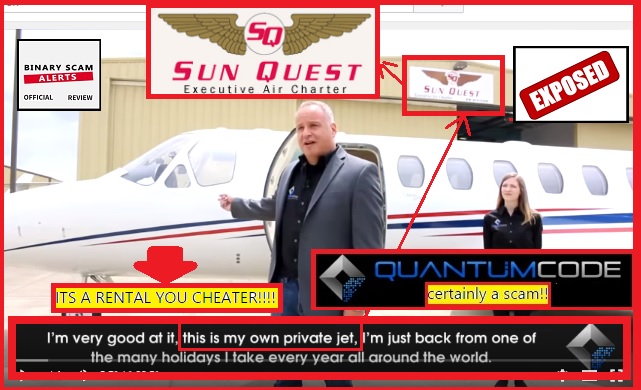 Bitcoin, Ethereum, Dogecoin … and tons of other cryptocurrencies are gaining wide popularity and acceptance. Recently, Elon Musk – the founder of Tesla invested over $1 billion in Bitcoin sending the price of Bitcoin to go over $50,000 for the first time in history. Before Elon Musk's interest in cryptocurrency, a lot of people have been interested in it. This is why apps such as Quantum Code exists. Such apps claim you can trade cryptocurrencies with no experience and earn money. Thus, in this review of Quantum Code, you are going to learn if it is a scam or a legit app.
If you have suddenly gained interest in cryptocurrency trading because of the recent uprise in the value of Bitcoin, it is very important that you learn how it works before you make your investment. There are tons of ads targeting newbies with promises that they can easily earn from Bitcoin trading using an app. 
I mean, an app that can trade cryptocurrency on autopilot? … Sounds like a no-brainer, right? Guess what, there is always a catch that is not on the surface for you to see. Believe me, people have lost millions in cryptocurrency. Usually, when this happens, there is no one to hold responsible and no way to recover your money. To ensure you make a wise decision, this review of Quantum Code will show you everything you need to know about this platform before you join them.
Name: Quantum Code
Type: Cryptocurrency trading
Owner: Michael Crawford (fake name)
Price: $250 deposit

What is Quantum Code?
Quantum Code is a cryptocurrency/binary trading bot. According to the owners/providers of Quantum Code, you can make as much as $10,000/day or $50,000/month trading with this bot. They claim that the accuracy level of this bot is 100%. Basically, what this means is that you can never ever lose any trade with the bot. 
According to the owners, the bot was created using a state-of-art advanced mathematical algorithm to teach the bot when to buy or sell in order never to lose any trade. You can sign up on this software from most parts of the world. However, it looks like it has been recently banned from operating in the United States. 
There is no doubt that Quantum Code made tons of bold claims. For over 9 years I have been running affiliate-bootcamp.com and reviewing software, I have never seen any binary-trading software claim 100% accuracy. It is impossible to win every single trade. Otherwise, the market will crash. To find out whether these people are telling the truth or lying, the next section will expose how exactly this platform works.
Who is Behind Quantum Code?
The man who claimed to have created Quantum Code is Michael Crawford. He claimed to have a deep knowledge of investment markets and his passion drove him to assemble a team of fintech specialists to design this software. However, a quick search over the internet showed that this Michael Crawford does not exist. At least, even if a Michael Crawford exists, he has nothing to do with Quantum Code. Whoever created this software/bot does not want his name to be known. Thus, he did the next clever thing which is to hire a voiceover artist on Fiverr. When I compared his voice with voice artists on Fiverr.com, it is obvious that the voice which claims to be Michael Crawford is fake and the real person is in hiding.
How Exactly Does Quantum Code Works?
In this part of a review of Quantum Code, I will take an in-depth look at how this platform works. 
Quantum Code claims to apply state-of-art smart mathematical/computer algorithms to identify trading signals and automatically execute them on the user's account. You are likely to get access to this website from a third-party website. Most people promoting them are affiliates who stand to gain money (a lot of money) when you sign up on the platform.
You can sign up on the website without any fee. However, the company requires you to make an initial deposit of $250 so you can get access to the trading bots as well as access to a demo account. You cannot be able to do anything else unless you make this initial deposit.
After making this initial deposit, you will then discover that this platform is fake. They do not have any algorithm that wins 100% of the trade. In fact, there is no algorithm involved here. They are simply a middleman with a cleverly built website that links unsuspecting newbie traders with scam brokers. Interestingly, the guys who are behind Quantum Code also control the brokerage where you will be transferred to. This is the start of a nightmare for anyone that signed up and deposited at least $250.
This new broker will start to siphon money from your deposit. Once you are in, you will notice tons of unexplained losses and deductions. You have almost no control over the money you deposited. Typically, what it does is that it will trade about 10 trades in a day and wipe out your deposit. It is left to wonder how this app that claims 100% accuracy level loses $250 in just 24 hours.
Red Flags/Ugly Truth About Quantum Code
To be honest, it is not that hard finding red flags about this software, it is all over the place. From promises of making $10,000 in one day to 100% accuracy level, you will know right away that these don't add up. Below, I have taken a look at some of the most obvious red flags.
A Promise of 100% Accuracy Level
Whether today or tomorrow, anyone that promises you 100% accuracy level in forex, binary, or cryptocurrency trading is obviously a liar. These markets are not designed that way. There are loses and gains. Thus, it is obvious that they are lying when they claimed 100% accuracy level and promised you can make $10,000 in just one day or $50,000 in one week.
Michael Crawford is a Fake Name
I wasn't really surprised to find out that Michael Crawford is a fake name. He even claimed to have been featured on the Forbes list of the world's richest people. Well, that is a lie too. The photo he used was just lifted from the internet. He hired a voice actor on Fiverr to be his narrator. It is not uncommon for scammers to create fake profiles. In fact, when you go through other reviews on my website, you will notice I have exposed tons of other programs that did a similar thing. People only hide when they are hiding from getting caught…and so is whoever created this bot and claimed to be Michael Crawford.
No Real Trading Algorithm/ No Bots
When you signed up on this platform, you will be set up with another scam broker. This broker will not only obtain your private information but request you instantly make an initial deposit of at least $250. During the signup process, they request more private information than necessary. A lot of people who created an account on this website told me that they received a lot of spam emails and calls from unknown brokers. This only happened because Quantum Code shared their sign-up information with so many untrusted third-party brokers.
Fake Testimonials/Reviews
The testimonials and reviews on the website are a scam. Again, they made use of cheap voice actors from Fiverr to do these reviews. My in-depth reversed image search showed that these people giving the testimonies are not real. They are put there to convince you that the software is real.
No Chance of Profit or Withdrawals
Looking to make $10,000 here? You would be extremely lucky to even get your $250 refund. This website has a pre-determined trading result that is designed to wipe away your deposit leaving you with no money to trade and definitely no profit. Almost everyone who has ever used Quantum Code loses all their money within the first few hours of trading.
Is Quantum Code a Scam?
Yes, Quantum Code is a scam. This review of Quantum Code showed that it is a handiwork of desperate people who specialized in manipulating trading results to steal money from hardworking men and women like you. Quantum Code is nothing but lies upon lies. You have no chance of making money here. When you join them, you stand losing your money, your time, and more importantly, your private information can get into the wrong hands. If you are an up starter and you want to build an honest, legit passive income from home, I would recommend you take a look at my number 1 recommended online business below.