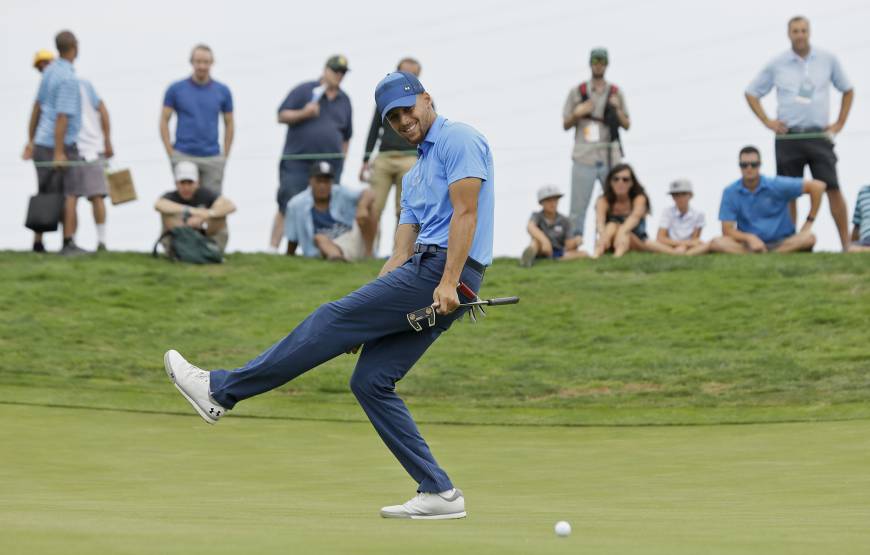 Golf is for the rich, right? Now let me show you how you can make money from golf without ever playing golf or knowing what a golf ball looks like. Golf niche is one of the most underrated but highly profitable niches. When done well, you could be earning up to 7-figures per month in this niche alone.
Ever wonder why people don't talk about golf affiliate niche? It is not because there is not a lot of money to be made. Instead, people in golf affiliate niche don't want too many competitors. Today, you will learn about this underrated but profitable niche and how you can start smiling to the bank by becoming a golf affiliate.


Why Should You Become A Golf Affiliate?
In the United States alone, over 24 million people play golf every year. Golf is a game that requires lots of equipment such as golf clubs, ball, ball markers, towels, club head covers, tees, golf bag, and many more. These items don't come cheap. The best part of it all is that this industry caters for sophisticated people. People that play golf are open and ready to spend.
According to Forbes, golf is a $70 billion industry. You read that right. $70 billion is a lot of money. It supports about two million jobs and provides about $55.6 billion in annual wages. Every year, there are about 143,000 golf events around the world with over 12 million participants. So you see, golf is really a big empire with lots of money. This is a niche most people have not looked into. Perhaps, this is the niche that could finally take you to earn 7-figures per month. Do you want to know how? Check out the top golf affiliate programs below:
Top Golf Affiliate Programs for Smart Bloggers And Affiliate Marketers
1. Golf Outlets USA
Website: Golfoutletsusa.com/affiliates
Commission: 10%
Cookie: 30 days
Why Golf Outlets USA?
Golf Outlets USA has a huge number of loyal customers and high conversion rate thanks to their incredible discount rate. This golf website sells quality golf equipment. However, the major difference between Golf Outlets USA and other brands is that they offer a discounted price. An average consumer usually compares prices before making a purchase. Thus, Golf Outlets USA has a very high conversion rate.
Whenever you make a sale, you will earn 10% commission on the item. Let's say the item worth $100, you will earn $10 if a customer purchases the item through your link.
2. TaylorMade
Website: Taylormadegolf.com
Commission: 6%
Cookie: 30 days
Why TaylorMade?
TaylorMade is another big name when it comes to golf affiliate. Established in 1979, TaylorMade is one of the oldest golf brands around the world. You will have to sign up for Commission Junction first if you want to join their affiliate program.
Most affiliates love TaylorMade because of long cookie life and the trust golfers around the world have on this brand. You can easily make sell whenever you bring a potential customer to their website.
3. Swing Man Golf
Website: Swingmangolf.com
Cookie Length: 30-days
Commissions Rates: 50+% (varied offers)
Why Swing Man Golf?
Swing Man Golf is one of the most recommended Golf affiliate programs. Every golf players always want to improve his game and this is the service that Swing Man Golf provides. They provide speed training to golfers. They also sell golf equipment.
With a generous 50% commission, it will be hard to resist joining the Swing Man Golf affiliate program. In fact, they have some offers where you can make up to 75% commission.
4. Austad's Golf
Website: Austads.com
Cookie Length: 30-days
Commissions Rates: 7.5% to 9%
Why Austad's Golf?
When it comes to selling golf equipment, there are not a lot of brands that can boast of being as old as Austad's Golf. This golf brand was established back in 1963 making them one of the oldest and most respected golf retailers around the world. They sell golf equipment that ranges from golf clubs to golf apparel.
Austad's Golf offers up to 9% commission rate on any sell you make. You also get 60-day cookies and dedicated affiliate support manager. Lots of people trust this brand. Thus, it is very easy to make sales on their website.
5. Sweet Spot Shot
Website: sweetspotshotsgolf.com
Cookie length: 30-days
Commission Rates: up to 75%
Why Sweet Spot Shot?
A lot of people wants to play golf, but they don't know how to play. Most people cannot afford to hire a golf trainer. This is where Sweet Spot Shot comes in. This brand does not sell golf equipment but golf training videos.
You can earn up to 75% from just one golf training video from Sweet Spot Shot. They also offer upsells to their customers which give you another opportunity to earn 50% to 75% commission from the upsells.
6. Golf Shoes Plus
Website: Golfshoesplus.com/store/
Commission: 5%
Cookie: 10 days
Why Golf Shoes Plus?
Just like the name suggested, this brand sells high-end quality golf shoes to its customers all over the world. Golf Shoes Plus has an inventory of over 12,000 pairs of golf shoes in their retail store. They also offer great discounts which make their products very attractive to buyers.
You get 5% commission from any sale you make. Also, note that their cookie only lasts for 10 days. You can join this program through Commission Junction.
How Can I Start Making Money As a Golf Affiliate?
Are you worried you don't have what it takes to make it as a golf affiliate? No problem! All you need to do is get the right training which is no doubt Wealthy Affiliate. This is a affiliate training platform that has everything you are going to need to build a successful affiliate business.
Click Here If you would like to learn more about Wealthy Affiliates FREE Starter membership. Yep, that's right, you can get started for free.
Thanks for visiting my review. If you have any questions please leave them in the comments section below.
To your success,
Kirk