The Wifi Wealth System Review
Name: The Wifi Wealth System
Price: Free
Website: wifiwealthsystem.co
Recommended? No
Overall Rating: 55 out of 100
My Top Rated Program: WealthyAffiliate.com/FreeStarterMembership

What is The Wifi Wealth System?
The Wifi Wealth System is an affiliate marketing program which contains three main components. Members will need to join Ebates, Motor Club of America, and get an Aweber account.
The goal is to earn commissions through $80 in sign-ups with each referral.
People do this by building their email list, basically. They can also sell in person, but it can be hard to get people to talk about affiliate marketing just off the cuff, so this Wifi Wealth System review treats the business as though it is an email marketing program.
There are a lot of Wifi Wealth System scam reviews out there on the web, but the opinion of this review is that this is a mostly a misplaced marketing program without a definable product.
The main problem with this "system" is that the original founders are the owners and so no matter how many sales you make, you will never own the business of the Wifi Wealth System.
Is Wifi Wealth System a Scam?
Aweber, Ebates, and Motor Club of America are legit programs and they do give referral commissions.
The program does have some serious flaws but it is not a scam.
One is that it only teaches people with 20 minutes of video how to set up their online business.
This is definitely not enough time to teach someone affiliate marketing, which you would have to be an expert in to make money with this program.

This also doesn't sell a real product, so it relies totally on new sign-ups for income. You can definitely make money with this if you already have a serious marketing email list, but that is pretty rare. The money it costs to build a real email list would be prohibitive for most people here.
How Much Does Wifi System Costs?
The program is free to get started, but you have to invest in Aweber, Ebates, and Motorclub of America, below  I will share with you their pricing
Aweber = $19 a month
Ebates =  free
MotorClub of America = $19.95 a month but you need to pay two months the first time
These programs as I said before are legit and can earn you commissions.
The problem with this is you don't own your business as some unknown guys are going to run it for you, you have to add your affiliate links to their dashboard which is a bit worrying.
Who can guarantee you that they are not going to hijack your commissions?
Final Words
In conclusion, you definitely want to avoid this system. Probably you could make money off this program if you were already really good at selling. Again, though, there is no definable product.
I don't recommend it as it's not trustworthy, you don't even have control over your business, so they might give you their system for free but maybe they will take advantage of your hard work and run away one day which is nothing new online.
I want you to take a look at a side by side comparison of what I believe to be a better alternative, Wealthy Affiliate, and Wifi Wealth System.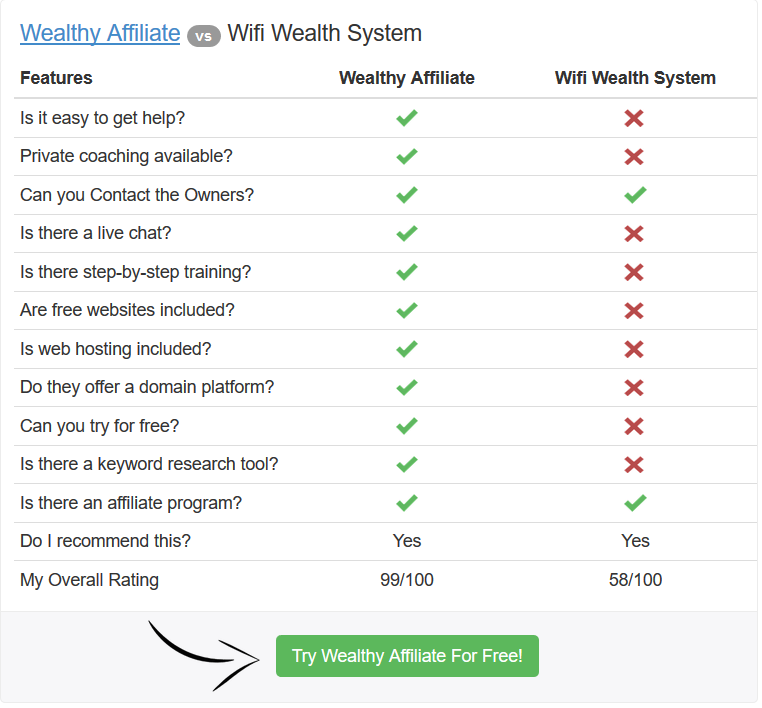 If you have any questions or comments please leave them in the comment section below or get in touch with me via my profile page inside of Wealthy Affiliate.
To your success,
Kirk