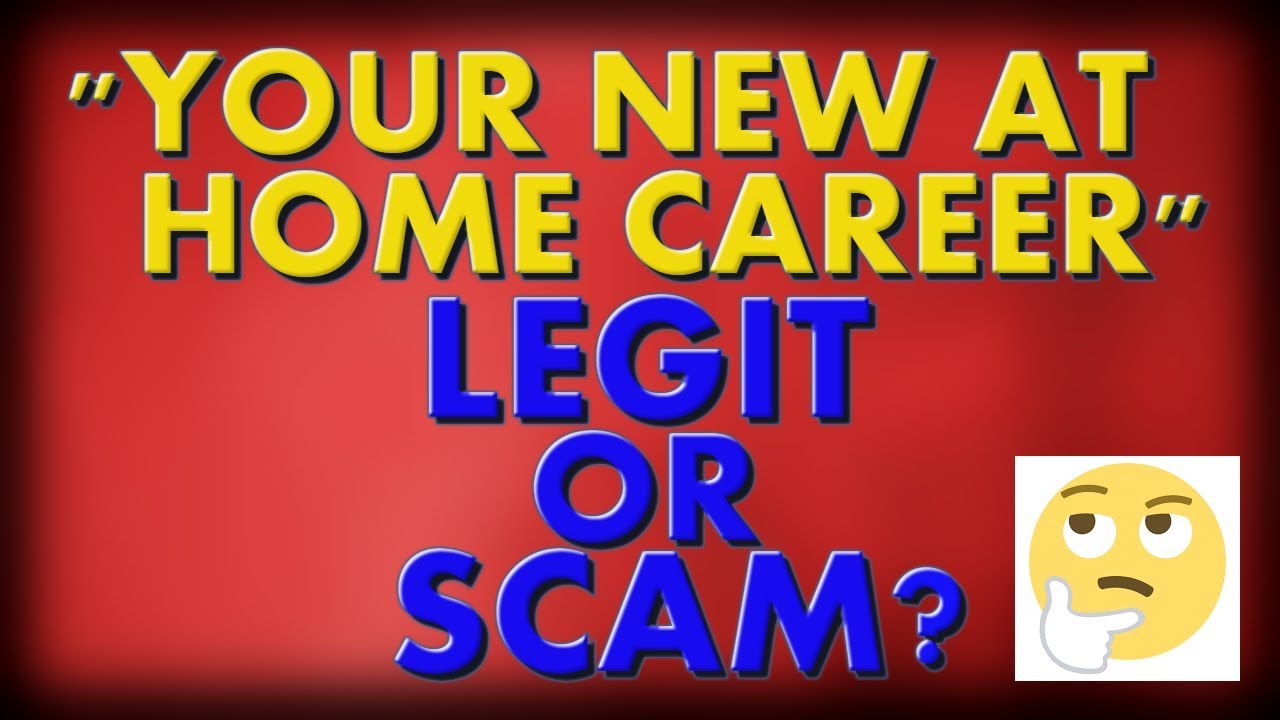 What do you do when a new system promises you $500 or more per day with little or no work? You guessed it – research. Personally, I will run away but hopefully, you are a more optimistic person than I will ever be. Thus, it is important to do your research to see if there is any truth to this big claim or not.
Just like most people hungry to make money online legally, I also lost a lot of money during my days as a newbie affiliate marketer. Thus, I have learned to be more cautious whenever I see any new program making big promises. Since you are here reading these reviews, you have also made a great choice.
The only way you can lose your money online to cheap scams is if you fail to do your thorough research. This program called "Your New At Home Career" hit the internet a couple of months ago. Since then, I have received a number of emails from my blog followers to tell them my honest opinion about it. Today, I will expose everything you want to know about "Your New At Home Career" and how it works. Make sure you read this article to the end.
Name: Your New At Home Career
Website: yournewathomecareer.com
Owner: "Greg Thomas"
Price: $47 + $400+ upsells
Recommended? No
What is Your New At Home Career?
Your New At Home Career is a new system that promises you can earn extra $5,000 to $30,000 per month within 1 week of starting the business. According to the people behind this program, you can earn $500 per day or even more.
It gets better. Your New At Home Career claims that you don't need any experience to get started. All you have to do is make sure you have bank account big enough to contain all those money you will be making once you buy their online course.
Sound familiar? Well, yes!
Red Flags
I have seen thousands of such claims before…and without any doubt, all of them turned out to be pure scams. You don't need to be an affiliate guru to figure out that something is odd with this online course. First of all, it has a weird name. The owner couldn't even make an effort to choose a better name. For me, this was the first red flag.
Secondly, it made a sort of ridiculous but typical claims. Take, for instance, Your New At Home Career claims that over 100,000 people are already "making a killing" using this technique that you are about to learn. I don't know exactly how they came by these statistics.
Thirdly, it once again went for the typical rag to the rich story of how he was poor, his girlfriend "Stephanie" broke up with him and he went into depression. He then magically discovered this system and instantly became a millionaire. This is a familiar story that you will find with other online courses that are a scam. The person behind this course simply switched the names and twisted the story a bit.
Who Created Your New At Home Career?
Your New At Home Career was purportedly created by a man called "Greg Thomas". Unfortunately, that is the only information provided for this mystic figure. When I tried to search for more information on "Greg Thomas", nothing came up. There is only one reason why someone will create an online course and use a fake name. It is simply because he knows that what he is teaching will not work for you.
How Does It Work?
When you sign up for Your New At Home Career, what you basically get is a group of suggestions on the next steps you need to take. According to them, these steps will help you achieve success very fast.
The steps include
Call Your Coach
Get an affiliate account
Send your traffic
So these are the 3 steps that supposed to make you $30,000 per month. What they won't tell you is that when you call your so-called coach, they will charge you $400 or more just to sign you up to ClickBank and Jvzoo and then provide you with a domain name. The coach will then ask you to promote products on the aforementioned platforms.
Your New At Home Career promised to help users with traffic to their offers. Unfortunately, you will be asked to visit http://maxvisits.com to drive traffic to any site you want. Any traffic from this site is garbage and won't work for you.
Is Your New At Home Career a Scam?
Yes, Your New At Home Career is a scam. I strongly recommend that you stay away from such a scam. This is "Digital Altitude" all over again. Digital Altitude was a scam that was shut down by the government two years ago. Your New At Home Career just copied their method and are trying to get people to lose their hard-earned money. I will strongly advise that you stay away.
What is The Best Way To Make Money Online?
You may not like the truth, but the best way to make money online is to learn everything from scratch. Stop searching for shortcuts, this will only make you lose more money. Fortunately, with programs such as Wealthy Affiliate, you will learn exactly how to master affiliate marketing so you can start making a good income from home.
I started Wealthy Affiliate a few years ago and today, I'm comfortably making a good income from home. Wealthy Affiliate will teach you everything you need to know about affiliate marketing. You will also get a free website and all the tools you need to get started in this business. Besides, it is free to sign up and give it a test. If you sign up today, you will get personal coaching from me.
Click on the link below to check out how Wealthy Affiliate works