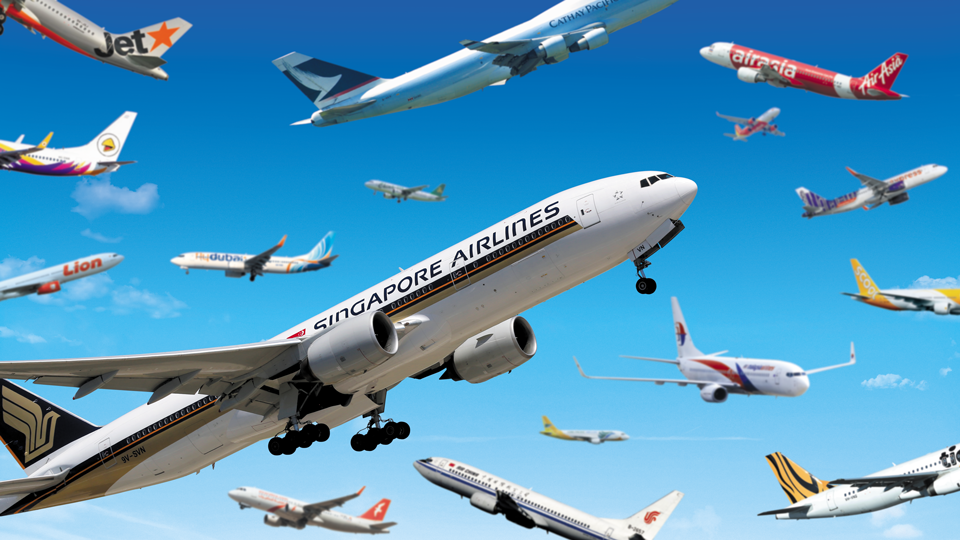 Every year, travelers around the world spend over $564.87 billion on airline tickets. Unfortunately, only very few smart bloggers and affiliate marketers get a piece of this pie because others are too afraid to join airline affiliate programs.
The travel industry is one of the few industries where an affiliate can easily make 7-figures per month. Estimates from Statista.com showed that travel industry contributes more than $7 trillion to the global economy. In 2017 alone, over 4 billion passengers flew around the world. Most of these passengers are looking for deals.
An average person spend at least 30 minutes online searching for cheaper airlines or looking for deals from airlines and hotels. If you can get just 1,000 passengers per month out of 4 billion passengers that uses airline every year to buy their tickets from your website, you will definitely be making 7-figures as an airline affiliate.
Trust me, it is not as hard as you might think. Moreover, there is not a lot of competition in this niche but there are big players nonetheless. If you are willing to take action and compete with the big affiliates in this industry, you could be smiling to bank every month. At the end of this article, I will also show you a way you can learn how to compete with top affiliates in the airline industry.


Top Best-Paying Airline Affiliate Programs:
1. Qatar Airways
Website: shareasale.com/shareasale.cfm?merchantID=85009
Commission: 2.8%
Cookie: 30 days
Why Qatar Airways?
Qatar Airways is known for offering luxurious and safe travels making them one of the most trusted airlines around the world. Besides, the airline company covers 6 contents and more than 180 destinations every day. An order value of Qatar Airways ticket can reach as high as $1500 per order. You can easily make sales since a lot of people trust this airline.
You earn 2.8% commission from every sale you make. They offer 30 days cookies which is very generous. You can also get affiliate bonus. You can only sign up for Qatar Airways through Shareasale. Read Shareasale review here.
2. Easy Click Travel
Website: shareasale.com/shareasale.cfm?merchantID=69040
Commission: 4%
Cookie: 30 days
Why Easy Click Travel?
Selling an airline ticket may seem like a big challenge, but you can also sell other packages. Travelers usually need hotels, cruises, and even vacation packages. Fortunately, Easy Click Travel provides you the opportunity to become an affiliate to them and offer your website visitors other things they need for their travels apart from airline tickets.
Easy Click Travel offers a lot of discounts which make it easy to convert a website visitor to a customer. You make 4% commission. Join this program through Shareasale.com.
3. Travofy
Website: shareasale.com/shareasale.cfm?merchantID=68921
Commission: $20 per booking
Cookie: 90 days
Why Travofy?
This is a great alternative to Easy Click Travel with more generous commission and cookie period. This travel brand offers airline tickets, hotels, and more. They provide travel deals that make it very attractive for travelers to buy from them.
Travofy offers a very generous 90 days cookie period. Their commission type is a bit different. Instead of percentage of a sale, you will get $20 per booking. Like other websites mentioned above, you can sign up for Travofy on Shareasale.com.
4. Etihad Airways
Website: signup.cj.com/member/signup/publisher/?cid=4161219
Commission: 2%
Cookie: 30 days
Why Etihad Airways?
Etihad Airways is fast growing and everyone wants a taste of the luxury this airline provides. As of today, Etihad Airways covers more than 40,000 routes and provide their flyers with luxurious and super-awesome customer services. They cater to sophisticated audience who are ready to buy.
You can make 2% commission on any Etihad Airways ticket you sell. Note that some tickets cost as much as $2000. You can easily make lot of money as their affiliate. You can sign up through Commission Junction.
5. Flight Mojo
Website: signup.cj.com/member/signup/publisher/?cid=4905786
Commission: $12 for every flight booked
Cookie: 90 days
Why Flight Mojo?
Flight Mojo is a well-known company when it comes to getting incredible deals on airlines and hotels. I always use their services whenever I want to travel. Customers can count on getting cheaper tickets whenever they visit this website. Their popularity and the deals they offer make it easy to convert any website visitor to customer.
You can join Flight Mojo affiliate through Commission Junction. Flight Mojo pays $12 for every flight booked through your link. They also give a generous 90-days cookie period. As an affiliate, you will earn a $200 bonus after 200 successful bookings.
6. CheapFlightNow
Website: signup.linkshare.com/publishers/registration/landing?ls-locale=us&host=linkshare&mid=40646
Commission: $9-$11 for flights
Cookie: 90 days
Why CheapFlightNow?
Who doesn't like cheap flights? Frequent flyers are always looking for a way to save money. This is why websites such as CheapFlightNow are very popular because people visit looking for deals. All you have to do to make money from millions of people looking for cheap flights is to redirect them to CheapFlightNow. The company will match them with airline of their choice and you make commissions.
You can join CheapFlightNow as an affiliate through Rakuten Marketing. For every ticket sold through your link, you earn up to $11. They also offer a generous 90-days cookie period.
How Can I Start Making Money as an Airline Affiliate?
Becoming an airline affiliate is a great way to start earning money online. Another niche that is underrated but could be very profitable is golf, you can read my review of top 6 best-paying golf affiliates.
Getting The Right Training
Anyone can make money as an affiliate if you have the right training. Fortunately, that is what my website Affiliate Bootcamp is all about. I have been a member of an affiliate marketing training platform called Wealthy Affiliate for close to 4 years now.
I love everything about this platform, the training, the tools, and the friendly community. This is why I feel so good about introducing this amazing platform to anyone that visits my website.
Click here to learn more about my story & Wealthy Affiliate.
To your success,
Kirk