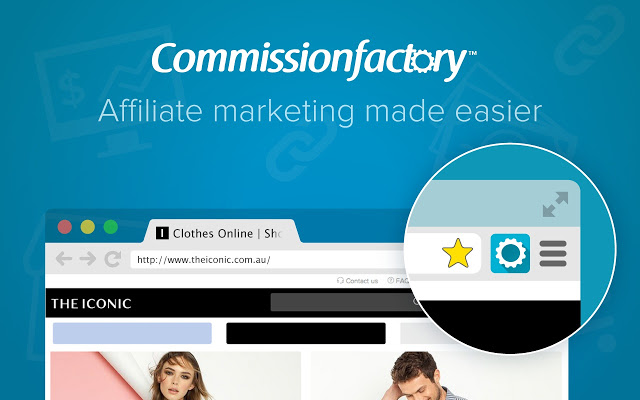 Commission Factory is an affiliate marketing platform with a focus on the Asia Pacific. You certainly need to take a look at this affiliate platform if you have a website or blog with a focus on Australia, Singapore, and New Zealand.
I first got to know about Commission Factory in 2017. However, at the time, they weren't so popular. Today, Commission Factory has grown but still not as popular as other top affiliate marketing platforms such as ClickBank or Commission Junction. Nevertheless, I decided to do a complete review of this affiliate network to find out exactly how they work.
If you have been searching for an honest and unbiased complete review of Commission Factory, this article will provide you with everything you need to know about this network. Keep on reading to find out more.
Name: Commission Factory
Type: Performance marketing
Payment method: PayPal, Bank Transfer, Cheque
Commission Type: CPA, CPL, CPS
Country: Australia
Price: No (For affiliates)
What is the Commission Factory?
Like I have already mentioned above, Commission Factory is a global performance marketing network with a focus on the Asia Pacific. According to their website, they provide advertisers and publishers services to boost their online business on a performance basis.
Commission Factory usually refers to itself as the number one performance marketing network in the Asia Pacific. This is partly true only because there are not so many performance marketing network with a special focus on the Asia Pacific like Commission Factory does. Nevertheless, this doesn't mean you will have to join Commission Factory to succeed as an affiliate marketer if you are from the Asia Pacific. Top affiliate platforms such as ClickBank have plenty of offers targeted at the Asia Pacific audience.
Commission Factory was founded in 2011 by 3 people that include Zane McIntyre, Mario Johnston, and David Hayman. These people are also the current managing directors of the company. Apart from their website and Wikipedia page, not much information can be found about Commission Factory which shows they are not very popular.
How Does Commission Factory Works?
Are you thinking of joining Commission Factory as an affiliate? You will find this section very interesting!
Commission Factory allows you to sign up as you would do on other similar networks. You will have to sign up and then wait for your account to be approved. If you get approved, they will assign an affiliate manager to you. I discovered that it is easier to get in Commission Factory than other top networks. Although, the reason for this may be because they have very few offers anyway.
Commission Factory does not even request that you own a website before you join them. If you have some experience in the affiliate marketing (For example: through Wealthy Affiliate), you can be able to join and promote their offers through social media.
While it is easy to join, earning a lot of money on this platform isn't always easy. According to the company, you will need at least 2500 high-quality targeted clicks to make AUS$10. That looks like a lot of work to me. The platform's conversion rate is 2%.  If you join Commission Factory, you will make around AUS$500 monthly. Making $500 per month is kinda cool if you are just getting started. However, I will probably recommend you try other networks such as Wealthy Affiliate that allows you to earn passive income monthly without a lot of work.
When it comes to payout, Commission Factory pays its affiliates through PayPal, Australian Bank Deposit, or international bank deposit. Please note that you must have met the minimum $100.00 payout amount before you can be eligible to receive a payout. Commissions are paid weekly which is very good. Additionally, the company has a number of tools such as coupons, videos, widgets, banners, email templates and more that you can use in your personal promotions.  You will also have access to dedicated affiliate managers to help you solve any issue you might be experiencing on the platform.
What I Like About Commission Factory (Pros)
Weekly Payout
Easy signup
Quick and easy approval
Intuitive interface
Lots of promotional tools for affiliates
Dedicated affiliate manager
What I Don't Like About Commission Factory (Cons)
Very few offers
Not popular
Offers are not unique
Takes time to earn a reasonable amount of commission
Best for affiliates from the Asia Pacific
Is Commission Factory a Scam?
On a scale of 1 to 10 with 10 being the best, I will rate Commission Factory 6 – a little above average. However, Commission Factory is not a scam. This platform is completely legit. You should consider it if you are a blogger or affiliate marketer from the Asia Pacific, it is an easy way to add additional income to what you are currently earning. However, Commission Factory don't pay a lot and it can get complicated for you if you are not from the Asia Pacific. 
If you are not from the Asia Pacific but you are looking for a way to start earning money online, I would recommend you join Wealthy Affiliate. This is the best money making system online. Fortunately, you can join Wealthy Affiliate irrespective of your location and you can start making up to 7-figure income monthly if you put in work. Wealthy Affiliate has produced a lot of millionaires who are earning lots of money online monthly. If you click the link below and join now, I will provide you personal coaching until you start making significantly monthly income online.