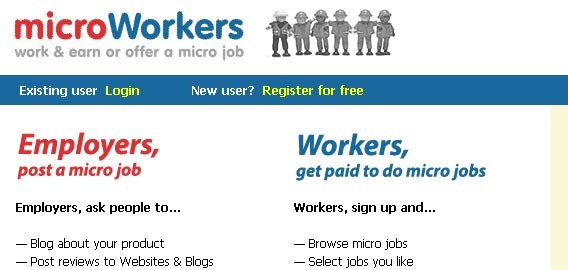 Microworkers describe itself as an international online platform that matches employers with employees worldwide. However, I have seen such platform and similar claims in the past and most of them turned out to be a scam or utter waste of time.
Of course, you will have to read until the end of this article to find out if Microworkers is a scam or legit platform. However, I should warn you that I'm not a fan of all these websites that claim you could make a lot of money simply by doing small chores online. Thus, I'm going to be very honest but unbiased in this review.
If you want to join Microworkers but you want to find out exactly how the platform works before you sign up, you made a great decision. You are also on the right website to get answers to your questions regarding Microworkers. Companies like Microworkers usually make a lot of claims that they don't intend keeping. I will answer your questions about this platform today. Keep on reading to find out more:
Name: Microworkers
Website: microworkers.com
Price: Free for Workers
Recommended? No
What is Microworkers?
Microworkers is a company founded in 2010 by a man named Nhatvi Nguyen. According to the information on the company's website, Microworkers is a crowdsourcing platform that matches workers to employers who need people to complete various types of small tasks.
What Type of Tasks Do Microworkers Offer?
Microworkers offer various types off tasks. Some of these tasks include:
Survey
YouTube commenting
Blog post writing
Data mining
Data categorization
Sentiment Analysis
Transcription
Content comparison
Social media comments, likes, and shares
Website signup
How Does Microworkers Work?
Signing up for Microworkers is a bit complicated. Take, for instance, you will need to verify the home address you put during the signup process. After signing up, Microworkers will send a pin code to your home address. Before you can be able to receive payment on the platform, you will need to add this pin code to your dashboard. However, you can start performing all sorts of tasks on your dashboard until the pin code arrives. The upside of this is that if you do all the tasks but your pin code somehow got mixed up with other mails or got lost, you will not be able to withdraw your earnings. Microworkers claim they adopted this method because they want to limit people from creating multiple accounts on the platform.
Once your account is ready, you can start applying for various jobs online. When you complete a task, the employer will rate you based on your performance. According to Microworkers policy, you will not be eligible to accept jobs again if your overall ratings drop below 75%. In this scenario, you will need to wait for 45 days before you can start applying for jobs again on the platform.
How Much Money Can You Make On Microworkers?
According to their policy, the minimum an employer can pay you to complete a task is $10 per hour. Depending on the task, an employer can choose to pay you more than this especially if you need more time to complete the task. Honestly, on average, you wouldn't earn more than $10 on one task.
However, you may not be able to get a job all the time. Microworkers pay users twice per week. You can get your payment either on Wednesday or Sunday. But, you will need to have at least $9 in your Microworkers account before you can be eligible for payment. Like I've already mentioned above, you will need to verify your account with a pin code that will be sent to your home address before you can be able to make your first withdrawal. Note that there is a processing fee of between 3% and 7.5% when you want to withdraw your earnings.
What I Like About Microworkers (Pros)
Easy jobs
No skills required
Anyone can join
Various payout methods
Free to join
Easy to find jobs that match your skills
Faster payment (twice a week
What I Don't Like About Microworkers (Cons)
Lots of spam
A limited number of jobs
Poor support
First withdrawal may take a month
Address verification procedure by PIN
Success rate concept
Is Microworkers a Scam?
Microworkers so far is not a scam. However, I wouldn't recommend that you quit your day job for Microworkers. Most people don't earn much. On average, you can earn $100 per month if you are working very hard on the platform. The earning is usually very low because there are not always jobs that will match your skills.
There are other better ways to make money with your time than doing little chores online. One of such ways is to build an affiliate marketing website that can help you make money even while you are sleeping. The next section will show you how I'm making money online with little or no work every day.
How I Make A Living Online?
Do you wonder how I make a living online? I started affiliate marketing a few years ago while still working as a truck driver. It wasn't easy at first but with a consistent effort and never-say-never attitude, I was able to take my online business to the next level.
I used to work 2-3 hours per day on my website. Now, I don't even work actively but still, get paid. Making 4-figure monthly passive income from my online business has become a dream come true. Now, I don't wait for a salary again. I still drive truck only because I enjoy it but I don't depend on my salary again. I get paid while on the road or even while I'm sleeping.
Do you know what I discovered? It is not hard! You too can do what I do. You can build your own 4-figure monthly passive income. Fortunately, you have me to help you every step of the way. Click the button below to see how you can get started today!