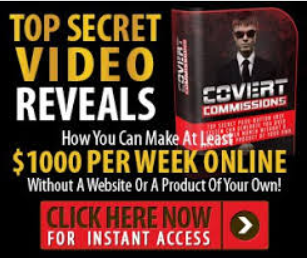 I have always told anyone who cared to listen that affiliate marketing is one of the best ways to build a profitable online business. Come to think of it: You don't need to create your own product. All you have to do is recommend someone else's product and you make instant money from it. You can make a lot of money affiliate marketing. Of course, this is only possible with the right training.
Over the years, there have been a number of courses and programs that promise to teach how to become a superstar affiliate marketer. Unfortunately, not all of them deliver on their promises. Today, we are going to be reviewing Covert Commission created by Cindy Donovan to know if the program is legit or scam and also to uncover whether it delivers on its promises.
Keep on reading to find out more about Covert Commissions.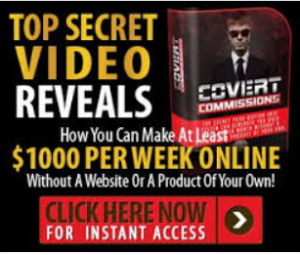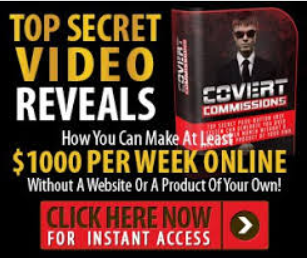 Product: Covert Commissions
Website: covertcommissions.com
Creator: Cindy Donovan
Price: $37 plus upsells
Overall Rating: 80 out of 100
My Top Rated Program To Make Money Online: WealthyAffiliate/FreeStarterMembership

What is Covert Commissions?
Covert Commissions is a training program created by Cindy Donovan and released in 2016. According to this self-acclaimed "Aussie Marketer Chick" (Cindy Donovan), Covert Commissions will help you to start making money from home using affiliate marketing strategies and the tools in the program.
This program is basically a done-for-you sales funnel created to help you build a high-quality email list and make sales on any offer you may have. All you have to do when you get Covert Commissions is to send them to a squeeze page giving away a free report to pre-sell the main offer.
Like I mentioned above, it is a completely done-for-you sales funnel created for newbie affiliate marketers or anyone that wants to earn extra income from home.
How Does Covert Commissions Work?
Before I go further, I will like to point out that this program "Covert Commission" is a version of another course. This program has been launched before under the name "IM Wealth Builders" by Cindy Donovan, Soren Jordansen, and John Merrick.
However, it seems like Cindy left the company and re-launched the program with a new name – Covert Commissions. However, she added more tools and training.
Covert Commissions work in very easy steps. Firstly, you will need to sign up to get access to the platform and to the member's area. Once you are here, you can now go ahead and choose the funnels you want to promote. It will cost you one credit to promote a funnel.
Like I mentioned above, everything in this funnel has been created and set-up for you. All you need to do is to promote it using email, social media, and search engine ads as well as banners. You can go ahead and select a squeeze page of your choice and then start sending traffic to that squeeze page. Even the hosting of the pages and the email service you will use here are already done-for-you. You won't need to pay for these services anymore.
This program works in simple steps:
Choose a squeeze page
Add your affiliate links
Send people to your squeeze with a free report
Get people to subscribe via double opt-in
Send them to Thank-You Page
Send them an email with a link to the download page
Send subscriber series of follow-up messages
Once you pay for membership access, you will instantly have access to:
The link for the squeeze page for that product that contains your affiliate ID
Tweets and pre-written PPC ads
Pre-written email messages
Banners
Who is Covert Commissions For?
Covert Commissions is a good training program for anyone that wants to succeed in affiliate marketing. This program will help you get started with little or no experience. It is completely done-for-you and you can start promoting various offers in less than 24 hours after joining the program.
Pros
Completely done-for-you
Affordable
Excellent support
Easy for beginners
Lots of training
Lots of tools to succeed
Great promo tools
Tracking statistics for your squeeze pages
Cons
Duplicate content
Your commissions will be slashed
Is Covert Commissions Scam or Legit?
Certainly, this program is not a scam. Covert Commissions does not make any big promises. If anything, they over delivered on what they promised. This is a program that I'm happy to recommend. If you are still getting started in affiliate marketing and need a done-for-you program to fast-track your learning, I believe this program is legit.
Final Thought & Better Alternative

I'm happy that this program lives up to the hypes. I have reviewed a lot of affiliate training programs that made big promises without delivering on them. Out of all the affiliate marketing training opportunities I have reviewed, one still stands out above all the rest.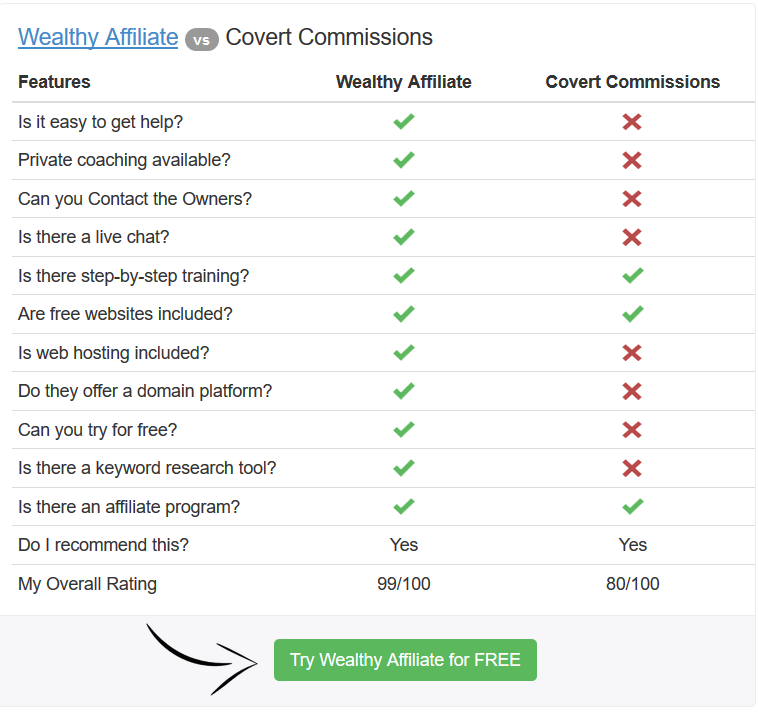 Thanks for visiting my Covert Commissions Review. If you have any questions please just leave them in the comments section below or get in touch with my via my profile page inside of Wealthy Affiliate.
To Your Success,
Kirk