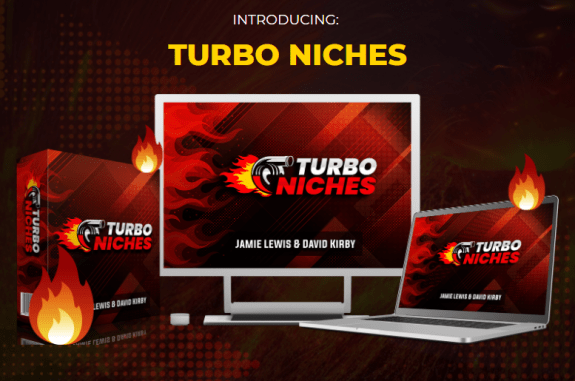 Turbo Niches may not be the opportunity you are looking for. If you are looking to invest in this program, then it is highly recommended that you read this article to the end. When it comes to online marketing, 9 out of 10 marketers fail because of a lack of traffic. It doesn't matter what you do online, you need the traffic to succeed. Many failed online marketers know this. Thus, they try to take advantage of newbies by selling traffic method that doesn't work. I suspected Turbo Niches maybe just one of them. However, you will know for sure at the end of this article.
Have you ever sold anything online before? If you have, you will know how important traffic is. I started online marketing back in 2012, I nearly quit because I find it difficult to get traffic. Like most people, I bought all courses that promised to show me new ways to generate traffic. At the end of the day, most of these traffic methods don't work. The truth is that you probably know the real way to generate traffic, you just have put time to make sure it works for you.
There are tons of blogs giving Turbo Niches 5 stars in their reviews. Be careful, most of these blogs are owned by affiliate marketers who will make money when you purchase Turbo Niches via their affiliate links. This is why you need to always come here and read an honest and unbiased reviews. In this review, you will learn everything you need to know about Turbo Niches. Keep on reading to find out more.
Name: Turbo Niches
Type: Traffic Generation
Owner: Jamie Lewis, David Kirby
Website: www.turboniches.com/live
Price: $33 (front-end price)
Rating: 1/5

What is Turbo Niches?
Turbo Niches is a new program that claims you can get a load of traffic from 9 traffic sources when you invest in their software. According to the company's website, you will instantly tap into 2.5 billion users with just 5 clicks after purchasing their software. They go on to claim that the software works on autopilot and you can generate instant sales once you start using the app. Apparently, you don't need any experience or even any tech skills to use the app.
Still on their website, they showed unverified earnings by people using the software. Interestingly, the company wasn't interested in explaining exactly how you will get this traffic. You will need to make an initial payment of $33 to find out yourself. Of course, you will have to pay up to $150 if you want to explore the full feature of the app.
What I found most interesting is that this app received good ratings on a number of blogs. Upon further digging, I discovered that these blogs were owned by affiliate marketers looking to make money by selling the software to you. At first look, you will notice that a lot of claims by Turbo Niches don't make sense. I will explain this further below.
Who Is Behind Turbo Niches? Authors!
Turbo Niches was created by a newbie vendor called Jamie Lewis. However, he brought in David Kirby, a known marketer to act as a partner and use his name to sell his product. David Kirby, on the other hand, is the creator of products such as Profit Injector, Crypto Prophecy, Zing Bank, and Affiliate Shortcut. Most of his products have proven unsuccessful in the past. I'm yet to see anyone who has become successful from any of David Kirby's product.
How Does Turbo Niches Work?
Like most products you will come across online, Turbo Niches is all about making huge promises and then try to persuade you into making a purchase decision in less than 30 minutes. The product is sold via WarriorPlus. Once you arrive on their sales page, you will get a notification that you have 30 minutes to purchase the product before the price goes up. Of course, this is just one of the oldest tactics in the book to get people to buy a product before they realize their mistake.
Turbo Niches promises you will be on your way to tap into 2.5 billion users' emails. It doesn't state exactly how you are going to get these emails. It goes ahead to promise you will get:
100 Affiliate Programs
9 Traffic Sources
Over 6000 Headlines and Ads
1000 Graphics
Cockpit Control Panel Suite
Quick Start Video Tutorials
Step By Step Visual Training
After your payment, you will be asked to upgrade to get all the features. You will need to upgrade if you want to enjoy all the major features of Turbo Niches. You can now create your account on the platform. On your dashboard, you will have access to tools you can use to create advertising campaigns for various online platforms such as Craigslist, Medium, YouTube, Pinterest, Twitter, and Facebook. They also offer various generic templates you can simply copy. Of course, most these templates are already over-used and don't work.
Despite their promises, you will need to pay for these campaigns you created if you really want to see results. There is no way you will magically get traffic if you are not willing to invest on paying for your ads.


Ugly Truth About Turbo Niches
Despite all the promises made by Turbo Niches, it is clear that there aren't much differences between this program and others that existed before it. To give you a better overview of the program, I discussed some of the major red flags below:
Hidden Costs
On the sales page, Turbo Niches claim you won't need to spend extra money after your purchase. This is a lie. You will need to pay more to upgrade. Besides, that isn't the only payment you need to make. You will also need to pay for your campaigns on the third-party platforms such as Facebook and Twitter unless you just want to post on Fans pages only. Posting on groups and fan pages isn't effective. You need a paid advertisement if you want to see real results.
Owner Has Bad History
Despite being a popular vendor on WarriorPlus, David Kirby, co-founder of this product has created products that massively failed in the past. Most of his products didn't work for the buyers. He doesn't offer much support after purchase. It is logical to reason that this product won't be any different.
Overwhelming Information
This product has overwhelming information, if you are a complete new beginner, there isn't a direction on where to start. With the amount of information involved, you won't see any progress.
Traffic isn't Guaranteed
Turbo Niches promised that you will tap into 2.5 billion users' emails. This is a complete lie. You will have to generate these emails yourself by creating high-performing ads. Unfortunately, the only help you will receive on the platform is just over-saturated templates that don't work. If you want to purchase Turbo Niches because you are hoping to sell your products to their users, this product won't work for you.
Is Turbo Niches a Scam?
Turbo Niches isn't a scam but has little chance of success. Almost everything on their homepage is exaggerated. The owners are just out to make money. The template they offer is too generic. There is nothing on this platform that you won't get for free on YouTube. If you are looking for a trusted way to get traffic to your product, I recommend you read the information I have below, I will show you exactly how I have been able to build a passive business that generates a sustainable income for me.
Best Way To Generate Traffic for Your Online Business
Stop wasting your time on pyramid schemes and other "easy" business that does not work. Those businesses exist only to give you false hope and take your hard-earned money. Listen! If you want to make money online, you have to be ready to put in some work. If you can work on your business for at least 2 hours per day, I guarantee that you can build a sustainable passive income that will replace your job soon.
Have you heard of Affiliate Marketing?
One way to start is affiliate marketing. Anyone can start affiliate marketing from the comfort of his/her bedroom. All you need is determination and the ability to work on your business consistently for at least the first 3 to 5 months. If you can sustain your business during this period, then there is a huge chance that you will succeed. To make it easier for you, I recommend that you check out this program called "Wealthy Affiliate" that I used to build my own business. Tons of other successful online marketers like me also used Wealthy Affiliate to learn and master affiliate marketing.