The End Financial Stress Now website claims to allow a person to make money by watching videos online.
They want the visitor to purchase products that are called Duplicate Dave.
The video also claims that it will share a secret method and a person can make money in as little as 30 minutes a day.
This sounded interesting enough to investigate further.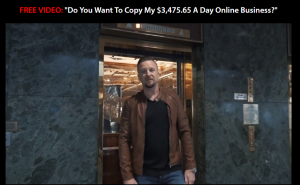 The owner of this system, Dave Sharpe is an interesting man.
Ownership
End Financial Stress Now was not operated by Dave himself but rather an affiliate of the Duplicate Dave products.
We are going to take at owner Dave Sharpe.
Dave is really good at self promotion and promoting his brand.
He is the co-founder of the Empower Network that he started with David Wood.
This company did well for a number of years but went bankrupt in 2017.
Dave was well liked by the board until he left the program before the bankruptcy.
He claimed he was leaving due to medical reasons. While he is a good businessman some of the information he provides can be misleading at times.
During the sale of the End Financial Stress Video, Dave did state he hated his job and was not enjoying life but he was completely broke at one time.
As it turns out this was not true. As the co-founder of a big company, he made some good money.
The Empower Network sold expensive items to their customers and if they did not purchase them there was the chance that they would miss out on money making opportunities.
After investing thousands of dollars the members still did not make too much money.
Why did they lie?
Instead of lying the members could have been told about their rise to the top in the industry.
Dave did his best to sell his products but most of what he said were lies.
It seems like he left this network before things went bad.
Now even hardcore members are claiming this network was nothing but a scam.
What Products are You Buying?
The videos will give you an education in marketing.
You need to pay for the training and you can make a commission on them.
They claim to help you make your money back quickly and you can be your own millionaire mentor.
When you sign up for this program a mentor will be assigned to you. This person will be your coach or your millionaire mentor.
Someone will give you a call but they may not be looking out for you. They often call to get you excited about the program and talk you into purchasing additional products.
Then your mentor will start asking for your income and your savings.
At this time tell them that is none of their business.
Can this make you money?
You can make money with this system but it is highly unlikely you will make the $3,000 a day that they promise. You are going to need to put in time and effort to this and any online business.
Is End Financial Stress Now a Scam?
This program received two out of 10 stars.
This is more of a funnel to purchase additional products.
Dave may be able to teach you a little about marketing but his own company went bankrupt.
These products are overpriced and they want you to keep buying more and more.
The focus is on selling their products.
Our Recommendation
If you are looking for a real online business opportunity where you can actually make money without spending all your life savings, I invite you to check out our #1 Recommended program.You can sign up for FREE.
Feel free to comment on Duplicate Dave or End Financial Stress Now Below
Have a Great Day,
Kirk