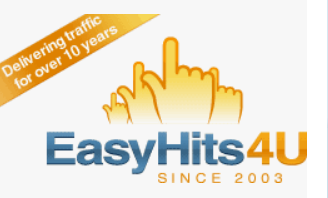 The idea of making money online sounds great until you start your online business and presented with the same problem everyone is struggling with – Traffic!
Oh yes! Traffic is the backbone of the online business. It doesn't matter what you sell or do to make money online. You need tons of traffic to see a reasonable earning. Unfortunately, since everyone is fighting for almost the same traffic, it doesn't come easy. Thus, in recent years, some gurus have developed secret methods to get traffic while some sites claim they can get you legit traffic at an affordable rate.
EasyHits4U is one of those websites that claim you can get huge, quality traffic to your website (or link) for free! … It sounds so nice, isn't it? Well, don't jump in yet. A lot of websites make promises they can't keep. EasyHits4U may sound like your perfect solution to your traffic problem, but don't join them yet until you read this honest and unbiased review of EasyHits4U.
Like I have been doing for years, I always look at programs online critically to see if they are actually what they claimed to be. Thus, if you keep on coming to my website to read reviews or ask me to review a program for you, the odds of you falling for a scam program will significantly reduce.
Having said that, let's get back to unmasking EasyHits4U to know if this is a real deal for you or whether you should stay away. Keep on reading.
Name: EasyHits4U
Website: easyhits4u.com
Type: Traffic exchange site
Membership Price: Free & paid (Up to $59.95 per month)
Raecommended?: No

So, What is EasyHits4U Anyway?
Simply put, it is a website where users hope to get free traffic to their website by visiting other members' websites. EasyHits4U is another traffic exchange program… sort of trade-by-barter kind of thing. Here, you visit other users' websites. They, will in return, visit your own website.
EasyHits4U was created in 2003 by the Relmax Inc. It has received over 2 billion visitors to date. While some like the site and continue to use it, others have criticized it heavily. You will learn the absolute truth about EasyHits4U in this review.
How Does EasyHits4U Works?
EasyHits4U works like other traffic exchange site online. You can join for free. When you join as a free member, you will need to accumulate some points which you can exchange for traffic. The only way to get these points is to visit other users' website. You must stay in each user website you visited for at least 20 seconds. This will give you a point/credit you can use to send one visitor to your own website for 20 seconds.
In order to prevent abuse, you will need to enter a CAPTCHA once the 20 seconds elapse. This traffic exchange website makes use of 1:1 ratio for free members and a 2:1 ratio for paid members. This simply means that what you give is what you will get unless you are a paid member. Of course, this could be very time-consuming. If you are a free member and you want to get 1000 people to visit your website, it means you will have to visit 1000 websites first. This could be very exhausting. However, there is a solution, which is —- Paid Membership.
Paid Membership
Despite its claim of being a free traffic website, EasyHits4U heavily encourages users to upgrade to paid membership. As a paid member, you can be able to buy credit. Thus, you won't need to visit other people's website to earn credit. Once you purchase a credit, you can use the credit to attract other members to your website.
EasyHits4U paid membership level varies. You can start with as little as $3.95/per month or $59.95/month. When you purchase $3.95/month plan, you will get 500 credits and 500 visitors to your website. The $59.95/month option will give you 5500 visitors to your website.
Can You Make Money On EasyHits4U?
Sure! But that is if you are comfortable earning peanuts for long hours of work. You don't have to own a website to join EasyHits4U. You can join, visit other people's website and earn credits. You can later convert this credit to cash if you don't own a website.
Each time you visit a new website, EasyHits4U will pay you $0.0003 for your clicks. You will need about 1,000 clicks to earn 0.30 on Easy4HitsU? You can increase your earning by referring other people to the website. But don't count on earning lots of money from that too, because what you earn from your referrals is very small too. You will earn 10% of your referrals. If the people you referred, refer other people, you can have up to 5 downline tiers. You will earn 10% in the first tier, 5% in the second, 3% in the third, 2% in the fourth, and 1% in the fifth tier.
When you have up to $3 balance in your account, you can request for your payment. EasyHits4U pay their users through PayPal or Payza. Normally, it takes 5 to 7 days to receive the payment in your account.
The Negatives of EasyHits4U
Traffic is Random and Useless
Google (Search Engines) Could De-Rank or Ban Your Website
If you are an affiliate marketer or you own a website, don't hope on making any sales from the traffic that comes from traffic exchange website like Easyhits4u. In most cases, this traffic is useless because no one will ever take action. All they do is land on your page, stay for 20 seconds and move on. Some even use bots to do this automatically.
None of these people visiting your website actually care about what you are talking about. All they care about is to get credit. Thus, it will be a complete and utter waste of time to hope that you can make sales or earn money from the traffic that comes from a traffic exchange website.
Google, as well as other search engines, seriously frown against getting traffic from traffic exchange websites. In fact, if Google discovers that you are getting a lot of traffic from such a website, they will immediately put your website at the bottom of the ranking if you are lucky. In other cases, they will ban your website so that it won't ever appear on search engine ever again.
Is EasyHits4U A Scam?
Nope! EasyHits4U is not a scam! To be fair to them, they explained how their service works. You can get all the information you need on their homepage. Moreover, they have been in the business of traffic exchange since 2003. In fact, EasyHits4U is one of the most successful traffic exchange websites. My research also showed they are one of the oldest traffic exchange sites on the internet.
EasyHits4U is legitimate. But this doesn't mean that I will recommend them for making money or getting traffic to your website. It would be a great mistake to do either of both. Traffic from EasyHits4U is useless whether you purchase them or earn them. It doesn't matter. Besides, you could get your website banned just by using their service. If you are hoping to make money on EasyHits4U by visiting other websites, it will probably take a good one week of hard work to earn $1. I don't think that makes sense for anyone.
Any Alternative To EasyHits4U?
If you want my advice, I will tell you to stay away from EasyHits4U whether you want to make money or get traffic to your website. Instead, join Wealthy Affiliate. This free program will teach you the real way to earn money online and also how to get quality and high-converting traffic to your website on Google. Wealthy Affiliate is free, this means you have nothing to lose. You can start today and build a home business that can easily replace your current job in a few months.
Click on the link below to see how Wealthy Affiliate works.
To your success,
Kirk