I got a couple of messages from my site visitors to review iSurveyWorld for them. Initially, I thought that I would just respond privately to the inquiries, but decided to write the review for everyone interested in this program.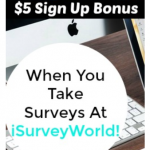 From the name, it doesn't take a genius to figure out what this site is all about. If you are interested in getting cash and gift cards from doing few minutes' survey and related works daily, then iSurveyWorld may be for you.
Following multiple messages, I signed up with iSurveyWorld just to check them out and find out if they are genuine or one of those sites that are out to separate you from your hard-earned money after wasting your time.
Before we go further into this review, I want to make it clear that I'm not really a fan of Get-Paid-To or cashback websites except this one whether they are genuine or not. Having said that let me continue with my review of iSurveyWorld.
What is iSurveyWorld?
Like I mentioned above, iSurveyWorld is a Get-Paid-To or survey website where you earn points from completing surveys and other related tasks. This website is absolutely free to join. Apart from your time, you are not really risking anything if you decide to sign up. Moreover, you can sign up as long as you are 18 years of age and above.
Note that you will need to be a resident of the UK, US, and Canada before you can sign up. If you don't stay in any of these 3 countries mentioned above, I'm sorry, iSurveyWorld is not for you but you might be interested in taking a look at My #1 Recommendation to make money online. You can go here to see my review of this program if you like.
How Does iSurveyWorld Works?
If you have ever used any survey or cashback website in the past, then you are good to go. I signed up with iSurveyWorld and they instantly credited my account with $5 sign up bonus. However, note that you cannot withdraw this money immediately.
After signing up, you will be presented with a list of products and services on your dashboard. You are expected to give your honest opinions on these products. iSurveyWorld doesn't just show you any product, it will use the information you submitted when you signed up to match you with unique survey opportunities.
You can start earning instantly after signing up. It is easy. All you need to do is click on the list of product and services listed on your dashboard to give your review and get rewarded for the answers you provide.
You can get paid cash via PayPal. Alternatively, you can get gift cards which you can use to buy products from e-commerce shops such as Amazon, Wal-Mart and other websites.
How Does iSurveyWorld Pay?
Like I mentioned above, iSurveyWorld would pay your earning through PayPal once you reach $25 payment threshold but don't expect to make $25 in just a few days. I discovered that iSurveyWorld has limited number of surveys. Based on the number of surveys available when you signed up, it can take up to 3 to 4 weeks to reach $25 and claim your rewards. Ideally, I can't imagine myself working 3 weeks just to earn $25.
However, it can still be a good idea for students who want to put their free time to good use. You can accumulate your rewards and use it to buy anything you need from Amazon or Wal-Mart.
Is iSurveyWorld Legit?
Definitely not! iSurveyWorld is not a scam but I'm not so crazy about them either. When you sign up, they will give you $5 sign up bonus as promised but you cannot touch this money until you reach a payment threshold of $25.
That fact is that making $25 on this platform is not as easy as it looks. One of the surveys I tried was named "Fun Survey" and they told me that it will only take 10 minutes to complete it and earn 50 cents.
Well, it probably took me a little less than 10 minutes and have 50 cents credited to my account. Some surveys will take you as much as 15 and you end up earning just 50 cents. Unless you want to keep yourself busy, earning 50 cents for more than 10 – 20 minutes of work is definitely a bad way to earn money online.
Would I Recommend iSurveyWorld?
I made it clear at the start of this review that I'm not a fan of survey websites. They take too much of your time only to pay you peanuts. Certainly, there is something better you can do online and it is called Wealthy Affiliate. This program is not a make-money-overnight program. It allows you to learn from scratch how you can build your business from the ground up. Wealthy Affiliate will make your dream of earning passive income come true only if you are willing to put in some work.
If you are interested in working from home and earning passive income the real way, click here
Have an awesome day,
Kirk