First of all let me thank you for visiting my, Is Stay Home Profits a Scam article. Can you really make $10,000 in 5 days with this new software called "Stay Home Profits?" 
This is a question I have gotten almost 5 times from different newbie internet marketers. Come to think of it, it would be a dream come true if we all could make as much as $10,000 in one week while in our sweatpants without leaving our home. This new program claimed it is possible. So in this review of Stay Home Profits, I'm going to take an in-depth look at it to see if this is actually possible or another scam.
Over the years, I have seen tons of programs such as Stay Home Profits give people false hope. The truth is that when you see an offer like this, it is mostly going to be either false or there is a catch they are not telling you. Either way, it is usually a complete waste of time (and money). Since I have never been the one to judge a book by its cover, I'm going to give this program a fair chance by giving it a holistic, honest, and unbiased review.
Today, you will learn what Stay Home Profits is all about. You will learn how it works, who is behind it, the ugly truth about it, and as well as whether it is a scam or legit program to make money while you are staying safe at home and away from Covid19. Keep on reading to find out more. 
Name: Stay Home Profits
Type: Done-For-You Software
Price: $47
Founder: Noah (Surname unknown)
Rating: 1/10

What is Stay Home Profits?
In theory, Stay Home Profits is an automated marketing system that lets you earn $10,000 in 5 days with just 10 minutes of work per day. According to the narrator on the website, this software has been designed to generate automated profits from online marketing, without much input from you. Supposedly, you can use this software even without any experience to make money from home.
The description above was how this software was defined on the website. However, on a deeper look, you will know right away that it is all lies. The person who narrates the program made it sound easy. Even if you don't have any experience with online marketing before, it will be hard to believe that you can make money this easy. I was able to find out exactly what this software is all about and I'm going to tell you all about it in the next section.
Who is Behind Stay Home Profits?
I have reviewed over 500 make-money-at-home programs. The legit ones usually have the real name of the owner. Unfortunately, that was not the case with Stay Home Profits. I tried as much as possible to uncover the person or people behind it. I even checked the domain registration. However, it seemed that they have done a great job of masking their identity. One wonders why would they go to such an extent to hide if the program is making people as rich as they claimed.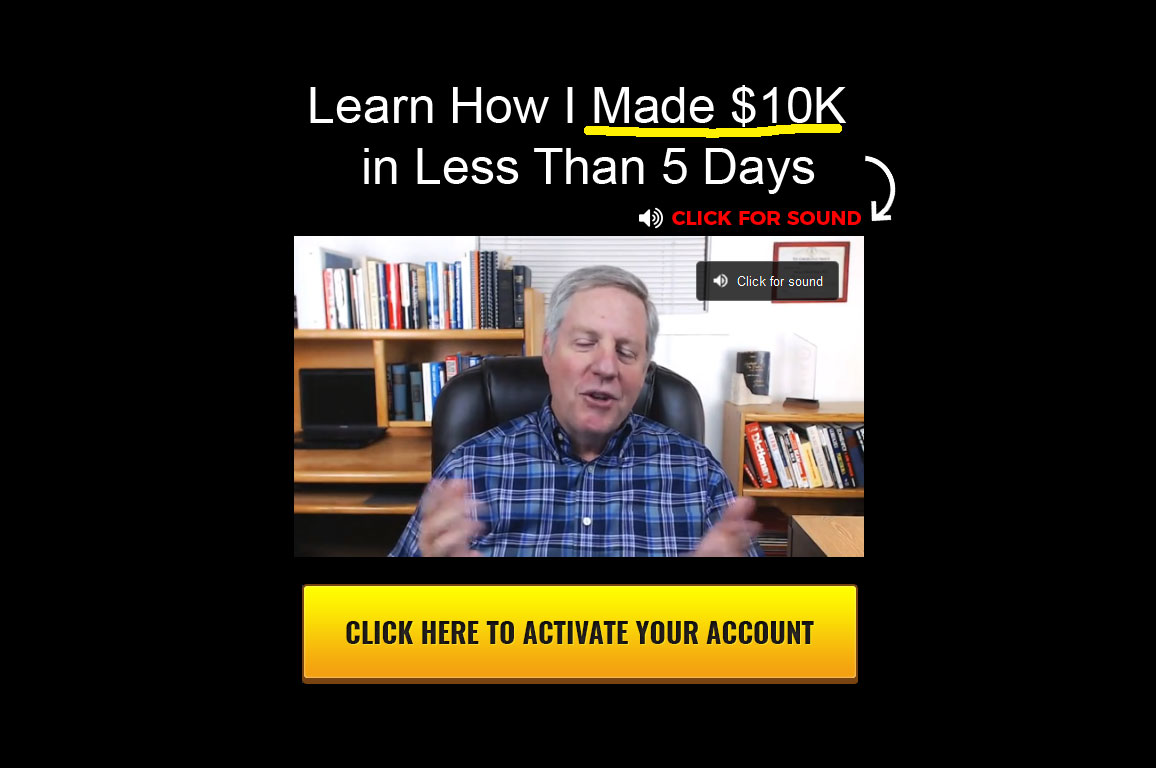 Despite not having any identity, the narrator went ahead to claim the regular grass to grace story. He claimed he was tired of working his regular 9-to-5 job and started searching the internet for a great opportunity. He discovered this trick, became a millionaire overnight and now he wants to make you a millionaire as well by selling his software to you. This is a familiar story I have heard over a thousand times and most of the time, it is a complete fabrication. 
How Does Stay Home Profits Work?
This is where it gets more interesting. For a program that claimed you can make as much as $10,000 or even more in 5 days with 10 minutes of work, you should expect that they would be able to at least explain how it works. Unfortunately, this wasn't the case with the software. 
On the sales page, you can see a bunch of people using some magic formula to generate income. In real life, it doesn't work that way. I had expected Stay Home Profits to be some sort of affiliate marketing or at least, multi-level marketing. As it turns out, it is none of them. You are therefore left to wonder how one can actually make money on this platform. 
Noah (the narrator) claimed that all the heavy work has been done for you. You don't need to have any experience. He claimed all you need is 10 minutes of work per day and you can earn an unlimited amount of money. Despite all the promises made here, I couldn't find exactly the product this company is selling, the service it is offering, or how it works. All you get to see is so many promises and videos of members making money on the platform without actually explaining how.


The Ugly Truth About Stay Home Profits
Despite what you may have heard, this platform is full of red flags that you can spot from miles away. Below, you will learn about some of these red flags and why they showed that this platform is not legit.
Hidden Owner
You don't create a $10,000 profit per week program and hide your name. Obviously, anyone with such achievement will be proud of it just like Jeff Bezos is proud of Amazon. This is the first red flag. Almost every program I have reviewed with hidden owners turned out to be a scam. The people that created Stay Home Profits have gone to such troubles to hide their name. This, alone, is enough to tell you that the platform is not legit.
No Product
The company has no product it offers – not even a single product. A company that boasted you can make $10,000 in a week has nothing to sell. This makes you wonder how you will be able to make such an amount of money. Obviously, money is not produced from a thin air. You have to sell a product or offer a service to make money. Stay Home Profit doesn't have any of these. This red flag alone is enough to tell you everything you need to know about this platform.
It Doesn't Explain How it Works
Search all you want, you will never find out how it works unless you pay $47 initial payment. This is just the front-end payment. There are other upgrades you have to make once you join the platform. Even at that, you won't still be able to learn how this platform works. The only reason why you would not be able to find this information is because it has none. 
It is Linked to Another Scam Platform
Stay Home Profits is linked to another scam website known as "Next Job At Home". My investigation showed that the same person may own the two websites. If this is proven to be true, then it is logical to say that Stay Home Profits is also a scam. 
Is Stay Home Profits a Scam or Legit?
Stay Home Profits is a scam website. It has no product or service that it offers. It makes ridiculous promises that don't work. They overcharge you and do not refund your payment. Based on my investigative research, I can confirm that this is a scam website.
You need to avoid it. Instead, focus your energy on building a business for yourself from scratch. You can do it. You can build a passive income stream as I do via affiliate marketing. If you are interested, you really should check out my my Number 1 recommended online business below.