Can Super Affiliate Network teach you how to become a badass affiliate? Find out in this review. A couple of months ago, Super Affiliate Network was going viral on the internet. A lot of affiliates, even the experienced ones thought that if they get their hands on this training program, they may finally learn marketing tactics to become a badass affiliate.
After it went viral, a couple of friends, as well as my blog followers, wrote to me to review this program. To be honest, that was a very smart move. The internet is filled with so many scams. Most of these scams target newbies since most of them have no experience and desperate to start making money online.
It doesn't matter how genuine any program looks, don't join unless you read the honest review here first. This is the best way to avoid losing your hard-earned money online.
Recently, there have been several reviews of Super Affiliate Network. Most people have divergent views. While some agreed that the program worked for them, others didn't. It doesn't really matter. Today! You will learn everything you need to know about Super Affiliate Network from an unbiased and experienced affiliate marketer who has been in the game for over 9 years. Keep on reading to find out more.
Name: The Super Affiliate Network
Type: Affiliate marketing training
Founder: Misha Wilson
Website: thesuperaffiliatenetwork.com
Price: $1 trial and then $47 (Upsells up to $12,497)
Ratings: 3/5
What is Super Affiliate Network?
Super Affiliate Network is another affiliate marketing training program founded by a man called Misha Wilson in 2015. The website claims to provide a lot of training materials for people who wish to learn affiliate marketing. Some of the training material include webinars, online video lessons, one-on-one coaching and even online mentoring. Super Affiliate Network has different training levels. The type of training you will receive will mostly depend on the level you join the program. Some of the courses include lessons on Mindset and Psychology.
Who Is the Man Behind Super Affiliate Network?
Super Affiliate Network was created by a man known as "Misha Wilson". He described himself as the youngest and fastest-growing traffic and conversion expert on the internet. According to him, he started making money online when he was just 22 and became a multi-millionaire by the age of 25. Misha also claimed he had helped his most successful students to hit the 6-figure mark in their own businesses.
Interestingly, Misha made a lot of money from creating this particular course. Super Affiliate Network or SAN helped him to increase his fortune. Perhaps, putting a popular face to this training program is one of the reasons why the course went viral. Nevertheless, don't make any assumptions yet until you finish reading this unbiased review.
How Does Super Affiliate Network Works?
Super Affiliate Network (SAN) allows you to test some features of the platform for a trial price of $1. After this, you need to pay to upgrade to higher levels where you will have access to the real training. Interestingly, there are different membership levels with a price from $24 to $17,497.
Super Affiliate Network Levels and Costs:
Basic level membership: $24 to $47
Annual level membership: $297 to $397
Premium level membership: $97
Super Affiliate monthly level membership $47
Pro Silver level membership: $2497
Pro Gold level membership: $2997
Maui Intensive level membership: $12,497
All-In level membership: $17,497
Each level comes with different training packages. However, most importantly, it comes with different commission level. What this means is that the owners expect you to resell the course in order to make money. This is a feature that is consistent with a multi-level marketing (MLM).
Basic Membership
If you are to pay for a basic membership which cost between $24 and $47, you will get access to 21-module and 3-phase "Bootcamp" which is made up of lessons on Mindset training, Psychology, List Building, Email Marketing, Automation, as well as Follow-Up. You will also get access to a coach once per week.
Premium Membership
The major difference between this level and other levels before it is that you will be able to access the Solo Ad Success Formula course. This course teaches you how to build your email list from solo ads. Note that you can learn this for free on YouTube.
Super Affiliate Monthly Membership
This is offered as an upsell and cost $47 extra. With this subscription, you will get a monthly video newsletter from Misha Wilson.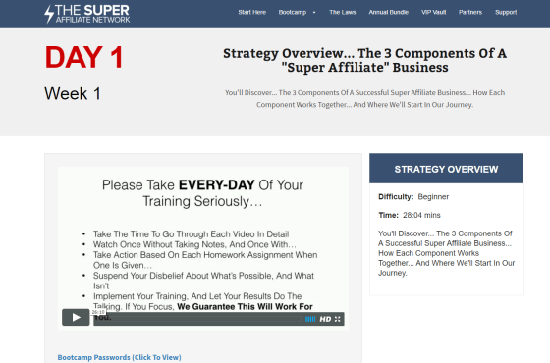 Maui Intensive Mentoring
If you can afford to pay over $12 in mentoring, then this will give you access to an exclusive 4-day mastermind event in Maui, Hawaii where the company headquarters is located. This is available only to 20 participants per quarter. You also get access to marketing training on funnels, webinars, sales machines, email marketing, as well as other features in the above levels.
All-in Membership
This is the highest level. It costs over $17k. With this subscription, you will have access to 3 trips to the Maui Mastermind sessions. The only difference between this and "Maui Intensive Mentoring" is that you will have 3 trips to Maui instead of just one trip.
What I Like About Super Affiliate Network (Pros)
1. A Real and Famous Owner
Super Affiliate Network founder is very popular. They also made their office known to everyone. This is one feature that lacks in most programs I have reviewed in the past. You can easily research the owner. However, I was unable to verify the claim that he made multi-million by the age of 25. I contacted the company but got no response on this topic.
2. $1 Trial
You can actually try the program for just $1. This is a great offer for those who are skeptical about the program. However, note that you won't be able to access all the features when you are using the trial version.
3. Very Detailed Training Program
Perhaps, one of the best benefits of this training program is that everything is done professionally. The videos here are of high-quality and followed in systematic steps to help you understand what affiliate marketing is all about. You can easily follow the program without getting lost.
4. A Refund Policy
Super Affiliate Network has a refund policy that will get you excited. Take, for instance, if you subscribe for Basic Membership and you change your mind along the way, they will refund you $100 for wasting your time. Similarly, they will also refund you $1000 for "wasting your time" if you subscribe for the PRO membership.
However, before you can claim the refund, you must have completed the course and at least, had 3 calls with your designated coach. You must meet these criteria to qualify for a refund.
What I Don't Like About Super Affiliate Network (Cons)
1. Very Expensive
Don't be deceived by $1 trail fee. If you really want to enjoy this course, you must be ready to pay at least $12k or above. Besides, even if you subscribe to the Basic Membership Level which costs about $24, you will still need to buy a lot of upsells in order to get the best from this course. With tons of upsells, your expenses will run into thousands of dollars before you finish the course. No doubt, this will be very hard for a newbie with no money to afford to pay for the full features of this course.
2. Courses Are Locked
Like I have already explained above, the level of training you will get depends on which level you subscribed. The best courses are probably locked unless you have thousands of dollars to spend on subscription.
3. Looks Like Multi-Level Marketing (MLM)
I'm no fan of MLM because I know that it is one of the easiest ways to lose your money online. Thus, I was discouraged when I noticed that Super Affiliate Network is designed in MLM-format.
Members have to recruit new members to recover their earnings. Take, for instance, if you subscribed for Basic Membership Level, you won't be able to earn any commission by selling PRO membership to a new member. You will have to first subscribe to PRO membership before you can earn a commission from this level. This is very discouraging for anyone who wants to make money by selling this course as an affiliate.
4. Focus Mainly on Email Marketing
Most of the training given on Super Affiliate Network focused on how to sell using email marketing. The course almost neglected other traffic sources such as social media. Besides, you can learn email marketing for free on YouTube.
Despite subscribers paying huge amount of money on training, Super Affiliate Network unlike Wealthy Affiliate, will not give you access to the tools you need to succeed. You will still have to pay for these tools differently. In the case of Wealthy Affiliate, you will get access to all the tools you need to master affiliate marketing even with your basic subscription.
Is Super Affiliate Network a Scam?
Super Affiliate Network is not a scam. The owner is famous, the company headquarter is well-known, and you will get everything they promised you. However, this is a high-ticket membership product that is mostly focused on promoting itself using MLM-like feature. The product is very expensive and it won't make sense for a complete newbie to invest in such a very expensive product. I, therefore, won't recommend this training program for a newbie.
Wealthy Affiliate Instead of Super Affiliate Network
Despite what you might have heard, most of these new programs copied their training from Wealthy Affiliate. As of today, Wealthy Affiliate remains one of the best ways to learn to make money online.
Most affiliate gurus learned everything they know about affiliate marketing on Wealthy Affiliate. This program has produced a lot of super-affiliates earning a 6-figure income. However, this is not a get-rich-quick program. You need to put in some works. If you can work at least 2-3 hours per day in this business, you will be successful in a couple of months.
Besides, if you join Wealthy Affiliates today, I will become your personal mentor and coach you until you succeed.