If someone promises you that you would make $500 per day starting today after joining a program, would you believe it? This may be possible back in 2007. Unfortunately, there are so many scams online today that you need to be asking more questions before joining any program. In recent months, this new program called Viral Dollars is promising that you can make as much as $500 per day as social media influencer once you join their program. They also claim you can make $25 the moment you join them.
Don't be deceived by the promise of easy money. There is nothing like free money online. Even such programs that claim to be completely free may be stealing your data and selling the same to third-party companies. I have seen a lot of programs which claimed that you can make hundreds of dollars crashed. Thus, it is very important that you make thorough research before you join any program online today.
I became interested in Viral Dollars because it made a number of outrageous claims which I have seen before. I know for sure that a lot of newbies are going to fall for these promises. Thus, I decided to investigate the program to ensure that it is what it claimed to be. In this article, you will learn everything that you need to know about Viral Dollars. You will also get to know whether this program is a scam or legit. Keep on reading to find out more.
Name: Viral Dollars
Type: Social media
Founder: Zindex
Price: Free
Rating: 1/5
What is Viral Dollars?
Viral Dollars claims to be an influencer network where you can earn as much as $500 per day doing simple tasks. According to Viral Dollars, you will earn $25 just by joining the website. When someone signs up through your link, you will earn $5 to $10 and also earn $2 when someone clicks on the link you shared without signing up.
The company claimed it was founded in 2005 by the parent company Zindex. At the time of writing this time, Viral Dollars has changed its name to ReferralPay. Thus, clicking on the website link http://www.viraldollars.com will take you directly to the Referral Pay website. The company was formerly known as Viral Pay, they changed to Viral Dollars and now to Referral Pay. The company claimed that their main goal is to help as many people as possible to change their lives by taking advantage of social media. The company also claimed they became the number one influencer network in less than 5 years.
Despite all these claims, Viral Dollars is not exactly what it claimed to be. You will learn more about this company in the following sections.
How Does Viral Dollars Work Exactly?
According to Viral Dollars, they have over 225,000 members and has been able to pay these members more than $68,000,000. Thus, this made them the number one influencer company in the world. However, these figures cannot be verified which means that the company may not be telling you the truth.
The company clearly stated how it works on their website. According to them, you just need 3 steps to start earning on the platform. These steps include:
Join
Share
Earn and Cash out
Sound easy, right? Don't fall for it! In my experience, when something is as easy as this, it is either it doesn't work or it is a complete scam. Viral Dollars claims that all it takes to earn on their platform is to share your link on a various social media platform and then invite your friends to join the platform.
They claimed you will earn $25 immediately you sign up. Then when you share your link on social media and someone signs up through this link, you will earn up to $10. However, if someone clicks on your link but fails to sign up, you will still earn $2. They also claim you can make more money by participating in the tasks sponsored by their partners. Some of these tasks include:
Refer a friend
Get clicks to your link
Download apps
Complete surveys
Create YouTube videos for Viral Dollars

The Truth About Viral Dollars
If you have been into internet marketing for long, there is something that will get your attention about how this company operates. One of the things you will instantly notice about Viral Dollars is that:
They don't have a product
They don't offer any training
Thus, one question that you will ask yourself is: How does Viral Dollars make the money they pay? When you invite someone to join the platform, you will earn $10 if the person signs up. Where does that money come from? I mean, you signed up for free and then the person you referred also signed up for free. But yet, they claimed you will get paid $10. The money has to come from somewhere, right?
Viral Dollars claims they make money by selling advertising to their sponsors and then share the revenue to the members. They also claim you will get paid via PayPal, Cash App, Bitcoin or mailed checks. Digging deep, I came to understand that Viral Dollars have no intention to pay its members. You see, all these claims they made are just sweet words to get you to submit your data and also to motivate you to bring your friends and acquaintances to submit their data to Viral Dollars so they can sell it. There is no doubt that company activities are very shady. They just deceive people into wasting their time and data. In reality, Viral Dollars is a scam and this is the reason they keep on changing names.
Fake Testimonials
On Viral Dollars website, you will see several testimonies by people who got paid. Don't be deceived. These faceless people are fake. The company just made them up to make you think that others are already getting paid.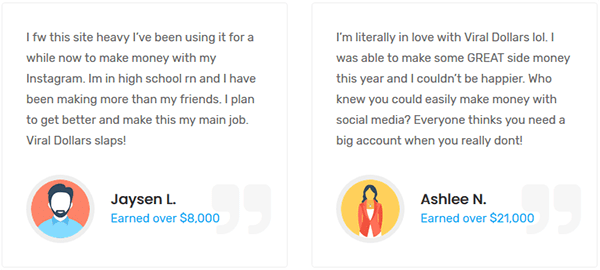 Apart from using fake testimonials, the name of the parent company is fake and the company's headquarters address in Melbourne, Australia is also a fake address. Don't be deceived, everything about Viral Dollars is a lie.
Is Viral Dollars a Scam?
Yes! By now, it must have become clear to you that Viral Dollar is a scam. This is the reason why they changed their name from Viral Pay to Viral Dollars, and now to Referral Pay. They keep on changing their name each time their scam is detected. I know they promised you can join for free but the truth is that you are risking your data and privacy if you join this network. In fact, a number of people have reported a hacking attempt on their email and bank accounts after signing up on Viral Dollars. I will recommend you stay away from this website.
The Best Way To Make Money Online
There is no point in joining Viral Dollars and risking your important information. Instead, spend 2 to 3 hours per day to work on your own affiliate marketing business. Within 2 months, you will begin to see a significant result. This is what I did and everyone who followed this recommendation achieved a significant result.
Fortunately, with this course known as Wealthy Affiliate, you will learn everything you need and also get all the tools you need to build your business from scratch. Wealthy Affiliate is not make money quick program. You need to actually put in some works per day until you start seeing the result. If you put in an effort, this could turn into passive earning for you in a few months. This means you can start earning even while you are sleeping. Besides, if you sign up today, I will take up the challenge of becoming your personal coach.