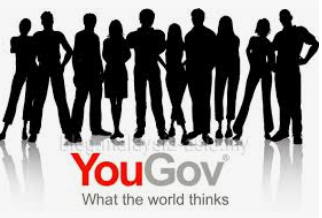 Let me guess! … Somebody told you about YouGov or you stumble upon it online and you are here to find out if it is legit or scam! I know, scam sucks! I have been there. You made a great decision to check if YouGov is another scam waiting to waste your time and take your money.
I spent most of my 2018 exposing scams and value-less programs. If you have been visiting my website, you will find it difficult to fall for any of these programs that are either scam or value-less.
Today, I'm going to look at YouGov, a website with millions of members. YouGov claims you can make tons of money online with little or no work. Most programs with such claims usually turn out to be either scam or a complete waste of time.
Hopefully, YouGov will be different. I hope so because since you are reading this review, you are definitely interested in making some bucks by joining YouGov.
Site Name: YouGov                                                               
Type: Survey Site
Price: Free
Recommended: Not Really

What is YouGov?
YouGov claims to be an online global community of people who like to share their views and opinions on life. Basically, it is a survey company. YouGov gives users the opportunity to express their opinions about current events and controversial topics in the hope of getting rewarded with some cash.
YouGov was founded in 2000 in the United Kingdom as an online market research firm. Currently, YouGov has its headquarters in the United Kingdom but operates throughout Europe as well as in North America, Asia-Pacific, and North America.
How Does YouGov Work?
Like I mentioned above, YouGov is a paid survey website. It is a market research company that pays people for giving their opinions on different subjects. This means that if you are from a country in which YouGov has an operation, you can make money on the website by completing surveys.
To start earning on YouGov, you will need to sign up and then start taking surveys. Basically, you will earn between 300 to 500 points for completing each survey. In most cases, you will receive between 5 to 7 survey invites per week.
Note that you cannot do more than one survey in a single day. The points you accumulate from taking these surveys can be redeemed for a variety of rewards which include gift cards, tote bags, and t-shirts.
Some of the gift cards you can receive from YouGov includes Amazon gift card, Walmart, VISA, and iTunes gift card. You can get Amazon $15 gift card when you have 35,000 points on YouGov (For United States residents).
But don't get your hopes up. You will not get that 35,000 points easily. Most surveys have 300 points. It takes what seems like forever to make up to 1400 points which equate to $1.00.
You will need to make at least $15 as a United States resident before you become eligible to withdraw your earnings.
You can also refer friends and increase your earnings but not by much. Besides, the person you referred will have to complete at least 3 surveys for it to be counted as a referral bonus for you.
To get started on YouGov, you can either sign up on their website or simply download their app on PlayStore or Apple's app store.
How Does YouGov Pay?
If you are not from America but the United Kingdom, you need to make at least £50 before you can get paid. YouGov usually pays through PayPal.
However, you can take your earnings as a gift card from Amazon, Best Buy, iTunes, Walmart, and more. If you need a gift card, it will take approximately 2-3 weeks to get it in your mailbox physically.
Is YouGov a Scam?
I have checked YouGov for signs of a scam, it doesn't seem like this website is a scam. But the truth is that even if a program is not a scam, it does not mean it worth your time.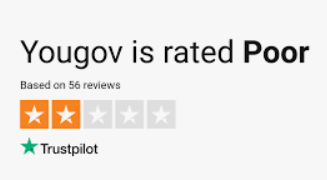 It simply doesn't make any sense to work 15 minutes per day only to earn around $1 after 7 days of work. It is a complete waste of time especially for someone who is interested in making money online.
Like I have stated in some of the reviews of survey websites, taking surveys online is one of the worst ways to make money online.
For example. Take a look at what this person has to say about YouGov:
"I have been completing YouGov surveys for what feels like years, hoping that I might eventually make some money out of it. There are no details on my profile but I would guess it must be about four years. My total points are now 3,175 – still a long way from the 5,000 needed to earn that elusive £50. This is beginning to feel a bit of a sham and not ethical"… The Guardian.com.
Why on earth will it take someone 4 years to make £50 when you can make such amount in a day while sleeping?
If you are willing to put in 2 to 3 hours per day for the first 3 to 6 months working on a certain online business, you can be making over $50 per day even without working. Does such an opportunity exist? Yes, and that is what you will read in the next paragraph!
Is There Any Alternative?
Taking surveys is one of the worst ways to make money online. Instead of wasting your time on surveys, you can learn affiliate marketing with Wealthy Affiliates.
Affiliate marketing is the only business that allows you to make money with other people's product. Once you build up your affiliate business, you can make money even while you are sleeping.
The first 3 months may be tough, but with a great course like Wealthy Affiliate, you will definitely get it right if you focus. You can finally quit your day job or at least, have another source of dependable income.
Click here to check out Wealthy Affiliate!
Thanks for visiting my YouGov review. If you have any questions please leave them in the comment section below.
To your success,
Kirk