Almost everyone from North America is used to gift cards. Today, you can easily see gift cards when you walk into any of your favorite retail stores such as Wal-Mart or Target. Heck, you can even see them in local hardware stores. However, a bulk of these cards are available online. Online shops such as Amazon, iTunes, and many of them have gift cards that you can use to buy new items. In some cases, it is possible to convert these cards into cash.
It would be awesome to convert these cards into cash, wouldn't it?
For so many years, many people have wished they can be able to convert their gift cards to cold hard cash. Well, this new website known as CardCash is now telling you that you don't have to wish anymore. According to CardCash, you can now make use of their website to convert your gift card into cash.
Don't jump up for joy yet! Over the years, I have seen other websites that made similar promises. Yet, they turned out to be just scam. This is why I have decided to investigate this website called CardCash and let you know whether they are a scam or a legit website. Thus, you will learn everything you need to know about this platform in this honest and unbiased review of CardCash. Keep on reading to find out more.
Name: CardCash
Type: Gift card selling platform
Founder: Elliot Bohm and Marc Ackerman
Founded: 2009
Price: Free
Rating: 4/5
What is CardCash?
According to the information on their website, CardCash claims to be the holder of the "world's largest inventory of discounted gift cards". According to the company, they have saved customers over $50 million from their favorite retail brands since the company was started.
CardCash was co-founded by Chief Executive Office Elliot Bohm and Chief Operating Officer Marc Ackerman in 2009. The company bought over "Plastic Jungle" – a competitor in 2014. Both founders have remained in the management of the company until this day. The headquarter of CardCash is located in Brick, New Jersey.
How Does CardCash Works?
CardCash works as a middleman platform between people who wants to sell their gift cards and people who want to buy them. It is sort of selling your stuff on eBay. You post what you want to sell, an interested buyer will make you an offer. If you like the offer, then the platform will mediate the payment between you and the buyer.
There are people who are always searching to buy gift cards at a discount. These people come to a platform such as CardCash to buy discounted gift cards. When you post a gift card you want to sell, CardCash will now connect you to interested buyers. Thus, their main function is to act as the middleman between buyers and sellers of gift cards.
Let me explain it further.
If you have a gift card to sell, CardCash will ask you to list the detail of the card, i.e. the name and the balance in your gift card. Once you do this, the platform will now connect you to an interested buyer. If you decide that you want to sell to the buyer, the platform will help you collect payment. You will receive this payment via PayPal, direct deposit, or a check sent via mail.
As a gift card buyer, you will have various options to receive your gift card. You can either order a physical copy of your card or a printable eCard (e-gift cards). If you order a physical copy, it can take days before you receive it. Since most people shop online nowadays, they just go for the eCard which you will receive in your email inbox within 24 hours. You can use the code on the card to make your online purchase. CardCash allows buyers to make payments via PayPal, Credit Card, and most recently, Bitcoin.
The Real Truth About CardCash
CardCash sounds like a great website on paper. However, before you deal with this company, I thought there are a couple of things you need to know.
Pricing
1. Seller
Perhaps, this is the most concerning. The value of your gift card will significantly depreciate when you want to sell it on CardCash. Ideally, you can get only up to 92% of the value of your gift card. According to the platform, the amount you will receive will depend on the "popularity" and "public perception" of your gift card. Take, for example, cards from Wal-Mart, Amazon, and Target are valued more.
2. Buyer
As a buyer, it is important you watch out when buying a card on this platform. The actual value you will get is usually very different from what is shown on the image. For instance, if you find a gift card for your favorite restaurant offering a 20% discount and the face value of the card is $25, then your price for the card is $20.
Card Balance Disappear
If you buy a gift card from this platform, it is important you use it to make your purchase before 45 days elapse. After this period, there is a strong chance that your card will disappear. My research showed that most of the users of this platform are complaining of losing their unused card balance after 45 days.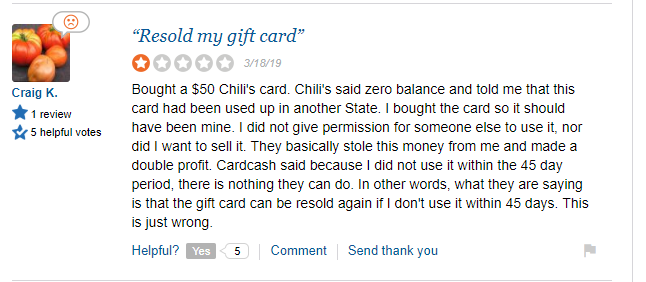 Refund Policy
CardCash refund policy only covers you up to 45 days. After this period, you are on your own and no longer protected by their refund policy. This means you can no longer get your money back if something goes wrong.
Customer Service
You can actually call or write them an email when you need a service from their customer service. However, I talked to a couple of users of this platform and most of them aren't impressed with the customer service.
Is CardCash A Scam?
No! CardCash is actually a legit website where you can make money if you have some gift cards you want to sell. If you are in a position where you receive a lot of gift cards, this site is a great platform to unload those cards and make cash with them. Thus, I recommend CardCash for people who have gift cards they want to sell or buy.
However, if you are looking for a way to make money online, I wouldn't recommend CardCash, it is not good for building a sustainable income from home. Fortunately for you, I have been making money online for the past 9 years and now I know what works and what doesn't work online. Thus, in the next paragraph, I'm going to show you how I make money from home.
How Do I Make Money Online?

One question I have gotten so often from my blog followers is: how do I make money online? The fact is, making money online is a lot like making money offline. You need to offer value through your product or services before you can make money. Unfortunately, not a lot of people have what it takes to create their own product. If you fall into this group as I do, you don't have to worry, you can make money by recommending these products to other people. This is called affiliate marketing.
I started affiliate marketing a couple of years ago as a way to earn extra income. After so many struggles, someone introduced me to this course known as Wealthy Affiliate. This program completely changed my life. I learned everything I know today about making money online through Wealthy Affiliate. With this program, you can learn how to make up to 7-figure income per month. However, it requires work. If you can put in at least 2 hours per day, you will be able to start seeing some income after a few weeks.
If you join Wealthy Affiliate today, I will become your mentor and I will coach you until you start seeing significant income online.