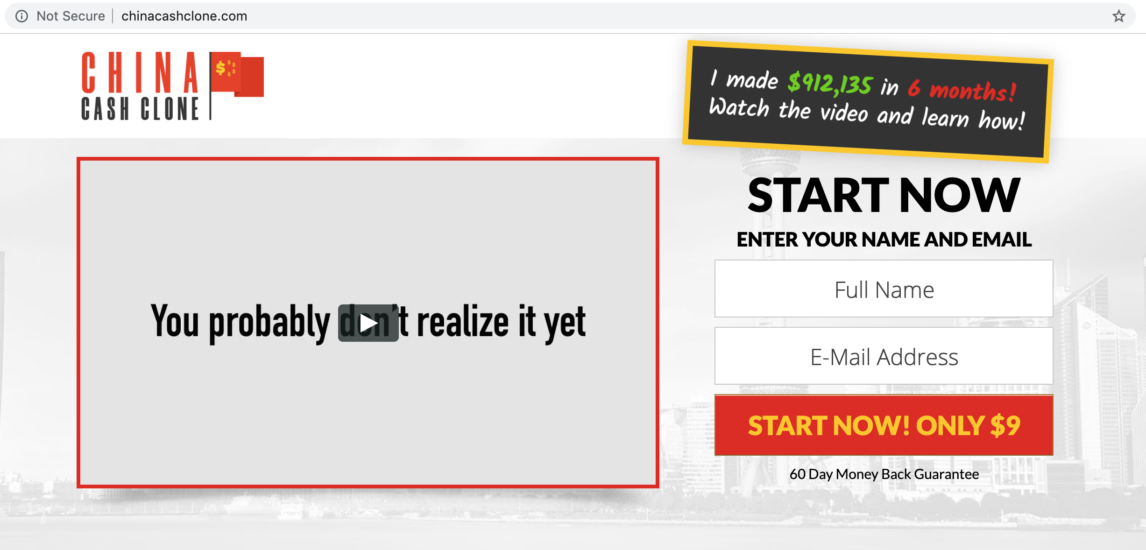 A lot of people online are talking about "China Cash Clone" – a new online course which claims that you can make $5000 through dropshipping. China Cash Clone won't be the first online course to make such bold claims. In fact, most people are skeptical about such programs and a lot of people thinks that China Cash Clone is a scam. Nevertheless, I cannot conclude that China Cash Clone is a scam unless I do my own investigation and have evidence to make a verdict.
To understand why most people are already skeptical about China Cash Clone, the program says you are going to make $5000 per day with the methods revealed in the program. Now, when you do a simple calculation, you will be earning around $100,000 in 20 days. No doubt, there must be something fishy about the entire method. While it is possible to make 100k online, it probably takes even some of the hardcore gurus in the online marketing industry about a month or two to make such amount of money. I wonder how a newbie with no experience can make $5k per day with a couple of methods revealed in an eBook and videos.
To prove that China Cash Clone is a scam or legit program, I embarked on an in-depth investigation. This includes going over the website, signing up for the program, and even going as far as talking to some of the current and previous members of China Cash Clone. I hope that you will find the information I revealed in this review very helpful. As usual, I'm going to adopt an honest and unbiased view while reviewing China Cash Clone. Keep on reading to find out more.
Name: China Cash Clone
Type:  Dropshipping
Creator: Daniel Barber
Price: $9
Recommended: 0/5
What is China Cash Clone?
China Cash Clone is a very short course which claims you can make up to $5000 per day dropshipping various products from the popular China online store known as Aliexpress. China Cash Clone was created by a man known as Daniel Barber (not a real person). In his video presentation, he claims that by paying him just $9, he will give you a software that allows you to clone the exact strategy used by China traders to make millions of dollars per month.
To proof that the program is legit, there are several videos of people claiming they made as much as $60,000 within just two weeks of using the software. Daniel Barber claimed that this method is helping a new billionaire emerged in China every 3 days. What this means is that when you get the software for just $9, not only you will be able to make a lot of money to pay off your debts, you will be mega-rich and even become a billionaire with the software he sold just $9 to you.
According to Daniel, his revolutionary system can easily help anyone earn $710,000 in just 5 months. He also claimed that this system can be set up in just a matter of minutes.
Obviously, this is a very bold claim. If you have been coming to my website before, you would see I have debunked such claims in the past in the various online programs I have reviewed. To find out if this program is a scam, a waste of time or it is actually a program that could make you mega-rich, I will take a look at how China Cash Clone works.
How Does China Cash Clone Works
Honestly, when I heard that this software can help one generate $5000, I had my reservations but I was very curious to know how it works. Thus, I want on investigative research. 
To get this product, you will have to pay $9. Sound really affordable, right? Don't fall for it. It is just a tactic to lure you in. When you pay $9, you will only get access to a couple of eBooks and screenshots. They will now try to upsell you another product for $197 claiming that the upsell is where you will see the secret that you are looking for. When you try to exit the page, you will get a down-sell of $177 and then another upsell of $147. No doubt, you will be making endless payments to the person who created this product after your initial $9 payment.
Basically, what China Cash Clone wants to teach you is how to dropship products from Aliexpress. Dropshipping simply means listing other people's products on your website. When someone purchases such product, you order from the original owner of the product and send it to the person who ordered from your website. It is a concept and strategy you can learn easily on YouTube for free.
Inside China Cash Clone there are 5 videos. At this point, I have to make you aware that these videos are very disappointing. It is either they are telling you what you already knew or they provide little or no information. Let's take a look at the videos:
Video 1: This video will send you to GoDaddy.com to buy a domain name and then sign up for web hosting. I'm pretty sure that most people reading this review knows how to sign up for web hosting and domain. Besides, even if you don't know, it doesn't worth paying $197.
Video 2: Here, he just talked about website customization. The video is too fast and the resolution very poor. Thus, you will find it very hard to follow the video.
Video 3: Now, he talks about how to install WooCommerce on your website. Like most of the previous videos, he provided little information. Besides, he was talking so fast that a newbie won't be able to follow what he is talking about.
Video 4: Now he will send you to Aliexpress website which is an eCommerce website owned and operated by Alibaba. 
Video 5: In this video, he talked for less than 2 minutes on how you can manage your order from Aliexpress.
That's it… That is how you are supposed to make $710,000 in 5 months from China Cash Clone. As you can see, even the person who created the program does not know what he is doing. There is nothing in the video to indicate that he is an expert on the topic.
Ugly Truth About China Cash Clone
China Case Clone undoubtedly made some bold claims. Below, I will discuss some red flags that prove that China Cash Clone may be a scam:
1. Fake Testimonial Videos From Five Sellers
The first red flag is the fake testimonials on the sales page of China Cash Clone. While washing the sales video, you will come across two guys and a lady who claimed they have been making use of China Cash Clone. In fact, one of the guys said he earned over $60,000 in 2 weeks with China Cash Clone.
Shockingly, these testimonials were given by actors hired from Fiverr.com. You can even see their profile on Fiverr right now. They were all paid to claim they have been making use of China Cash Clone to earn money online. The truth is that they don't even know what China Cash Clone is all about and they have never made use of it before.
This discovery cast great doubt on the authenticity of China Cash Clone. If the program works as advertised, there won't be any need to hire professional actors to give fake testimonials.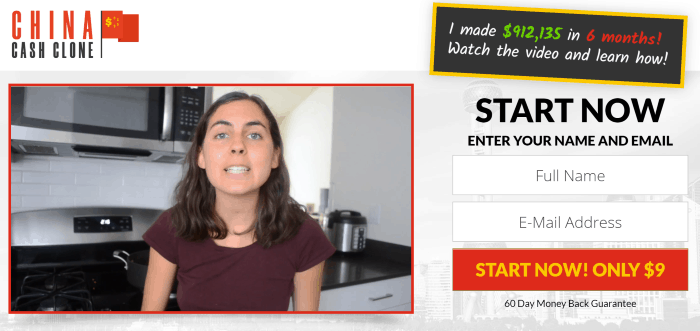 2. Tons of Ridiculous Upsells
The cost of buying this course was advertised as just $9. That is very cheap, right? However, when you pay $9, you get access only to the basic information. You will have to buy the second course which actually cost $197 before you can get full access to the course.
Even in the VIP area, the guy behind the course will present you with yet another upsell worth about $997. This particular upsell is a course in affiliate marketing created by a known expert. I suspected he is just trying to gain affiliate commission by selling the course to you.
3. Fake Earnings
Just like expected, the sales page of China Cash Clone is littered with a screenshot of people who supposedly earned lots of money from using the software. In fact, in the picture, you could see that almost all of them earned over 1 million dollars from the software.

I ran a checked on the domain information of China Cash Clone website. It turned out that the domain was registered in March 2019. This means that the program does not exist until then and the earning screenshots they showed you were probably fake. Besides, there is no way to reach these so-called members that made money the money shown on their website.
4. Daniel Barber is Not a Real Person
I also investigated the name "Daniel Barber" and it turned out that he is not a real person. The spokesperson on the video mentioned that his name is Daniel Barber. However, we didn't see his face. There is no way to reach this Daniel Barber and no one know him before. It will be very ridiculous to do business with a person that doesn't exist.
What I Like About China Cash Clone (Pros)
It introduces you to Dropshipping
If you have not heard about dropshipping before, then this program will introduce you to the idea. Dropshipping is a real business. This doesn't mean that the China Cash Clone itself will help you earn thousands of dollars from dropshipping. Instead, you can make your own research and watch a couple of YouTube videos to learn how to make money with dropshipping.
Note: If you are thinking about starting a dropshipping business, I will recommend you start with eBay and Amazon dropshipping.
What I Don't Like About China Cash Clone (Cons)
Unverifiable claims
Use of fake actors for testimonials
Fake income claim
Daniel Barber isn't a real person
Too many upsell
It is not beginner-friendly
You won't learn much from the video
Is China Cash Clone a Scam?
Here comes the moment you have been waiting for. Let me ask you. If someone comes to meet you and tell you that if you hand him over $9, he is going to give you 1 million dollars on the spot, are you going to believe him? I don't think so. China Cash Clone tried so much to turn so many lies into believable truth in other to take your hard-earned money. However, it doesn't take a genius to figure out that whoever that is behind this product is apparently lying.
There is no doubt that China Cash Clone is a scam. I made this conclusion because you won't earn the amount of money they promised using the method they recommended. While it is true that dropshipping is a real business, China Cash Clone itself is a scam.
How I Make Money Online
A couple of years ago, I was just like you, chasing various programs online while trying to find out what works and what doesn't work online.  I was searching for a way to support my job as a truck driver.
One day, someone recommended that I check out Wealthy Affiliate. I did, and it was a day that changed my life. Now, Wealthy Affiliate is a program that will help you build a full-time income from home. Let's get one thing straight, this program is for those who are willing to put in work. It is not a get-rich-quick program. You must be willing to work for a few hours per at least for the initial few months after joining the program.
However, it all worth it. With Wealthy Affiliate, you will learn to make a sustainable passive income. By passive income, I mean you can be earning from this program while you sleep and even many years from now with little or no work. If you are tired of falling for so many scams online and want to build a genuine business online, I will recommend you check out Wealthy Affiliate below.
It is perfect for a beginner. Besides, I'm always here to answer your questions and act as your mentor.