Is it possible to make money on Inboxdollars.com? This is a question I have been asked multiple times. One thing is for sure, Inboxdollars certainly made a buzz and got a lot of people interested. Take, for instance, I have a friend who got scammed on another survey website, he swore never to join any other survey program. However, with the buzz around Inboxdollars, he is beginning to change his mind. This is why I decided to review this program so you can finally learn whether Inboxdollars is a scam or a legit program.
Inboxdollars make it seem like you are not risking anything by joining them. In fact, if you read their website (which is no longer available by the way), you will feel that you will become rich just by completing offers online. I have been into affiliate and online marketing for over 7 years. Thus, I have seen a lot of programs such as Inboxdollars come and gone. Most of these programs made big promises, got so many people interested. In the end, they either scammed them of their hard-earned money or took their data and sold them to third-party companies.
You see, even when you are joining a program which claims to be totally free, you are risking your data. Personal data is big money today. European Union recently passed a law which states that personal data is a form of payment. Your data could be sold to another company or used to compromise your information. To make sure that Inboxdollars is not among the sites that indulge in such practices, I decided to review this viral website. This article will tell you everything you wish to know about Inboxdollars. Keep on reading to find out more.
Name: Inboxdollars
Type: Get-Paid-To (GPT)
Owner: Daren Cotter
Price: Free
Recommended: 2.5/5
What is Inboxdollars?
Inboxdollars is one of the most popular Get-Paid-To (GPT) websites that you will come across. Many people ranked this website just behind "Swagbucks" in the list of the 5 most popular GPT websites. Inboxdollars was founded by a man called Daren Cotter back in 2000. Later, the company was declared a member of Inc.5000 Company that pays real cash to its members. No doubt, the company was among one of the oldest in the industry and have grown stronger within a few years. In 2005, Inboxdollars acquired a similar website called SendEarnings. This allowed them to expand into the UK market. However, to make their company appealing to the UK market, the company was named InboxPounds in 2012 and DailyRewards in 2014. In May 2019, Inboxdollars was finally sold to Prodege. This is the same company that owns and operate Swagbucks, Mypoints, and ShopAtHome.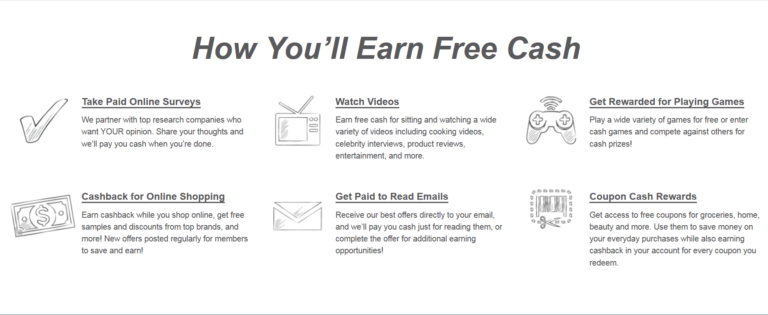 How Does Inboxdollars Work?
Inboxdollars is one of the oldest Get-Paid-To (GPT) website in the industry. This basically means you are paid to do various tasks the company asks you to do. This task could be something as simple as completing a survey on a third-party website, watching a video, downloading an app, and much more.
To get started with Inboxdollars, you simply had to head to inboxdollars.com to sign up. It is completely free and you also get paid $5 when you sign up. You will also get an additional $1 when you complete your profile on the website and when you complete a Household Survey and Interests Survey. After these initial tasks, you will have about $7 in your account. However, it is not possible to withdraw this morning since the minimum you can withdraw is $30. Thus, you have to do other tasks on your dashboard to be able to reach this $30 payout threshold.
How Can One Earn Money in Inboxdollars?
Like I have already stated above, you earn in Inboxdollars by completing a number of tasks available in your dashboard. Some of the typical tasks you will be asked to do include but not limited to:
Completing a survey is one of the most popular ways to earn money on this website. However, don't get your hopes up yet. Most of the surveys pay what could be described as a pittance. In most cases, you only get paid 25 cents to $1 for a survey that could take up to 30 minutes. Besides, you won't automatically qualify for every survey. Some surveys are designed for people from a particular country or particular age group. You can also be disqualified from a particular survey if the company that sponsors the survey think that you are providing dishonest answers.
Always watch out for offers. Inboxdollars would regularly show you offers from other companies. In most cases, this will require that you sign up to a third-party website or download a particular app before you can be able to earn money.
It is one of the easiest ways to earn money but could be very risky. The problem is that you would be asked to submit your email, phone number, and other personal data. This usually leads to receiving tons of spam emails or phone calls from companies you don't know. If you wish to submit your data, make sure you only submit disposable data.
You can earn money simply by making use of the Search Engine provided by Inboxdollars. It is very easy to do and you will earn about a penny or two for every 4 searches you make. However, you cannot use the search engine indefinitely. You could only earn 15 cents per day. You don't get paid for other searches once you reach 15 cents per day.
Watching TV programs online is very popular nowadays and Inboxdollars is cashing in on it. On your dashboard, you will see a list of TV programs that you will have to watch. You earn about 1 cent for watching a couple of videos. Note that each video has ads that usually play before the video. Most people play the video on the background while they focus on other tasks.
Playing games is also one of the ways to earn money on this platform. Some of the games here are interesting. If you love playing games, you could simply play the games from your Inboxdollars dashboard and earn money from it.
Apparently, this platform has its radio station, you will earn about 1 cent for every ten minutes you listen to their radio. The only problem is that you cannot do any other thing while listening to the radio.
Earn Money from Referrals
One of the best ways to earn money on this platform is by referring others to the platform. When someone signs up through your link, you will earn 10% of whatever they earn for life. This means, if they make $100 in a month, you will get paid $10.
Others tasks you can do to earn money in Inboxdollars include:
Make use of coupons
Read emails
Answer "Learn and Earn" Polls
Complete "My List" Tasks
Get Cashback for Shopping
How Much Money Can You Make From Inboxdollars?
Inboxdollars does not put a limit on how much you can earn on the platform. However, earning money here is not easy. It will probably take you about one month or two months to make $30. Besides, you need to reach at least $30 to be able to withdraw your earnings from the platform.
Making money here takes a really long time unless you have amassed so many referrals who are very active on the platform. When you reach the $30 threshold, you can get your payout from Prepaid Visa, Direct Check, or using Inboxdollars eCard.
What I Like About Inboxdollars (Pros)
It is free
Very easy to sign up
Accept everybody even without any experience
A lot of tasks you can do
Available in so many countries
They are the oldest GPT website
They have a good referral system
What I Don't Like About Inboxdollars (Cons)
Takes too long to get paid
Many tasks pay you peanuts
You have to earn at least $30 to be able to withdraw
You won't qualify for most surveys
Your account will be terminated if you are not active for more than 10 days
Some offers have no credit
Only one account is allowed per computer
Is Inbox Dollars a Scam?
Inboxdollars is not a scam. However, you get paid peanuts for doing work that takes so much of your time. Take, for instance, you could spend about 100 hours per month on Inboxdollars and earn only $20. This is certainly not a way to make money online. If you are looking for the best way to earn money online, I should recommend you should Wealthy Affiliates.
Best Way to Earn Money Online that is Not Inboxdollars
Why should you earn $30 per month when you can earn over $1k per month? This is possible with affiliate marketing. I started affiliate marketing a couple of years ago. It wasn't easy. However, I didn't give up. I put about 2 to 3 hours per day working on my affiliate marketing business. It took me about just 2 months before I started seeing significant earning.
The great thing with affiliate marketing is that you earn money even while you are sleeping. It is a great way to build a passive income online. Unfortunately, most newbies find it difficult to get started in affiliate marketing. Thus, I will recommend you join this program known as Wealthy Affiliate. It is the number one program online that will teach you how to build your own business online. Wealthy Affiliate will also give you every tool you need to succeed. If you are searching for the secret to the success of people earning money online, this is it.