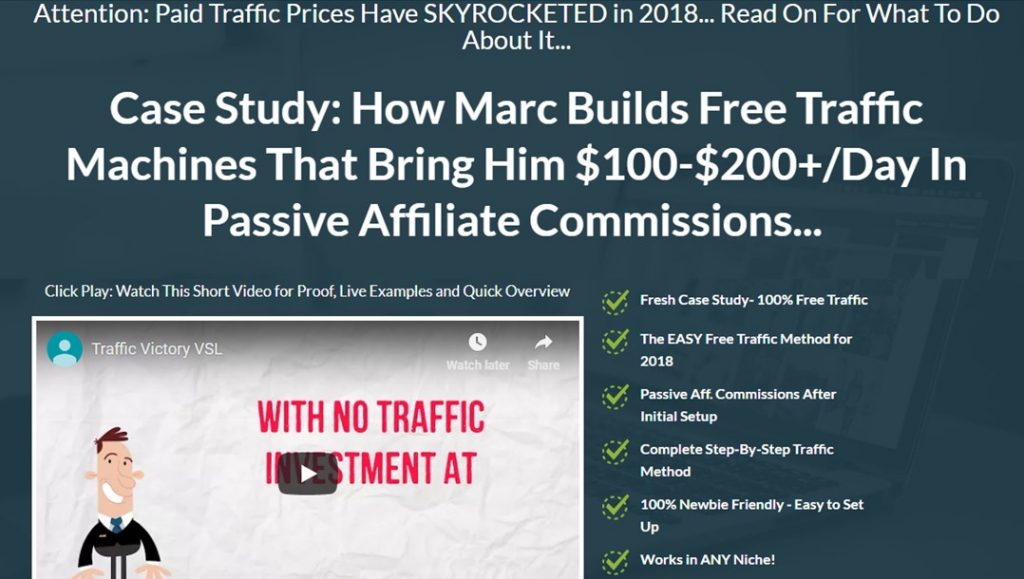 Could it be that Traffic Victory is a scam? You can never tell until you finish reading an honest and unbiased review of this course. Fortunately, this article will provide you with full details of everything you need to know about this course called Traffic Victory.
The difference between success and failure online is "traffic". Most people plan only how to set up a website, join freelancing platforms or sell a product online. But one thing is clear, if you don't plan for traffic, your business is as good as dead. You cannot succeed online unless you master exactly how to generate traffic that leads to sales. However, this is easier said than done. Over 99% of people who tried to make money online failed because they were unable to send traffic to their offer.
The truth is, there are so many ways to generate traffic to your product, offers, or website. You could generate traffic through:
Social media
YouTube
Email
Search engine
Forums
Paid advertising
Over the years, I have seen various courses that claimed you could make thousands of dollars using one of the traffic channels mentioned above. Today, I'm going to review this new course called Traffic Victory to see if it is really what it promised or another scam. You will find out the truth shortly, just keep reading.
Name: Traffic Victory
Type: Traffic generation
Author: Stefano Ciancio
Recommended: 4/5
What is Traffic Victory?
Traffic Victory is a training course which claims it is possible to make $100 to $200 per day with the traffic method in the course. Traffic Victory claims it will teach you how to make a lot of money through affiliate marketing. According to them, you will enjoy the following benefits if you buy the course:
Fresh case study
Easy traffic method
Passive affiliate commission
Complete step-by-step traffic
100% newbie-friendly
Works in any niche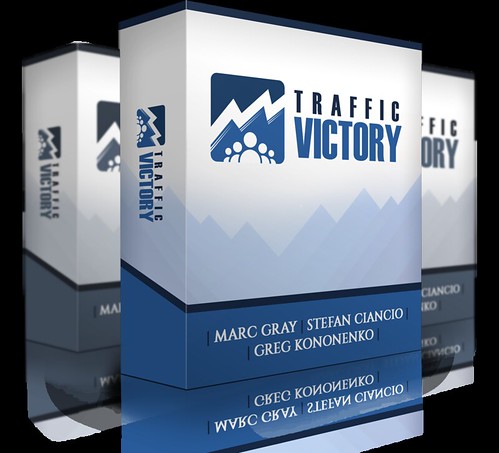 This product was created by Stefan Ciancio. He is a well-known blogger and internet marketer. Stefan has already created some training courses before with varying degree of success. For his Traffic Victory course, he partnered with Marc Grey and Greg Kononenko. According to him, most of what you will learn in this course is the exact strategy used by his friend Marc Grey to make up to $200/per day in passive affiliate commissions.
How Does Traffic Victory Work?
Traffic Victory comes with 5 video modules that teach you how to set up your affiliate marketing website and how to promote such a website using search engine optimization and social media. The course is good for beginners because it covered some basics in affiliate marketing such as how to set up a website, find a good domain name, create a brand social media accounts, as well as how to find good products to promote.
Let's take a look at various modules in this course:
Module 1:
This is basically an overview of what you are going to learn from the course. Here, he talks about:
Why you should build a money-making website
His income proof
How to start making a decent income online within 2 months
Module 2 and 3:
His training starts in these two modules. He covered the basics of affiliate marketing and website creation in these two modules. Here, he talks about:
How to get a good domain name
WordPress installation and use
Plugins, widgets, themes, and sitemap
SEO for your WordPress website
SSL certificate
Adding site to CDN
Completion of website setup and money-making tactics
Module 4:
Social media traffic generation methods
What to promote on social media
How to maximize your traffic
Module 5:
On-page SEO
Off-Page SEO
7-day SEO plan
Bonuses
Overall, the course has about 7 hours of training. Each of the videos lasts between 15 and 20 minutes. You can learn on a pace that you are comfortable with. The entire training covers how to set up your website, take care of your search engine optimization, and how to start getting traffic from various social media websites. Traffic Victory tries to teach how to ensure you are getting free traffic that can easily turn into passive income for you.
It is important to mention that all the information are not revealed on the initial package. To get access to the full information in Traffic Victory, you will have to buy the upsells.
Who Created Traffic Victory and Who is it for?
Traffic Victory was created by Stefan Ciancio. He co-authored it with Marc Gray and Greg Kononenko. He is a well-known internet marketer. Most of his previous courses focused on traffic generation which makes people view him as an authority in traffic generation. For instance, he created popular courses such as Tidalwave Traffic, Affiliate Victory, and Traffic Rebirth. Nevertheless, most of these courses are just a repetition of his older courses under a new name.
Traffic Victory is mostly for newbies. If you already have experience in affiliate marketing, you will not need this course unless you are looking for a refresher course in affiliate marketing and traffic generation.
What I Like About Traffic Victory (Pros)
1. Solid Information
Traffic Victory provide useful information that can help you to create your own affiliate marketing website. If you are just getting started, the information in this course can help you set up your own business and start earning a passive affiliate commission.
2. The Author is Available To Provide Support
Most of the courses I have reviewed in the past have either a hidden author or a fake name. However, Traffic Victory is backed by a well-known internet marketer. He is ready to provide you support as far as you buy his course. If you are stuck, you can always reach out to his team for support.
3. Affordable
The entry price for this course is $17. However, it is important to note that it also has numerous upsells. Nevertheless, the author provided good information and offer solid support. All these are worth more than $17. Overall, I think the course is very affordable for just $17 entry price.
What I Don't Like About Traffic Victory (Cons)
1. Lots of Hype
On their sales page, they claimed you can make between $100 to $200/day with this course just 30 minutes after setting up the course. However, this is not possible if you are a complete newbie. It is wrong to give newbie wrong expectation. Nevertheless, it is still possible to earn money with the methods taught in this course. But don't get your hopes up too much that you will be earning $200 per day after investing in the course.
2. Blackhat SEO
Stefan is well-known for promoting blackhat SEO methods. These SEO methods can get you fast result but they don't last. Sometimes, a blackhat SEO can lead to Google banning your website. Thus, ensure you are very careful when you use the methods taught in this course.
Price:
Traffic Victory costs $17. However, this is just an entry price. It comes with a lot of upsells. Some of these upsell include:
OTO 1: Advanced training: $27
OTO 2: DFY Pack: $27
OTO 3: Reseller rights: $37 or $47
You will have to pay $47 to get the full benefit of this course.
Is Traffic Victory a Scam?
No! Traffic Victory is a legit affiliate marketing and traffic generation course created by a well-known internet marketer. It contains some useful information that you will find valuable. The author provided information that can help you if you are a complete newbie into affiliate marketing. However, you still need to put in a lot of work for this system to work for you.
What is the Best Alternative to Traffic Victory?
Wealthy Affiliate is the best alternative to Traffic Victory. However, I will have to be honest with you. Wealthy Affiliate requires more work than Traffic Victory because it teaches whitehat way of earning passive income online through your own business. You will have to actually work and do most of the tasks manually. Don't worry, it provides you excellent training on how you can do these tasks.
Wealthy Affiliate requires work. It is going to take a bit of time for you to start earning. But if you are willing to work, I can promise you that you will see huge results like I'm currently enjoying. This program will help you to build a 7-figure income if you are consistently putting in work every week. If you are ready to build a passive-income to replace your current salary, I'm ready to become your mentor once you join Wealthy Affiliate.