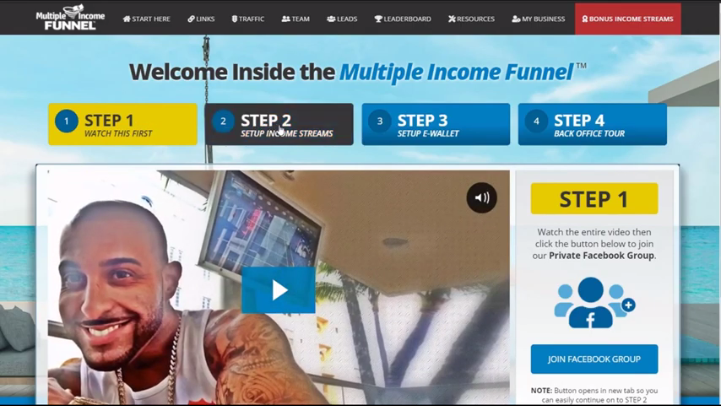 First I want to thank you for visiting my Is Multiple Income Funnel a Scam Review.
You can start making an instant commission – 100% on autopilot, without any work or skills. This line above is what you see when you check out this new product called Multiple Income Funnel. You are likely going to get the impression that you will start making money right away once you invest $49 or more into this course. 
If you are reading this review, it is probably because you have doubts, which is a good thing. You see, I have been into online marketing since 2010 and I know for sure that there is nothing like free money online. You will have to work on your online business if you want to make money. With this said, I would like to do a holistic review of the Multiple Income Funnel based on popular request. After today, you will no longer wonder whether this product is legit or a scam. You will get your answer in this review. 
Can you really make huge commissions with Multiple Income Funnel? This is also one of the questions I will address in this review. I will most definitely recommend that you read until the end. I will also give my honest and unbiased verdict at the end of this review. Keep on reading to find out more.
Name: Multiple Income Funnel
Type: Done-For-You Affiliate Marketing
Founder: Mill Mack
Price: $49/month (Plus up-sells)
Rating: 2/10

What is Multiple Income Funnel?
Multiple Income Funnel is a Done-For-You affiliate marketing funnel created by a man named Mill Mack. The product allows you to make use of a done-for-you funnel to promote about 4 different affiliate programs. When you get people to sign up for these programs, you will earn a commission. 
On the sales page of this product and its promotional materials, it suggests that you can start making money right away after you sign up. You are led to believe that making $1,000/day is normal with the product. Technically, this is possible but not probable. If you fail to do proper research, you may assume you have hit a jackpot with this product. To understand how it works in reality, make sure you read the following paragraphs.
Who is Behind Multiple Income Funnel?
Mack Mill – an online marketer is guy who founded this program. You can be able to find him with a simple Google search. He is known for promoting "make-money-online" programs. Most of the programs he promoted in the past failed. Naturally, he has racked up tons of negative reputations online. Thus, any course he created is very questionable. As far as I know, he is all about making as much money as possible. 
How Does Multiple Income Funnel Works?
To understand what you are getting into, it is very important to look at the technical details of this product. You can then make an informed decision whether this product is for you or not. 
Multiple Income Funnel is not free. It comes with a $49 monthly subscription. You can also do a yearly subscription. After you join this program, your first task is to refer people to this same system using your referral link. When you get someone to join via your link, you will earn $20 in commission. Don't jump for joy yet. Get people to join a subscription program is actually very tough. Not everyone wants someone else to take out $49 from their account every month.
Of course, what Mack Mill called a done-for-you system is just a website with links to join other digital franchises. So when you join this platform, you will also get to join another program known as Easy1UP which has a pretty bad reputation online. It is an e-learning platform that claims to teach people how to make money online. Now that you are also a member of Easy1UP, you are expected to promote it. You can earn commissions at the rate of $25 when you get people to sign up.
The third program you will also promote is Textbot. It is messaging software that truthfully, no one cares about. You are expected to promote this product with a promise that you can earn commissions between $100 and $500 per referral. This is very unlikely to happen. Like I have already said, no one cares about this product.
Finally, you will also get to promote Traffic Authority. It is a paid traffic platform where people purchase clicks. It doesn't do well with search engines and thus the result from the program is very poor. Most people actually don't invest in it. 
Overall, Multiple Income Funnel is all about promoting 4 different programs with different referral links. When you join, you will get these referral links waiting and hence, it is what Mack Mill refers to as Done-For-you.
Ugly Truth About Multiple Income Funnel
Nothing Is Done-For-You
This program claims to be a Done-For-You program which supposes to work on autopilot. This is a funny claim given that you are basically paying $49 per month to join programs that you can join without paying this basic fee. What this program does for you is to provide you with referral links to other platforms I mentioned above. What you do with them is definitely up to you. 
Provides No Training
If you are a complete newbie looking for an easy way to make money online and also learn, then this is not the program you are looking for. It provides no training for you. After you sign up, you are expected to start promoting the program and other platforms therein. It provides no direction on how you suppose to get traffic for your business. Moreover, no one else is going to do this promotion for you. Thus, it is either you learn it somewhere else or you will risk losing your entire investment. 
You Need to Know How to Recruit
Can you recruit? Make sure you ask yourself this question before you join. If you don't know how to get people to join any online program, then you are going to face huge losses. Like I have already mentioned above, this platform isn't going to help you to promote your business. You have to do all the heavy work yourself. 
It Charges Monthly Fee
Irrespective of whether you make money here or not, you will be charged $49 per month. The owners of this platform don't care. You've got to pay that monthly subscription fee every month or you will get kicked out. Of course, this monthly fee is just a way to rip you off. You are paying for nothing. So before you join this program, it is important to ensure you have a way to take care of these fees.
Is Multiple Income Funnel a Scam?
Multiple Income Funnel is not a scam but this is not a program for someone who wants to build a real passive business online. It makes promises of earning money on 100% autopilot. This is a complete lie. You need to promote the platform before you can have an opportunity to earn money. This means that you need to know how online promotion works. 
As a newbie, this is not a program for you. If you are interested in building a program that will help you make passive income online with all the resources you need, then take a look at My Number 1 Recommended Program below. This is a program that has helped so many newbies to build a sustainable second income online. Click on the link below to check it out.