Maxbounty Review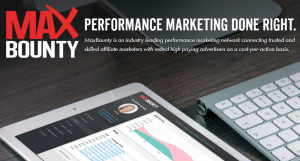 Name: Maxbounty
Website: maxbounty.com
CEO: Matt McEvoy
Overall Rating: 7 out of 10
Recommended: yes

My Honest Review of Maxbounty
Affiliate marketing is a great way for marketers to make extra money online.
It involves selling goods or services on behalf of a company on the internet and getting paid.
For business owners who advertise their products online, affiliate marketers can offer a phenomenal opportunity to create awareness for consumers to buy the product and also introduce it to others.
Thus, affiliate marketers promote a product on behalf of a company, and this helps the companies to save the time used to prepare for and conduct online campaigns. However, for businesses need effective marketers and affiliate marketers want to be sure that they will get paid for their efforts.
Maxbounty is one of the best platforms that have been established to link businesses to affiliate marketers and to ensure that both honor their part of the bargain. Below is a discussion of some important things you should know about Maxbounty.
What is Maxbounty?
It is a platform that connects affiliate marketers with the companies that sell products online. The marketers' earnings are based on the cost per action CPA) model.
The platform allows businesses that need affiliate marketers to access a pool of highly effective marketers. On the other hand, the platform ensures that the affiliate marketers deliver and get paid for what they do.

How does it work?
Maxbounty works hand in hand with the affiliate marketers and advertisers to generate revenue.
Over the years, it has established itself as one of the best leading CPA networks. Maxbounty creates more networks with the companies that are looking for online marketers. Then they interview affiliate marketers and only hires the most qualified.
Pay per Lead or Cost-per-lead affiliate programs
The merchants pay the affiliate a set fee for each visitor who clicks through and takes action at the merchant's site, such as completing an online survey, registering at the site, or opting-in to receive e-mail.
Although there are many ways of marketing of services and product online, a majority of affiliate marketers develop websites and sell products and services via their websites by creating content and assisting consumers to decide which service to use and product to consume.
Is Maxbounty a Scam?
The simple answer is no. It has worked, and it is still working. They offer over 5000 categories, and therefore, it is easy for marketers to find highly-paying jobs.
They pay well and on time. Maxbounty cannot scam people because affiliate marketers are paid by the click.
Thus, any time a potential client leaves the website of the affiliate by clicking on the link leading to a merchant's website, the commission earned is deposited in the affiliate account.
The amount depends on commission and the product and only varies in a number of circumstances.
The Takeaway
Overall, it is apparent that Maxbounty is an amazing opportunity for merchants looking for effective affiliate marketers and even for affiliate marketers looking to well-paying jobs.
It is a legitimate business based on the CPA model. With Maxbounty, merchants can be sure that they will find the most qualified marketers while marketers are assured that their efforts will be rewarded.
Great Online Business Opportunity!
If you want to be successful with Maxbounty you will definitely need a website with great content that attracts traffic. The best place I know to learn how to do build a website that ACTUALLY makes money is Wealthy Affiliate which you can try for free. There is no better place period.
You can check out Wealthy Affiliates FREE membership Here.
---
Do you have any experiences with Maxbounty?
Let us know what you think about this company by leaving comments down below!
Have a wonderful day,
Kirk