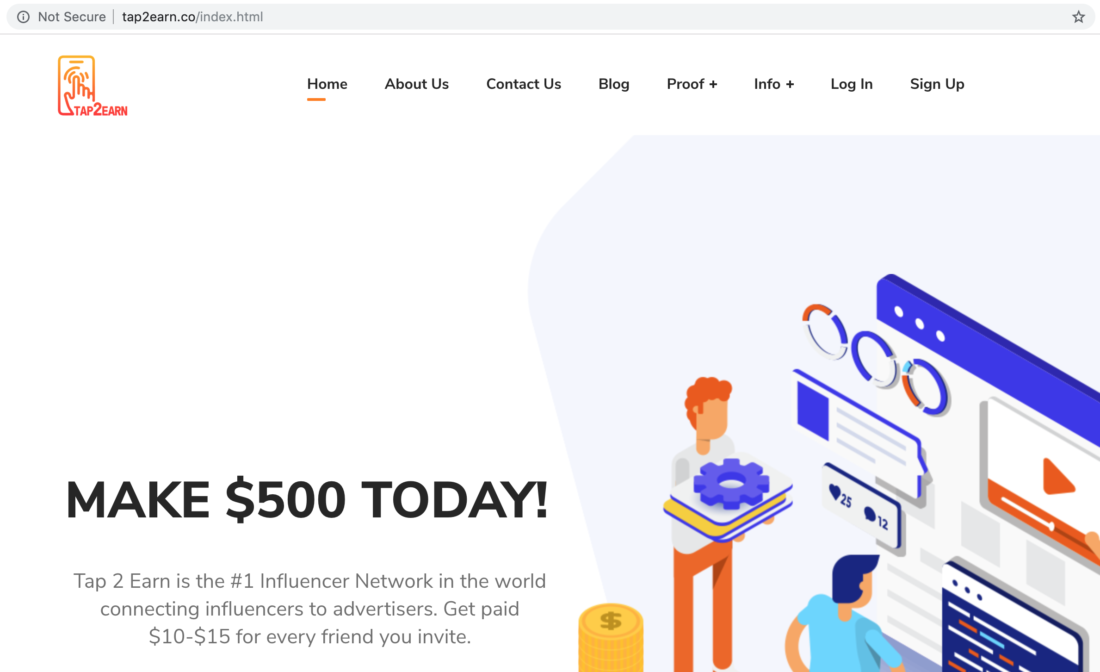 Make $500 Today! … This is the first statement you will see when you log onto this new website known as tap2earn.co. Of course, every right-thinking individuals need to be cautious of such promise. Over 10 years I have been into internet marketing, I have seen that most programs with such promises usually turn out to be a scam.
Tap 2 Earn makes a lot of promises. In fact, on landing on their homepage, you will almost believe that you've discovered a goldmine. You will even see tons of testimonials of people claiming that they became rich by joining this program. To make sure that you are not wasting your time, I have decided to review Tap 2 Earn today. You will learn who is behind the program, what it is, how it works, and the ugly truth about the program. At the end of this Tap 2 Earn review, you will learn whether the program is another scam or a legit way to make money online.
One thing is for sure, you've made a great decision by coming to this website to read this review before joining the program. I'm very sure that you will find this review exciting. Keep on reading to find out more.
Name: Tap 2 Earn
Website: Tap2earn.co
Price: Free
Rating: 1/5
What is Tap 2 Earn?
Tap 2 Earn claims to be the number #1 social media influencer network that can help anyone anywhere in the world to make $500 per day irrespective of your experience in online marketing. According to the guys behind Tap 2 Earn, they connect influencers with advertisers. Nevertheless, they didn't provide an explanation of how they do this. 
Tap 2 Earn website has a few pages as well as a member's area. Not a lot of information is provided on how the system works. However, they claim that anyone can make money on the platform just by bring his friends/associates to register on their website. One thing is for sure, Tap 2 Earn is intentionally vague about how their system works. Perhaps, this is why they didn't provide a lot of information. Nevertheless, I decided to do my own digging to find out if their claims are true. Keep on reading to learn more.
How Does Tap 2 Earn Works?
You are probably reading this review because Tap 2 Earn promises you $500 every day for free. The platform won't be the first to make such ridiculous promises and unrealistic claims. In fact, before now, tons of websites made similar promises and crashed after a couple of months.
In the case of Tap 2 Earn, they claimed that they are the number #1 social media influencer network in the world. I certainly have no clue who gave them that title. When I visited the website, I found tons of loopholes in their claims. Meanwhile, they claimed you can earn through various methods once you join their website. I have analyzed these methods below.
Get Referrals: According to the information on their website, you will earn $10 for anyone you refer to their website and also earn $2 per click. Well, that's a lot of money. The company failed to mention where this money comes from. You join for free and those you invite will also join the platform for free. Basically, there is no money in the system. Thus, I find it hard to believe that you will earn any money for inviting people to the platform.,
$30 Task Wall: I have seen several survey websites. Most legit one pays about $2 per survey. Interestingly, Tap 2 Earn claims you can make as much as $30 for each survey you completed on their website. You will also earn a similar amount for downloading apps from their websites. 
They didn't mention the nature of the app. It could be an app designed to spy on your activities online or even infect your device with a virus. Besides, even when you click on their so-called surveys, it will take you to a third-party website that will ask you for your name, email, phone number, and other crucial details such as credit card information. According to Tap 2 Earn, they will pay you $30 for submitting this information.
YouTube Submissions: Tap 2 Earn claims that they will add $50 to your account on the platform if you make a positive review of Tap 2 Earn and post it on YouTube.
Ugly Truth About Tap 2 Earn
You certainly do not to dig too deep before you can see that Tap 2 Earn is full of lies. Most of the information provided on the platform doesn't add up. They made a lot of claims and even posted fake information. I will do my best to expose their lies below:
They Do Not Pay
This is the most vital information you should learn about Tap 2 Earn today. If you join the website because it promises you $500 per day for free, that won't happen. Tap 2 Earn will give you a number of tasks to do, you will even see your money increasing on your account on the platform. However, when you ask for a withdrawal, you will either get error or nothing happens.
Overall, most of the screenshots claiming that Tap 2 Earn paid are fake. You cannot find any real PayPal proof that the platform actually pays its users.
Dead Owners
The information on the website claims that the website is owned by Henry Chaplin and Davis O'Brien. Despite claiming to be number #1 social media influencers globally, I can't seem to find any reliable information about these two owners.
In fact, the only information I found about Henry Chaplin says he was a British politician born in the 1800s and long dead now. Of course, a dead man cannot own a new business.
Fake Testimonials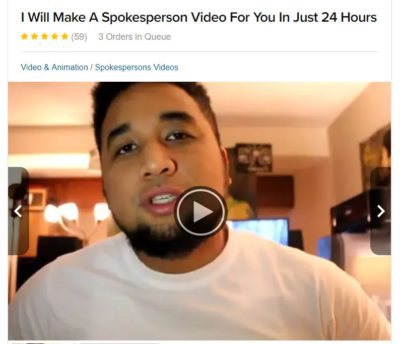 I guess you saw this one coming. Like most other fake systems I have exposed on my website, what Tap 2 Earn did is to go to Fiverr and get professional voice actors to claim that they withdrew money from the platform. You will even see a number of so-called payment proofs which are just photoshopped.
Is Tap 2 Earn a Scam?
Tap 2 Earn is 100% scam. It has all the hallmarks of scams just like tons of scam systems I have exposed on my website. One of the risky things about joining Tap 2 Earn is that I believe that they are into the data-mining business. This means they take the data you submitted on their website and sell it to 3rd party website. Don't be surprised if you get hacking attempts after joining Tap 2 Earn. I would recommend everyone to avoid this platform. If you are looking for a real system that works, check out my recommendation below.
How I Make Money Online
Have you ever wonder how I make money online? Today, I will tell you in the hope that I can make the year 2020 better for you. Every day, I recommend amazing genuine products to my friends, blog readers, and every other person online. When these people make a purchase, I get a commission. In most cases, this happens when I'm sleeping or even when I'm at my second job. I don't even have to be active online to make thousands of dollars every month.
However, this didn't happen overnight. It required that I put in serious effort at the start of my business before I started seeing income. This method of making money is known as Affiliate Marketing. It can happen to you too. If you are willing to put in at least 2 hours per day for at least 3 months to work at your affiliate marketing business, I guarantee you will succeed. I have this amazing course that helped me, it is known as Wealthy Affiliate. You can check it out below.