Club Cash Fund claims you can make money even without any work… Does this statement sound familiar to you? If you have been following my reviews, you will instantly notice that I have reviewed hundreds of programs that made similar claims in the past and most of them were very disappointing.
When you visit the Club Cash Fund, you will not find a lot of information about how the program works. This could mean two things: it could be that they don't want their program to get saturated quickly or they are hiding something. Either way, I have done my own investigative research into the operation of Club Cash Fund. This review will tell you in detail everything you need to know about Club Cash Fund.
You've made a wonderful decision by checking out my review of Club Cash Fund. Most times, when websites like this one hide information from potential users, it usually turns out to be a scam. Of course, this review will determine whether this program is another scam or the real thing. This will be a very interesting review, make sure you read until the end.
Name: Club Cash Fund
Type: Cash Gifting Program
Owner: John Chad Stalvey (fake name)
Website: clubcashfund.com/legal.php
Price: $80
Ratings: 2/5
What is Club Cash Fund?
If you have been approached by any member of Club Cash Fund, they like to present the system as a website that gives you free money in your mailbox on autopilot. However, Club Cash Fund is actually a direct mail cash gifting scheme with no product but forces members to send money to one another.
Club Cash Fund claim that it is a money-making machine on autopilot is actually not true. It involves giving your money to another member and then you receive money from another member. It has a compensation plan that runs three levels deep. What this means is that any money that you will make from this system comes from people that you directly referred to the program as well people referred by the people you referred.
No doubt, this program is a typical MLM scheme. Nevertheless, the guys behind the program tried so much to hide the nature of the program from potential members. Perhaps, this is why they provide little or no information on their website.
Who Created Club Cash Fund?
Club Cash Fund was created by a man that goes with the name John Shalvey Chad, but mostly referred to as Chad. Based on my research, this is a pseudo name used by the real owner to sell various pyramid schemes.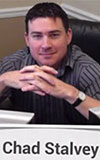 Chad (Shalvey) first appeared online in 2010 with an MLM program known as GiveOpp and Numis Network. As expected, the program failed after a couple of months, he came back with another program known as "Infinite Leverage System" in 2014 and that program failed as well. In 2015, Chad founded "Traffic Authority" and "Finish Line Network" in 2018. All the programs he created failed before he started the Club Cash Fund.
How Does Club Cash Fund Works?
Club Cash Fund works in a way that you have to be a member or at least refer by a member before you can know how the system works. If you visit the website without being referred by a member, you won't see any information about its operation. I really found this weird. No doubt, the website is trying to hide information from the public and from honest reviewers like me.
If you eventually get someone to become your sponsor, you will arrive at a page where you will be asked to submit your name, email, address, and phone number. There are a couple of videos you will watch. Basically, what this video does is to ask you to call a number on your telephone.

When you make the call, you will have to listen to recorded testimonials from members trying to convince you that the program is real and you should join. The program is open to U.S residents only. If you decide to join after listening to the tape, you will need to pay $80 to receive your starter kit in the mail.
Club Cash Fund Compensation Plan
After paying $80, $20 will be transferred to your direct sponsor and $20 will be transferred to your sponsor's sponsor while the company keeps $20. The company has a 3-tier compensation level. Most of the money in the system goes to Chad and other guys behind the creation of this system. You cannot earn in Club Cash Fund unless you refer people to the program. If you cannot refer, you cannot earn.
Overall, the guys behind the program do everything possible to keep the information about how the program works out of public knowledge. You only learn the true nature of the program after you join or at least after reading my review. Overall, your ability to earn depends on your ability to recruit people. Notwithstanding, there is no guarantee that you will get paid as the company can fold up any day.
Ugly Truth About Club Cash Fund
Chad is Not Real
The first problem with this system is that the owner/founder of the system is not real. This has a lot to say about the entire system. In case it crashes, there is no one to hold accountable. It certainly doesn't make sense to get yourself involved with a business where the owner doesn't want to be known.
A Lot of Information is Hidden
You cannot be able to see how the system works until you have been invited to the system. By this time, it will be too late for you to do anything about it without losing your $80 investment. The first priority when you want to join any online business is to check how transparent they are. If they aren't transparent, then it doesn't make any sense to join them.
You Have to Recruit
This is the hard part. You will certainly lose your money if you don't find at least 3 people willing to invest $80 into the system as you did. Your recruits also need to get their own recruits before you can start to make a profit with this system.
Every Pyramid Scheme Crashes
Historically, every MLM/pyramid scheme crash at some point. It is just a matter of time. Once people stop investing in the system, it will come crashing like a house of cards.
Ridiculous Claims
Club Cash Fund tried as much as possible to mask the fact that the system is a pyramid scheme. Instead, it makes it look like you can magically find some cash within your mailbox when you join the system. This, along with other lies told by the owners make the system undesirable.
Is Club Cash Fund a Scam?
To be honest, Club Cash Fund has all the signs of scams. However, I don't think it is a scam. But definitely contains so many hypes and lies. Like I have already mentioned severally before, it dresses itself up nicely to look very legit but it isn't. Overall, Club Cash Fund falls somewhere between not-so-legit and a scam. In my opinion, you should definitely avoid this system.
How To Make Money Online in 2020
There are far more legitimate and better ways to make money online in 2020 than just passing cash around. The best way is to offer real value online. I discovered this secret back in 2013 and it has helped me to build a real sustainable side income online. You too can do it if you are able and willing to put in at least 2-hours of work per day for a couple of months.
You can check out this program I recommended below. It is the same program I and other successful online marketers used to get started. It will definitely help you to build a profitable business online.