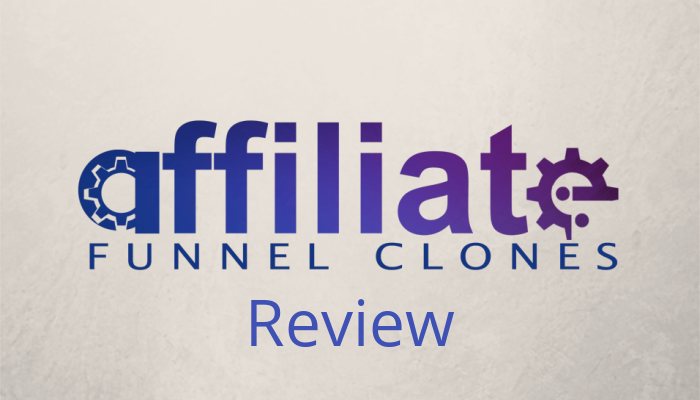 Is Affiliate Funnel Clone going to make you a millionaire? You will find the answer shortly in this review of Affiliate Funnel Clones.
If you have been searching for ways to build a sustainable passive income online, I'm sure you must have come across so many websites that promise to make you rich overnight with little or no work. You are probably reading this review because you are tired of online scams. If that's the case, then you are in the right place.
You see, a lot of products made ridiculous promises. In some cases, what looks like a real deal online may actually turn out to be something else when you dig deeper. At first look, Affiliate Funnel Clones looks like a "prayer-answered" for every newbie looking for a legit way to make money online. After all, it talks about making money through affiliate marketing. If you remember correctly, I have recommended affiliate marketing several times on my blog as one of the best ways to make money online.
So, does this mean that Affiliate Funnel Clones is legit? Well, not yet! You see, there are lots of things you have to consider before buying any online marketing course nowadays just to make sure that you are not wasting your time and money. Below, I will review Affiliate Funnel Clones and tell you everything you need to know about this program. Keep on reading to find out more.
Name: Affiliate Funnel Clone
Type: Affiliate marketing training
Website: www.affiliatefunnelclones.com
Founder: Alan, Ryan, and Simon
Price: $47
Rating: 2.7/5
What is Affiliate Funnel Clone?
Affiliate Funnel Clone is a cloud-based affiliate training software created by a partnership of internet marketers. According to the creators, the software was created to help anyone to easily build a list of subscribers in the fastest way possible while getting sales at the same time. Generally, it is a subscription-based course that comes with training as well as pre-written templates you can use to start your affiliate marketing journey.
The authors marketed Affiliate Funnel Clone as the ultimate solution for anyone looking for ways to make money online. They claimed that all you need to do in order to succeed is just to repeat (clone) what they have in their software.
Who is the Author of the Affiliate Funnel Clones?
The main author of the Affiliate Funnel Clones is Simon Harries. He is a well-known digital marketer and software creator. He has created and launched some successful products in the past that includes EmailForce, Converzly, and Viral Pay Soft.
However, not all of his courses were a huge success. Thus, it is important you go through this review of Affiliate Funnel Clones before you make a decision whether to invest in the course or not.
How Does Affiliate Funnel Clone Works?
Affiliate Funnel Clone is popular right now. You've probably seen hundreds of marketers promoting this product. I will you the reason below. This product costs $47. When you pay for the product, you will get a username and a password that you can use to access your account.
Once you log into your account, you will get an autoresponder as well as Five "Done-For-You" funnels from Jvzoo you can start promoting right away. Although this product comes with an autoresponder, you cannot use it to send broadcasts or automated emails. Besides, you will still need to build your email list from scratch.
The product comes with:
5 products you can promote
Autoresponder
Lead magnets
Hosting
Video training
Basically, when you decide that you want to pay for this product, what you are buying is a sales funnel which every other person who buys this product will also be promoting. You will also get links to landing pages you can use to set up new funnels. When you log into your account, there are pre-written email series you can use to promote these 5 funnels already mentioned above. The only problem here is that hundreds or even thousands of other people are also using the same email series. No doubt, email providers such as Gmail will definitely mark such an email as spam if one person receives it too many times.
In my opinion, the products (funnels) that come with the Affiliate Funnel Clones are low-quality. Besides, with so many people promoting the same product, it becomes saturated very easily and no real profit can come from that. Instead of choosing to make money this way, you can actually learn how to set up your own sales funnel and build your own email list with a free autoresponder. I will show you below.
How Much Does Affiliate Funnel Clone Cost?
Interestingly, the pricing of this product is a little confusing. You will be asked to pay $1 for a 7-day trial. Some marketers will try to make you believe that you only need to pay $1 for the entire course. Nevertheless, the real price starts at $27. However, you won't get access to the entire features until you pay $47. Note that this is a monthly subscription. This means you will pay this fee every month you are subscribed to the product whether you make sales or not.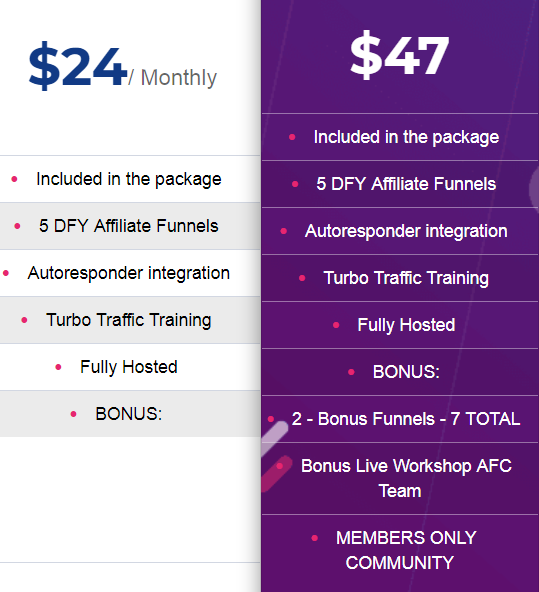 Ugly Truth About Affiliate Funnel Clone?
Hidden Fee
When you pay $47 to get access to the entire feature of the product, one fact that they will hide from you is that you still need to pay for an autoresponder. Every month, you are charged $19 for your autoresponder (Aweber). You can lose access to the email lists you've already built if you cannot afford to pay this fee on time.
Low-Quality High-Cost Templates
Affiliate Funnel Clones charges you $47 every month to get access to their pre-written low-quality squeeze pages. In my opinion, I think this is very ridiculous. I have experience in creating sales pages. I can make better squeeze pages within minutes and wouldn't charge $47 for it. Instead of paying for $47 for a pre-written squeeze page, learn how to make these pages yourself.
Additional Expenses
The author didn't mention that you will still pay a fee to build your email list. Take, for instance, he mentioned "Solo Ads" as one of the traffic sources to build your email list. What he didn't mention is that you need at least $500 you can invest in solo ads if you wish to see a good result.
What I Like About Affiliate Funnel Clones (Pros)
Authors are well-known
You can get support
It shows a beginner how sales funnel works
What I Don't Like About Affiliate Funnel Clones (Cons)
Hidden fees
Low-quality pre-written squeeze pages
Easily saturated
Lots of upsells
Overwhelming information for beginners
Too many false claims by the authors
Is Affiliate Funnel Clones a Scam?
I'm going to be honest with you, Affiliate Funnel Clones is not a scam. However, if you are searching for a real product that will help you succeed online, this is NOT it. Most of the training provided here can easily be found on YouTube or with a simple Google search. You have almost no chance of making money with this product if you are a complete beginner. Affiliate Funnel Clones has so many hypes. Overall, it is not a scam.
A Good Alternative to Affiliate Funnel Clone?
Yes, the guys behind Affiliate Funnel Clone probably stole the idea from this program called Wealthy Affiliate. It is an age-long online program that has created lots of millionaires online. This program teaches you how to build a sustainable income online.
Wealthy Affiliate is the best program online for learning affiliate marketing. You can start the training for free. However, it is important to mention that it is not a Get-Rich-Quick program. You need to put in at least 2 hours of work 4 times per week for about 2 to 3 months before you can start seeing significant success. However, it is a very rewarding program. You can make enough money from this program to replace your current salary.
Right now, I'm providing you an incredible opportunity to join Wealthy Affiliate for free now. If you sign up below now, I will become your mentor and coach you until you start making a significant income online. Click the link below to sign up now.