Buxify claims that you can earn $500 daily when you join their platform. You are here because you don't actually believe that this claim is true. Congratulations, you made a great choice. Here on affiliate-bootcamp.com, I have been debunking wrong claims and exposing scams for over 5 years. In the past couple of years, I have saved newbie internet marketers from scams by providing an honest and unbiased review of almost every popular money-making program online.
Today, you will learn everything you need to know about Buxify.com. This program debuted a couple of months ago. Within a few weeks, they created a lot of buzzes online that many people joined them without making in-depth research. According to Buxify, they have been around for over 10 years online (doubtful) and have paid more than 68+ million to its affiliates. They also claim that you can earn over $500 daily when you join. No doubt, this sounds too good to be true. Thus, we are going to take an in-depth expository look at this program to know whether it is legit or another fly-by-night program. Keep on reading to find out more.
Name: Buxify.co
Type: Get-Paid-To (Actually data harvesting website)
Website URL: http://buxify.co
Owner: Hidden
Price: Free
Rating: 0/5
What is Buxify.co?
Buxify boldly claims that it is the #1 Influencer Network in the world right now. According to them, they will pay you to join their website, do small tasks for them, and then get paid a lot of money. The company also boldly claimed that you can make as much as $500 when you join their website. On their website, they stated that "On average, a new user earns over $2000 per month. Earn $15 for inviting friends. Instant payouts available".
To show that they are a real company, the guys behind the platform went on to claim that they have been online for more than 10 years. Similarly, they claimed they have paid $68+ million to its affiliates and has more than 500 million shares. According to the company, they now have more than 455,000 happy affiliates.
There is no doubt that Buxify made a lot of claims. Don't fall for any of these claims yet until you've read this article to the end. Below, I will tell you exactly how Buxify works and what to expect if you decide to join them.
How Does Buxify Works?
On the surface, Buxify looks like a dream-come-true for every new internet marketer. Come to think of it, you can actually join them for free and make your first $150 the first day. At least, that's what they claimed. However, when you actually join them, you will discover that this claim is not true.
Despite claiming to be an influencer network, Buxify can easily be categorized as the "Get-Paid-To" website. This is those types of website that pay you to do small tasks. Nevertheless, a website becomes "Get-Paid-To" when they actually pay out the money you earn on the platform, otherwise, they are a scam. With respect to Buxify, I have not seen anyone who received a paycheck or any type of earning withdrawal from the platform.
To join Buxify, you don't have to pay money. However, based on my experiences, most of the website which allows free registration usually have ulterior motives. In the case of Buxify, you are required to sign up with your real name, email address, as well as other personal data which they can use in the future or even sell it to a third-party.
After signing up, you can begin to do various tasks. The platform promise that you will get as much as $30 for every task you complete. This amount is rather generous. Most "Get-Paid-To" websites usually pay around $2, if Buxify is promising $30 for a task, it is most likely that they have no intention of paying the earnings. Besides, when you join this website, you will automatically get a $25 bonus in your account without completing any tasks. You also get $10 when you share your affiliate link on different social media platforms and get people to join Buxify through your link.
Buxify also claims that $50 will be added to your account if you create a video about the platform and publish it on Instagram. Overall, they claimed that you can earn $2000 monthly on the platform. You are supposed to receive your earning through PayPal or CashApp.
Does Buxify actually pay? Not really, my research discovered that no one has ever received a payout from this platform. Upon further research, I discovered even more ugly truths about Buxify. Some of these ugly truths below will shock you.
Ugly Truth About Buxify and Reasons Why It is a Scam (Red Flags)
Below are some of the top reasons why I suspected that Buxify is a scam:
Over-Hyped Earnings
This is the first red flag you will notice when you research Buxify. First, they claim you can earn $150 every day even if you are a complete newbie. According to them, just by sharing your affiliate link on social media, you can make up to $2000 every month. You also get instant $25 deposited into your account after signing up. If you make a video for Buxify and post it on Instagram or YouTube, you get an additional $50 deposited into your account. You will also qualify to receive $30 when you complete a survey and get up to $15 for anyone you invited to the website.
As you can see, there is a lot of money being promised to members. Interestingly, the platform is completely free. Thus, one wonders where Buxify gets money to settle all these earnings. Buxify claimed they have over 455,000 members and paid more than $68 million. Yet, no one has ever come forward to verify that he/she received a payout from Buxify. Even on their website, they only have one screenshot of payout. It doesn't take a genius to figure out that the website doesn't pay.
Unknown Owner
Despite being so generous with its earning structure, Buxify has no visible owner. Come to think of it, it is quite odd for a website that is "number 1 influencer network" in the world to have an unknown owner. When you mention Facebook, for example, everyone thinks of Mark Zuckerberg. You cannot say the same for Buxify.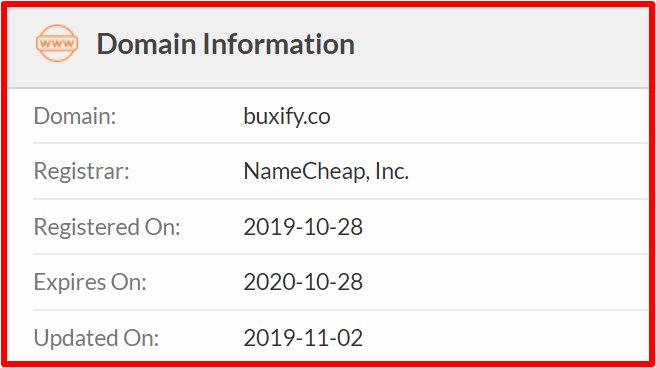 There is no mention of the owner of the platform, no mention of the company's address or even their photo. This is consistent with most of the shady and fraudulent programs I have exposed on this website. People that want to scam others usually use fake names or completely avoid their names. Buxify, unfortunately, falls into this category.
Fake Payment Proof
Like expected, Buxify tried to make use of fake screenshots to prove that their website actually pays. On their website, you can see two separate "payment proof" pages. One of the pages shows payment notification messages from "Buckify" while the other page shows the same exact payment notification messages but from "Buxify". To be honest, their attempt at providing fake payment proof is very amateur. No doubt, this proves that the website is not only a scam but run by amateur scammers.

Rehearsed Scam
The first time I landed on the Buxify homepage, I instantly noticed something familiar. Buxify is almost the exact replica of similar "Get-Paid-To" scams I have exposed on my website. You can easily find them on this blog by using the search function above. I have a strong reason to believe that the guys behind Buxify are the same people behind similar scams such as "CloutPay", "ViralMarket", and "ReferralPay". Their mode of operation is to change their name once their scam is exposed.
High Risk of Data Harvesting
Most websites such as Buxify exist only for one reason – "Data Harvesting". Unfortunately, Buxify has all the hallmarks of the data harvesting website. They know that their scam will eventually be discovered when they fail to pay their members. However, they are counting on getting as much personal data as possible before they abandon the website. In the case of Buxify, they make use of fake "Task Wall" and "Prize Winners" list to get you to give them your real name, real email address, home address, and even your real phone number. Normally, they will resell this data to a third-party company.
Is Buxify a Scam?
At this point, it is completely obvious that Buxify is a scam. What is even more shocking is that this is not a new scam. It has been around for a long time under various names. You can also check out my article on "CloutPay". You will discover that both platforms have the same mode of operation. My recommendation will be that you avoid Buxify.
Is There a Real Alternative To Make Money Online?
Yes, however, you should be willing to work. What I'm about to show you is not as easy as Buxify or other programs that don't work. If you can put in at least 2 hours per day in building your business, then I will recommend you seriously consider affiliate marketing.
Affiliate marketing allows you to build a business from home just by recommending products and writing reviews online. It is something you can do especially if you use the same resources I and other successful internet marketers used. The name of this resource is the Wealthy Affiliate. You should check it out below and write me an email if you need more information.