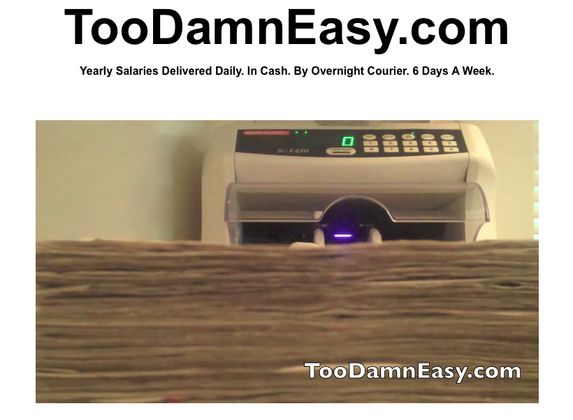 Too Damn Easy! Doesn't that name sound a little bit too cliché to you? Against my best judgment, I decided to check out this website, at least for my blog followers. I wanted to know what makes the guys that created this platform think that I can earn hundreds of thousands of dollars with a cash gifting scheme. I've got to admit, I lost my confidence in the authenticity of this website immediately I landed on their homepage. This is because I know for sure that cash gifting is not a business, it is a pyramid. Just like building your glasshouse on the sand, it will surely fail, just a matter of time.
Nevertheless, I decided that I won't judge"Too Damn Easy" too harshly until at least, I've gone through the program. On their website, Too Damn Easy (which I will refer to as TDE in this article) claimed that the program "delivers yearly salaries daily, in cash, by overnight courier, 6 days a week". With that bold statement, one would expect that both the founder and the members of this program would be millionaires or close to that.
TDE made so many promises of overnight riches. However, you don't have to worry yourself too much. In this article, I will uncover whether Too Damn Easy is a legit program or another scam that wants to steal your hard-earned money. Make sure you read this article until the end. I promise I will keep it very interesting for you.
Name: Too Damn Easy (TDE)
Type: Cash gifting pyramid scheme
Owner: Unknown
Price: $2000 and up to $100,000
Rating: 1/5
What is Too Damn Easy Anyway?
Too Damn Easy is a cash gifting scheme created by an unknown person who goes by the name "Q". The program promised that you will make a lot of money. In fact, the information on their website suggested that you can make a year's salary in one day when you join the program.
TDE has no product and offers no service. In fact, this business model is known as "cash gifting scheme" is illegal in most countries around the world. This is because it is considered an unethical scheme that exploits people's hopes of earning more than what they pay out of their own pockets. Ideally, a cash gifting business scheme involves giving money to another person or persons with the hope of receiving even more money from others.
How Does Too Damn Easy Works?
Interestingly, TDE promised on their website that they deliver one year salary in just one day. This is probably too good to be true. Everything from the name of the program, to the sales video, including how it works, suggested that something is wrong with the program. These are huge red flags everywhere you look.
What Mr.Q (the so-called founder) sells is his marketing material. He claimed that he is a marketing expert. Thus, what you will receive from him will make you super-rich. To join TDE, you are made to watch their sales video.
This video is basically watching an unknown person show you wads of cash and cash counting machine. After wasting your time watching this pointless video, you will be required to provide your name and email address for registration. If you agree to this demand, you will get an email that includes what they called "Q Box" and a number to call. The number is actually "1 (618) 355-1913". Upon calling this number, you are made to listen to about 50 recordings that started with testimonials.
Finally, you are asked to join the program by using your referral code. The minimum amount you can pay to join is $2000. You only pay this money when you receive a postcard from someone in your email inbox. You then send the hard cash to the person. There are no electronic transactions. The amount you send out will determine your membership level.
Different levels in Too Damn Easy include:
Red Membership:  – $2,000 Cash Gift + $100 Team Leader Fee + $300 Membership Fee = $2,400
Green Membership:  – $6,000 Cash Gift + $200 Team Leader Fee + $400 Membership Fee = $6,600
Black Membership:  – $18,000 Cash Gift + $300 Team Leader Fee + $500 Membership Fee = $18,800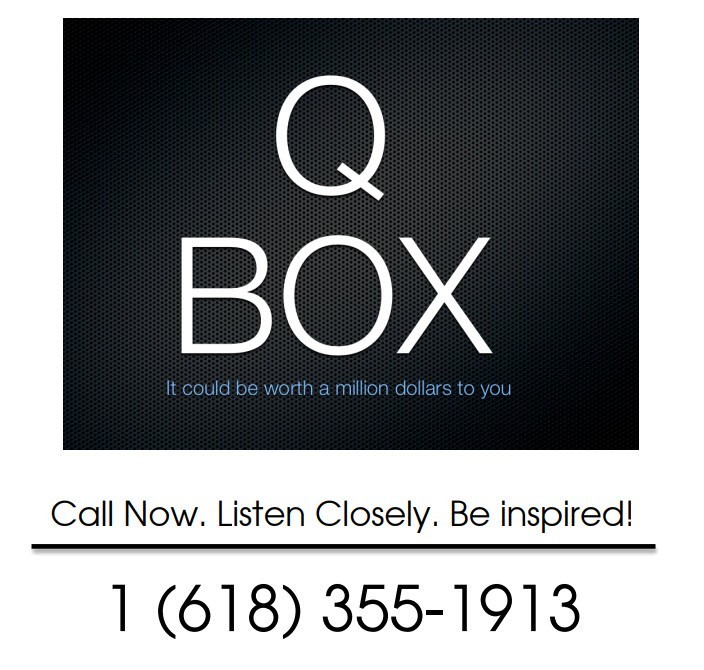 After your sponsor receives your money, you will now get access to a predesigned postcard with your unique ID on it along with a list of pre-approved target addresses. Everything in this system is done manually. It is almost like running a mafia business. It is also your duty to call the numbers you received and persuade them to join the program so that you can earn your money back. Of course, just like every other pyramid scheme on earth, there is never a guarantee that you will get your investment back. The worst part is that there is no one to hold accountable when you get scammed.
Ugly Truth About Too Damn Easy
To be honest, nothing about the program seems genuine. I don't need to look for a loophole to know it is not genuine, the business model itself (Cash gifting) is described by Wikipedia as a fraudulent business model. However, if you still need more convincing, these undeniable red flags below will surely convince you:
Illegal Business Model
Cash gifting is considered illegal in most countries. Most governments considered this as a fraudulent business. This is the first big red flag. In fact, it is possible that you can go to jail for operating or even being associated with a cash gifting system. You should think twice before you join this program.
Unknown Owner
The mysterious Mr.Q claims that his business works. He promised that you will make a year's salary in just one day. Too generous, huh? Yet, he refused to make his name or face the public. Of course, Mr.Q is not only afraid of the authorities but also afraid of his customers. He knows too well that the program is fraudulent and people will sue him when they fail to get their money back.
Huge Investment
The minimum you can invest in TDE is $2,000. That is a lot of money considering that you are investing in a very risky business. Except if you have millions saved elsewhere, losing $2,000 is definitely a big deal. No one in the right mind will like to risk such an amount of money. When you invest $2,000, you are giving your money to a complete stranger. There is no one to hold accountable when your investment disappears with no return.
No Guarantee of Return on Investment
There is no guarantee that you are going to get your investment back. After paying the $2000 to your sponsor, you just have to wait and pray that Mr.Q matches you with someone that will pay you back. In most cases, those who created the program have multiple accounts and will like to receive as much money as possible first before they begin to think of their members.
Is Too Damn Easy a Scam?
Of course, Too Damn Easy is a scam! In fact, the business model itself is described as fraudulent and it has been outlawed in so many countries. Too Damn Easy is not a business. If you want my recommendation, stay away from it. If you are looking for a genuine way to set up a passive business online, you can follow the business model I explained below.
Alternative Genuine Business You Can Start Today
Stop wasting your time on pyramid schemes and other "easy" business that does not work. Those businesses exist only to give you false hope and take your hard-earned money. Listen! If you want to make money online, you have to be ready to put in some work. If you can work on your business for at least 2 hours per day, I guarantee that you can build a sustainable passive income that will replace your job soon.
One way to start is affiliate marketing. Anyone can start affiliate marketing from the comfort of his/her bedroom. All you need is determination and the ability to work on your business consistently for at least the first 3 to 5 months. If you can sustain your business during this period, then there is a huge chance that you will succeed. To make it easier for you, I recommend that you check out this program called "Wealthy Affiliate" that I used to build my own business. Tons of other successful online marketers like me also used Wealthy Affiliate to learn and master affiliate marketing.