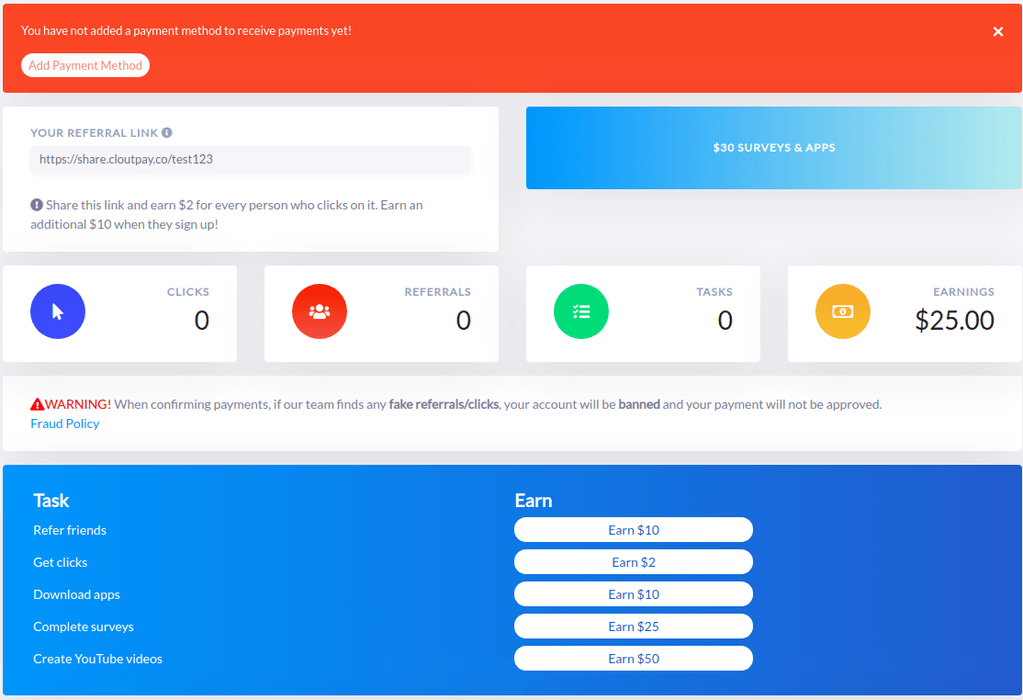 Did someone tell you that you can make easy money with Clout Pay? Honestly, all the scams online mostly come with a promise of making easy money. Whenever someone or a website start promising that you can make money with little or no work, you should get suspicious and stay away from such website.
In the case of Clout Pay, they are promising you can make $500 on their website without any experience and you can make that amount of money per day. They even claim they are going to give you $25 just for signing up. Unfortunately, all that glitters aren't gold and Clout Pay certainly isn't on a mission to end world poverty. This is a website that came up with a smart method to defraud people of their data and possibly money.
If you feel like Clout Pay sound familiar, that is because I have reviewed a similar program called "Clout Bucks" (owned by the same people). You can read that review. There is no difference between Clout Pay and Clout Bucks. Both programs work in a similar way and both of them are both scams. Nevertheless, I'm going to review Clout Pay independently today. So, if you are wondering whether Clout Pay is a scam or not, the short answer is yes. However, I encourage you to continue reading this article to find out how they operate so you can avoid similar scams in the future. You will also find a recommended opportunity to make money online. Keep on reading to find out more.
Name: Clout Bucks
Type: Referral program
Owners: Not mentioned
Price: Free
Recommended: 0/5
What is Clout Pay?
Clout Pay is a website which claims you can earn $10 to $15 per person you referred on their platform. According to them, their platform is the number one influencer network where people earn money from doing simple tasks such as inviting their friends to the platform or uploading YouTube videos.
Clout Pay even claims that you can make up to $500 per day on the first day you signed up on their platform. They have no product and they don't offer any services or skills. To earn money on Clout Pay, you just have to keep on doing the tasks on the dashboard. Unfortunately, even this is a scam because you are not going to get paid.
Besides, Clout Pay is just another name for a similar scam program created by the same people. They are also behind other popular scams such as Clout Bucks, Kids Earn Cash, and Referral Pay.
How Does Clout Pay Work?
According to the information on the platform, Clout Pay works in 3 steps which include: join Clout Pay, share & earn, and then get paid. You suppose to join the platform for free and then earn money just by inviting your friends to the platform. This is what they said on their website. While this sounds like a real way to earn money, I discovered that this is a complete scam during my little investigation.
In reality, Clout Pay is just a data harvesting scam. This type of website only wants your data as well as the data of people that you will refer to them. Of course, they have no intention of paying you. All the payments and testimonials on their website are fake. What they do is once people discover that the platform is a scam, they quickly change their name. This is the reason why they have switched from Referral Pay to Kids Earn Cash, to Clout Bucks, and now to Clout Pay.
Besides, I find a couple of mind-blowing red flags that confirm my suspicion that Clout Pay is a scam. Some of these red flags include:
They Lied About their Business Age
In the footer of their website, Clout Pay claimed that they have been operating since 2015. However, a little domain age search revealed that the domain name was registered just on May 28, 2019. Funny enough, they only paid for one year. This means they have no intention of the business surviving more than one year.
Like expected, Clout Pay does not dare reveal the real name and faces of people behind this program. Nobody wants to be associated with a scam. This is exactly the reason why you won't see the name of the founders.
They claimed they are located at 197 Street Georges Terrace, Perth, Western Australia 6000 Australia. However, a simple search on Google Map revealed that they are lying. What is located here is the Perth Convention and Exhibition Center, Elizabeth Quay, and the Stables Bar.
Like expected, all the testimonials on their website are fake. They lifted the image of random people and post testimonials with lots of grammatical errors.
So far, no verifiable member of this platform has confirmed receiving payment from them. In fact, what happened is the opposite. There have been people who claimed that their personal email account was hacked after registering on this platform.
What I Like About Clout Pay (Pros)
What I Don't Like About Clout Pay (Cons)
It doesn't pay
They are data harvesting scam
They keep on changing their name to avoid being detected
They can actually hack your personal email account
Is Clout Pay a Scam?
Yes! Clout Pay is a scam. They keep on changing their name each time they are detected. It is a data harvesting scam with the ability to use your personal data for nefarious purposes. Avoid them at all cost.
How I Make Money Online
Making money online is possible if you stop searching for the easiest way… You see, making money online requires the right information and a little bit of work. This is exactly what I discovered a few years ago. I took my time to study various online programs and the only one that was recommended by other experts is Wealthy Affiliate.
My life changed after joining Wealthy Affiliate. I was able to create an online business that makes money for me even while I'm sleeping. Today, I make money on autopilot from affiliate marketing. You too can do this. Affiliate marketing is the best way to earn money online. All you need is a few hours per day for the first couple of weeks and you will be earning even while you sleep. If you want to see how this is possible, I recommend you join me through Wealthy Affiliate and I will teach you everything I know about making money online. Don't worry, you can join Wealthy Affiliate for free.