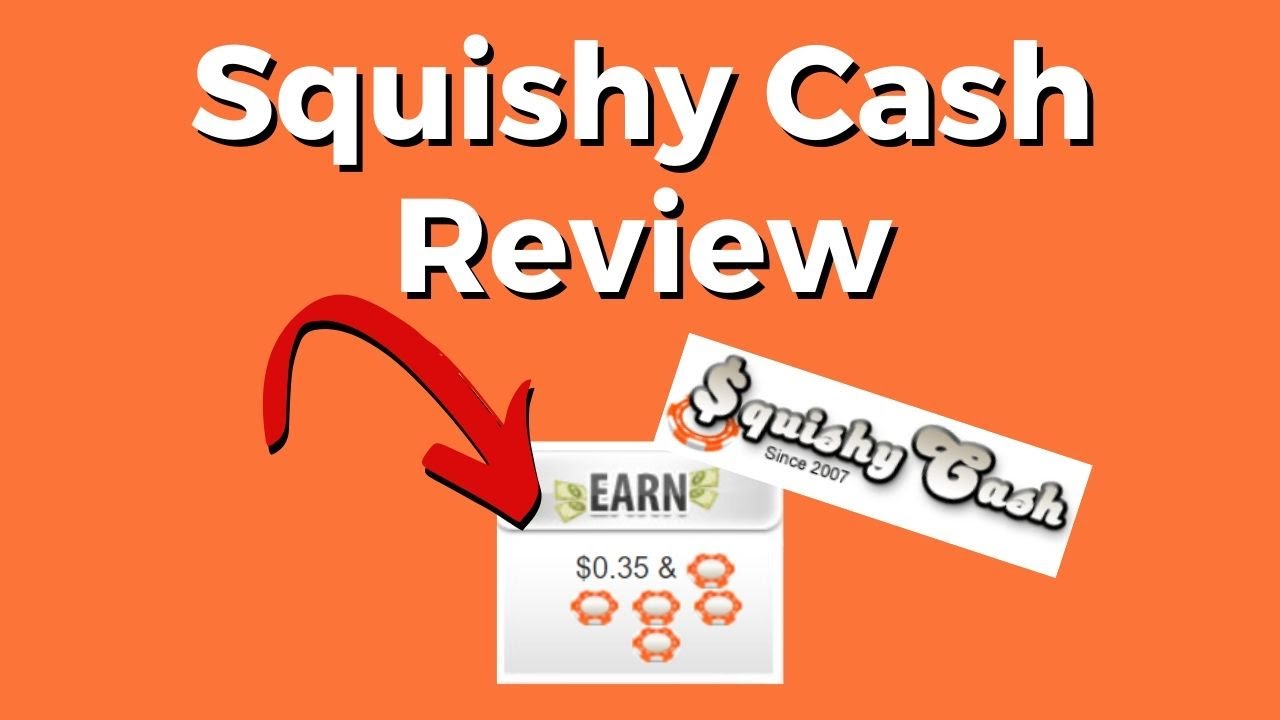 You are here because you've seen Squishy Cash ads on the web or a friend ask you to join them. Well! It is 2020, people no longer jump into any available online platform blindly. You've made an awesome decision to come to my blog to read an honest and unbiased review of Squishy Cash. Today, there are so many websites just like Squishy Cash claiming you can make thousands of dollars online with absolutely no skill. In most cases, these websites are scam or just a waste of time.
Sites like Squishy Cash claims they can pay you when you do small tasks such as processing email or watching a video. A couple of years back, this business model actually worked. Nevertheless, many people who joined only succeeded in making a few bucks for many hours of work. Certainly, if you are looking to build a passive business online, you need something that you can trust and can pay you enough money to replace your current income.
Earning a few cents for many hours of work is certainly not a way to get rich online. Nevertheless, it looks like there is a lot of buzzes about Squishy Cash online. Thus, I have decided to do a complete review of this platform. In this article, you will learn everything you need to know about this Squishy Cash. You will learn how it works, who is behind it, and whether it is a scam or legit. Keep on reading to find out more.
Name: Squishy Cash
Type: Get-Paid-To (Reward Website)
Website: www.squishycash.com
Founded: 2007
Price: Free
Rating: 3.2/5
What is Squishy Cash?
On their website, the owners described Squishy Cash as a "platform that connects you to advertisers around the world allowing you to earn cash from home by doing things you already do online every day". However, Squishy Cash is a Get-Paid-To website where users earn points that they can convert into cash by taking online surveys, completing offers, clicking ads, shopping on the platform and referring other people to join.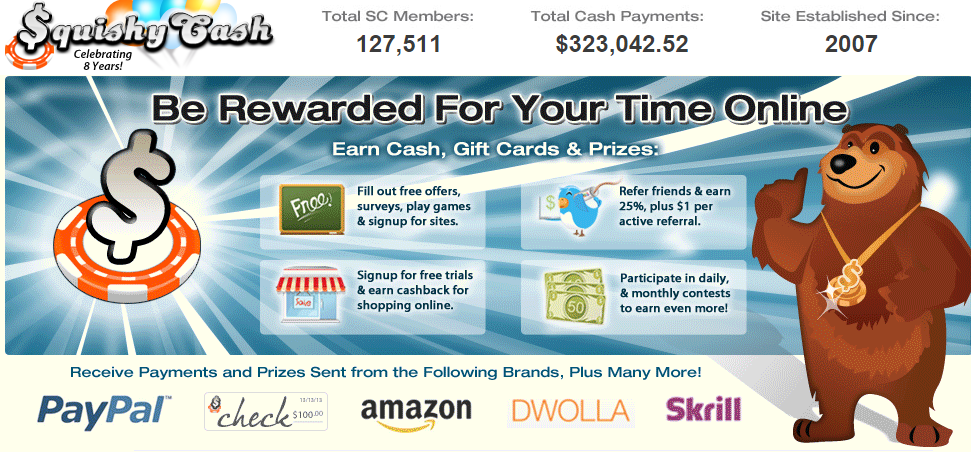 Squishy Cash was founded in 2007 and has been active online since then. However, the website popularity has significantly reduced in recent years. Since it was started in 2007, anyone can join the website for free. Currently, Squishy Cash boasts of having 190,146 members and paid out $349,501.94 since 2007. Of course, a good number of these members are not active or have abandoned their account and I couldn't verify if they actually paid the figure they claimed on their website.
How Does Squishy Cash Works?
Squishy Cash is one of the oldest GPT sites that are still active. Back in 2007 when Squishy Cash was launched, there were so many GPT websites then. Most people joined them hoping that they can make money online without having any skills. However, it takes a significant time to earn a significant amount of money with this type of website. Thus, after a couple of years, GPT websites' popularity crashed. Nowadays, people prefer building real business online such as affiliate marketing.
If you have joined any GPT website before, then it will be very easy to understand how Squishy Cash works. The whole process starts by clicking the "Join" button. This website does not require any payment before you can join. All you need is to provide them your name, address, email, date of birth and a few other standard details. You also need to agree to their terms and conditions and then check a few other boxes. Once you are done, you become a member and can then get access to your member's dashboard.
After you sign up and confirm your email, Squishy Cash will instantly reward you with $3 and 5 chips. You can use the chips to play Squishy slots. According to the website, they get paid by advertisers. Your job is to help them do the tasks submitted by their advertisers and then they will split the profits with you. You need to earn at least $15 before you can withdraw your earnings on the platform.
Tasks You Can Do On Squishy Cash include:
Every day, when you log into your account, there are a number of offers waiting for you from Squishy Cash's advertisers. Most of these offers involve signing up for free trial offers. For example, Squishy Cash can ask you to sign up for Amazon Prime free trial for $0.75 cashback. You can also get your account credited by subscribing to the month's free trial at audiobooks. There are tons of free trial offers. Of course, most of these free trials are not as great as they sound. You must cancel your free trial on these websites before they end. Else, you will get charged.
Squishy Cash will ask you to click ads, the more you click the more you earn. The standard rate for one-click is $0.0012. You need to click too many ads to earn $1.
Most GPT website has its own in-house survey. However, this is not the case with Squishy Cash. This does not mean that they don't offer surveys. What the platform does is to recommend other paid survey websites you can join through them. Some of these survey websites include Survey Squad and Univox. Note that Squishy Cash is an affiliate to these websites. Thus, they earn money when you join through them.
In Squishy Slots, you can earn up to $100. You will need to exchange your money into chips to play the slot. However, there is no guarantee that you will be lucky enough to win.
Squishy Cash occasionally offer contests and bonus. As a member, you can be rewarded when you participate in one of these contests and win.
You can earn money simply by referring other people to sign up on Squishy Cash. Referring is a great idea because you earn 25% of the earnings of your direct referrals. In addition to this, you also earn 5% from your 2nd level, 2% from 3rd, and then 1% from the earnings of those in your 4th and 5th level. To earn more, you will need to upgrade your account. Each upgrade costs up to $50 and there are about 6 levels of upgrades.
Ugly Truth About Squishy Cash
Now that you know how Squishy Cash works, let's take a deeper look to find out if Squishy Cash is exactly what it claims to be or something else. In this section, I will uncover some ugly truths about this platform.
Poor Earn and High Cash Limit
Apart from the initial free $3 you will get when you sign up, it may take you weeks before you can earn another $3 on this platform. The earning is just too low. You will have to do tons of tasks such as clicking on ads and signing up for free offers before you get $1. Despite this, Squishy Cash sets its withdrawal limit to $15. Other websites in the same business allow you to withdraw when you have $5 in your account.
Bad Reviews/Unresolved Complaints
In recent years, many people believe that Squishy Cash has become a scam. A couple of years ago when this website was still new, most people trusted it. However, you can easily find recent reviews as well as complaints of people who did not get their payment from Squishy Cash. As it is, Squishy Cash has not come out to address these bad reviews and complaints yet.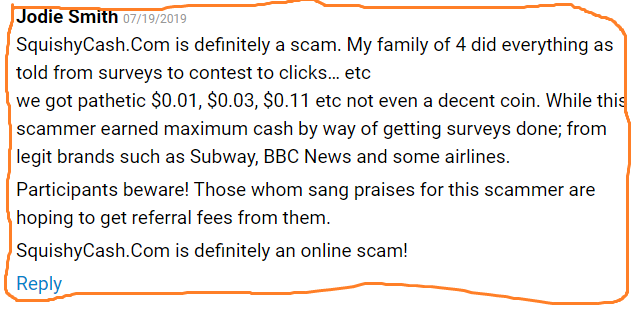 Not Many Offers
Apart from paying too poor for tasks, Squishy Cash doesn't have too many offers compared to its competitors. This makes it too hard to earn significant money on the platform. There are few tasks on their offer wall. At this rate, you may need months to earn $15.
No Recent Payment Proof/Drop in Popularity
Squishy Cash has been dropping in popularity in recent years. It is no longer as popular as it is used to be back in 2007. Today, you cannot find any recent payment proof. In fact, a lot of people believed that Squishy Scam has become a scam.
Is Squishy Cash a Scam?
Well, this is a tough question for me. I'm refraining from calling Squishy Cash a scam because they have a long history online, even longer than most of their competitors. So, Squishy Cash, for now, is a legit website. However, I'm NOT recommending this website to you. This is not a way to make money online. If you want something that works, follow my recommendation below.
Is there A Good Alternative To Squishy Cash?
Sure! You definitely need to learn about "Affiliate Marketing" if you want something that works. With affiliate marketing, it is possible to earn up to $1000 per month online. However, it is not an overnight riches. You must be able to put in some work. You need to work on your business for at least 2 hours per day for the first 3 months.
With affiliate marketing, you can earn money while you sleep. I noticed that most people find it difficult to learn affiliate marketing, I recommend that you use this resource I used. It is known as Wealthy Affiliate. Other top affiliate marketers also used the same resource. With Wealthy Affiliate, you can master affiliate marketing within a couple of weeks.